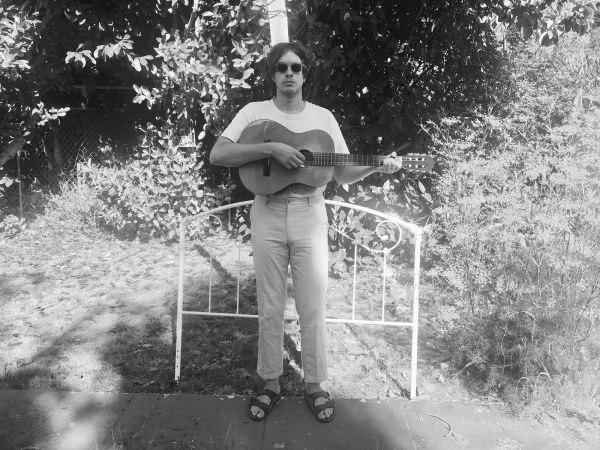 11 October 2019
Tino Drima – Photo courtesy of Tino Drima
Tino Drima's new EP, Suitin' Up, which drops today via Park The Van Records, is a raw, intense, and back-to-basics sonic spin. As with the previous output from this San Francisco-based band, Suitin' Up is aimed at making you feel something – to move you with potent emotions and pensive reflection.
The stylistic versatility and lyrical narratives that marks Suitin' Up's every track has been a hallmark of Tino Drima's music since they emerged nearly five years ago.
Core members Gregory DiMartino (guitar, piano, vocals), Rob Mills (drums, backing vocals), Scott Huerta (guitar, backing vocals), Henry Baker (keyboards), and Mackenzie Bunch (who played bass, and engineered, recorded, and mixed it all) share a passion and musical sophistication that makes Tino Drima's music something both powerful, and comforting at once. When it touches you, it does so deeply.
The band had previously gone the lush route with accompanying horns and strings decorating their debut album Her Kind Of Man, so this time they decided to "simplify the tunes," says frontman DiMartino, and to dig into "a cleaner, '70s-inspired production."
There's more room for the songs to breathe now, yet still maintain a focused drive. EP-opener "Lover" draws its inspiration from old soul records and Captain Beefheart's "I'm Glad", with DiMartino revealing that it's a "hot, heavy, creamy tune for cruising in the car at night thinking about good times and sex."
A weary resignation runs through "Do The Damn Thing," where the song's protagonist feels like a disengaged character in his own life story. The smooth R&B groove and vocals are punctuated by peppery percussion and a kicky drum beat.
And there is the surge of pride, of enhanced self-esteem and moral clarity, to be had on "The Actress". The track is brighter and upbeat, with DiMartino throwing out emotive vocal curves, taking on the persona of an actress in a tough and dirty business, asserting her worth and proclaiming, I deserve this / I have earned it."
As always, the dark underbelly of life, and its flipside of hopes, dreams, and promise, play key roles in the music of Tino Drima. The cantering, piano-based "Doctor" sends out instrumentally feel-good vibes (including a smoothly crooning to fervently shouting DiMartino), but hits hard with the lyrical content, while EP-ender "Kind Of Strange" offers consolation to someone in a troubled place.
The band kindly penned a Track-By-Track rundown of the the EP, including details that flesh out the meaning behind each song.
"Lover"
""Lover" is a tune for cruising in the car at night with a heavy head thinking of the one you admire . Thinking of how they are your alpha, and you love how that's the case."
"Do The Damn Thing"
"This tune speaks of boredom and eternal disengagement; all life events feel like gigs you reluctantly book; fantasies of freedom from vague burdens frequent the mind; and while you can almost dwell in that peace, nothing ever happens."
"The Actress"
"This song is all about hyping yourself up, claiming your worth, and being the king of your destiny. Despite doubt and Big Trouble looming in shadows, you march on brave and proud of who are, and who you may yet be."
"King Of Strange"
""Kind of Strange" is a meditative tune coming from a place of deep empathy for someone in very dark place. It hurts you to see, feel, and know them, but you still must help and remind them their oddities make them beautiful, and a little help can always be found, even if not properly sought"
"Doctor"
""Doctor" is about running your body into the ground, and coming to terms with the fact that borrowing time from tomorrow for today can be a Real Bad Deal; wishing so badly someone could permanently heal you with snap of the finger or an impressive cream, but ultimately coming to realize that you are the only doctor on this plane."
Facebook
Instagram
YouTube
Bandcamp