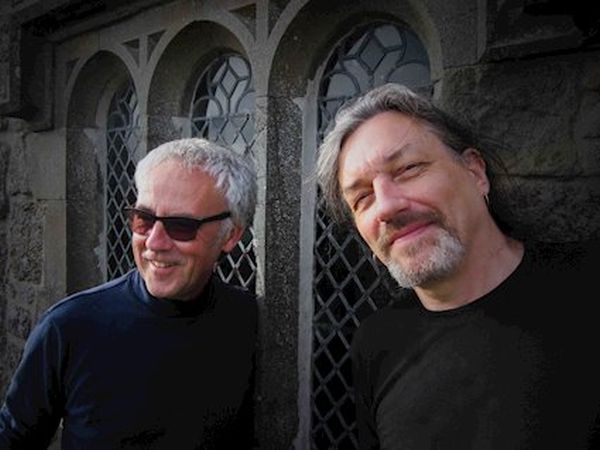 11 October 2019
Noctorum – Photo Credit: Olivia Willson-Piper
Noctorum, a duo comprised of guitarist/singer-songwriter Marty Willson-Piper (The Church, All About Eve, The Saints, Anekdoten) and producer Dare Mason, are streaming 'Dancing With Death', the lead track from their new The Afterdeath EP.
The band recently announced this release in the wake of PledgeMusic's collapse. The band had raised a sizeable sum for the release of Noctorum's fourth album, The Afterlife, through this platform, but were never paid out.
Both of these releases were made possible by Schoolkids Records, who, together with Mason and Willson-Piper, have had to shoulder most of the costs of the album's recording, production, mixing, mastering, artwork, manufacturing, and mailing to every single person who had ordered The Afterlife album via PledgeMusic in order to honor supporters' pledges, despite the fact that such monies were never received by the artist.
Considering that they charted simultaneously in several Billboard charts for sales during its first week should give you an indication of just how many orders needed to be fulfilled.
A GoFundMe campaign has been set up to try recover the funds lost, which will end on October 31.
Pledgers have until that date to order the EP. But nobody is asking for a handout.
Noctorum and Schoolkids Records are offering pledgers The Afterdeath EP, a digital four-track release that includes two unreleased tracks from The Afterlife album sessions and two cover versions – originally recorded by The Sound and Buffalo Springfield. In addition to receiving the tracks, pledgers can make their own CD by downloading credits and lyrics in a booklet, along with the cover art – the fossil of a mermaid (created by Olivia Willson-Piper and Andy Jossi), also available as a poster.
Marty Willson-Piper has been a well-known figure in music world for decades. Best known as a founding member of The Church (through to 2013), he also was a member of All About Eve and The Saints, co-wrote music with Grace Slick, Aimee Mann, Jules Shear, Susannah Hoffs and Linda Perry, among others. Today he is also lead singer and lyricist with Swedish band MOAT and a member of Swedish Prog legends Anekdoten since 2015. Since the mid-1980s, Willson-Piper has also maintained a steady solo output, with nine releases to date.
Dare Mason was a house engineer at London's Townhouse Studios, working with Prince, Paul McCartney, Boy George, Tina Turner, Ravi Shankar and Soul II Soul, among others. Since becoming a freelance producer/engineer in 1991, he produced albums for The Grid, The Church, Placebo and AC Acoustics, and has mixed Brix Smith (ex The Fall), Cinerama and Tommy Tokyo via his VIP Lounge studio.
Go here to Noctorum's official Go Fund Me to pledge support and view a fact-filled video and text on the GoFundMe page or HERE for a more philosophical viewpoint on the situation.
Also find The Afterlife in all formats via Schoolkids Records or streaming via Spotify.
Read Marty Willson-Piper's latest statement:
"On the 31st of October, the dawning of Halloween, we shall be on the last day of our GoFundMe campaign. The campaign has inspired many generous donations that have helped all involved with the Noctorum album 'The Afterlife' recover some of the losses incurred with the bankruptcy of PledgeMusic. It's been difficult with all the costs as we didn't receive more than half the money we raised, but we still finished the album and honored all the pledges on release in February this year."
"As we draw the campaign to a close, I would like thank everybody on behalf of us all for the support and we truly hope that in the future we can take on another crowdfunding campaign without fear."
"The release of the instrumental album 'One Day' by Atlantaeum Flood is imminent (November 8th on Schoolkids Records) and as I write this we are in the final stages of mixing the second MOAT album 'Poison Stream'. There are many more projects on the way and we strive to stay creative and keep releasing new music into the future."
"You can go find our initial posts about the situation we found ourselves in and a description of what we are offering musically and artistically, but, in the meantime, we have decided to make available 'Dancing With Death', the lead track from 'The Afterdeath' EP for those that have not heard it as consideration for a contribution for the whole 4-track download. The links also take you to the pictures of the artwork (that people have downloaded to make their own CDs), illustrated by Olivia and designed by our Swiss friend Andy Jossi."
"So from my partners in many projects (Dare, Olivia and Stephen Judge at Schoolkids Records), thank you once again and thank you for all the positive feedback we have received over the last few years and see you very soon with our next labor of love."
TRACK LIST
1. Dancing with Death
2. The Mermaid
3. I Can't Escape Myself
4. Nowadays Clancy Can't Even Sing
Go Fund Me
Website
Facebook
Twitter
Spotify