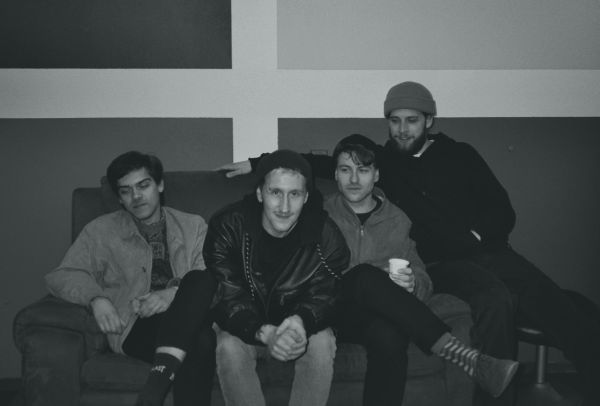 31 July 2020
Swirlpool – Photo courtesy of Swirlpool
The wait is finally over! Swirlpool have returned with a new single after the release of their debut EP, Camomile, two years ago.
"Spinning in Reverse," out now via Reptile Music, is about hoping for certain things to change and capturing the right moment that turns everything upside down in the blink of an eye. The powerful shoegaze song is also about self-esteem and the motivation to hold on in tough times, something we can all relate to, especially these days.
The band from Regensburg, Germany is made up of half the members of Dress and has already caused some commotion in the alternative music scene since its formation at the end of 2016.
With an easy-going attitude, a mix of shoegaze, indie rock and dreampop sound, and staying true to the motto 'sounds better with reverb," the quartet secured a place in the hearts of all of those who were looking for such a vibrant and atmospheric sound and feelings of hope and nostalgia.
Big Takeover is pleased to host the performance video for the enthralling "Spinning in Reverse."
On the dynamically transporting track, a myriad of guitars press against the senses, textured enough to touch, from dense and serrated reverb churn to shining, ascendant psychedelic spirals and woozily swooning dips and swells. Hazily reflective vocals float through the miasma, while the kicky drum beat keeps the heart of the song beating ever forward.
For the video clip, Swirlpool wanted to re-create the aesthetics of '90s skate style, so it was filmed by two friends who run the skateboard company Goat Cheese. The band invited some friends to hang out, had a couple of drinks, and ultimately performed the song at a local laundry shop in Regensburg.
The additional remix by German dream-punk/pop band Seasurfer peppers the original track with electronic rhythms and noisy sonics, creating a slightly darker atmosphere. Meanwhile, the members of Swirlpool continue to work on songs for their first album.
Purchase/Stream "Spinning in Reverse" at Bandcamp
Swirlpool
Facebook
Instagram
Spotify
Reptile Music
Website
Facebook
Instagram