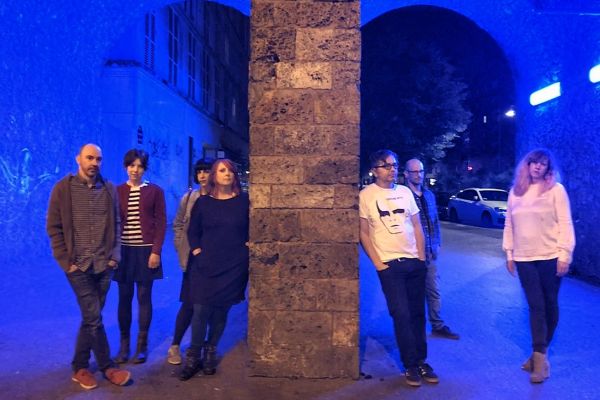 23 October 2020
The Luxembourg Signal – Photo Credit: Leah Zeis
With the release of their self-titled debut album on Shelflife Records in 2014, The Luxembourg Signal quickly attracted a loyal following among fans of dream pop/indie pop music, and received enthusiastic reviews for their pop sensibilities, angelic vocals, and lush soundscapes.
Their follow-up LP, Blue Field (Shelflife) arrived in 2017, garnered even more praise, and revealed a bolder, darker, and more developed sound with its expanded seven-member lineup of Beth Arzy and Betsy Moyer (vocals), Johnny Joyner (guitars), Brian Espinosa (drums), Ginny Pitchford (keyboards), Daniel Kumiega (bass), and Kelly Davis (guitars).
Now, for their third LP, the trans-Atlantic group based in London, Los Angeles, and San Diego, once again returned to the studio with engineer Mark Rains and have produced the highly anticipated The Long Now (Shelflife / Spinout Nuggets), a 10-song album that imagines a blurred horizon that lies between light and dark, and the fleeting nature of all that we hold.
Big Takeover is deeply pleased to host the premiere of The Long Now in its entirety on the day of its release, October 23rd.
"The Long Now" (a phrase coined by Brian Eno) refers to a long-term way of perceiving time. As an alternative to the accelerated way that we experience our lives, it allows us to make sense of our brief, but tumultuous time here, by understanding our place in a much larger timeline as history plays out.
The LP echoes these concepts in tracks like the jangly and upbeat, yet vocally reflective "The Morning After," which evokes the optimism of sunrise at dawn, while the dynamically spiraling and restless "2:22" conveys the paralysis of being confined in a digital world.
Celestially airy "Lost Hearts" and shadowy, guitar-chiming "Mourning Moon" swirl with vague lyrics that bring up memories that are anything but vaporous —from miscommunication in a relationship to the very moment of the loss of a loved one.
Heightened synths flow through "Take It Back," contrasting with the snappy percussive claps and emphatically smacked drum beat. "Rambling Rodriguez" romps with skipping drum hits that belie its bleak lyrics that "nothing matters", while LP-ender "When All That We Hold Decays" resounds with reverberating guitars, expansive synths, a low bass undertow, and sighing vocals about "moving on".
While the past two albums included guests such as Dale Crover (Melvins) on drums, and Bobby Wratten (Trembling Blue Stars, Field Mice) on vocals, The Long Now features David Klotz (Fonda, Dream System 8) singing co- lead on the spirited "Cut the Bridle."
The Long Now is released today, October 23rd on vinyl, CD, and digital formats via Shelflife (North America) and Spinout Nuggets (UK/Europe).
The band members very generously took time from their busy lives to give some interesting and insightful details about their new album.
"The Long Now was written and recorded over the past three years from various locations in Los Angeles, San Diego, and London. As a band that exists in different cities and time zones, the writing/recording process can be challenging, but recent technology has certainly helped us stay connected and in touch on almost a daily basis (along with the occasional cheap airfare)."
"The 10-song album was primarily recorded and mixed by Mark Rains at his Station House studio in Los Angeles with the additional recording of some of Beth's vocals at Ian Catt's studio in London, as well as our various home studios."
"The title The Long Now refers to a long-term way of perceiving time. The title felt especially relevant given the pandemic we are currently living through."
"I Never Want to Leave"
"The opening track from The Long Now was written around a few different Moog synthesizer parts Brian was playing around with, which he ran through a tape echo. We wanted to keep the rest of the instruments pretty restrained to go along with the song's simple structure and lyrics which reflected the concept of holding onto a single moment (or person) in time for as long as possible."
"The Morning After"
""The Morning After," which features Betsy on lead vocals, centers on the notion of renewed possibilities that the dawn of a new day carries. Musically the track is anchored by Johnny's catchy guitar jangle and continues to develop with the addition of other instruments until it breaks into full stride with the first snare hit. The song was written shortly after the completion of the Blue Field LP and became one of the building blocks for the new album."
"2:22"
"For the third track, we wanted to continue the album's momentum. The concept of '2:22' was to convey the paralysis and anxiety of being confined in a digital world. We used several layers of guitars and bass playing the same main rhythm along with Brian's driving drums to build a wave of energy, coupled with a sense of anxiety of time moving too quickly by the song's short running time of 2 minutes and 22 seconds."
"This was one of the tracks we sent over to Ian Catt to record Beth's lead vocals. It's always challenging not being able to be in the studio together to hear each other's parts during the recording process, but also very exciting to receive the tracks back and find they have exceeded expectations."
"Take it Back"
""Take it Back" features Beth on lead vocals and was written around Johnny's energetic rhythm guitar. The lyrics center on the desire to return back to the beginning of a time or a relationship. We so often look at the past with more affection than it deserves rather than embracing the now, only to repeat the cycle over and over again."
"Lost Hearts"
"The final track on side A, 'Lost Hearts', features Betsy's moving lead vocals with lyrics that recall a fundamental disagreement with a mate over a history that cannot be rewritten. Ginny added various stings to enhance the feeling of longing. It was one of the first tracks written for the album and remains one of our favorites."
"Cut The Bridle"
"The first track on side B features Dave Klotz from Fonda/Dream System 8 on guest lead vocals along with equal backing from both Beth and Betsy. We knew the song needed a male vocal so we were happy that Dave agreed, and he gave the song just the quality we were looking for. The primary guitar was played thru a Fender Super Reverb at Mark Rains' studio, and the strings in the middle are a blend of a vintage Roland Jupiter 8 and XP80 recorded at Dave's studio."
"Elevator Silence"
""Elevator Silence" was the last track recorded for the LP and was mixed by Dave Klotz. Brian used an old (somewhat temperamental) Vox drum machine along with some Moogs (and a lot of reverb). Beth sings lead while a keen ear may spot Brian's backing vocal debut."
"Mourning Moon"
""Mourning Moon" was one of the last songs that we wrote for the LP, and recalls a personal moment of the loss of a loved one. We kept Betsy's vocals dry on the two verses in order to accentuate her emotion, and then added effects back on her call and response with Beth to contrast with the rawness of the verses. The result is meant to evoke the sensation of one's mind drifting in and out of consciousness."
"On the middle instrumental breakdown, Ginny used a vintage Prophet VS synthesizer (one of the early digital synths from the 1980s, used by Brian Eno and John Carpenter) and added some haunting tones and textures to enhance the feeling of separation. Overall, it turned out to be one of our favorite tracks on the LP."
"Ramblin' Rodriguez"
""Ramblin' Rodriguez" was one of the final tracks that we recorded during Beth's last trip to Los Angeles. The melody and lyrics were written during Beth's recording session and was one of the rare times we were physically in the same room and writing together, which resulted in some great energy for this song."
"When All That We hold Decays"
"The LP ends with the cinematic "When All That We Hold Decays" with Beth and Betsy sharing duel lead vocals. It's a lush reminder that all life is fleeting and should be embraced while it lasts."
"Thanks for listening."
Bandcamp
Facebook
Twitter
Instagram