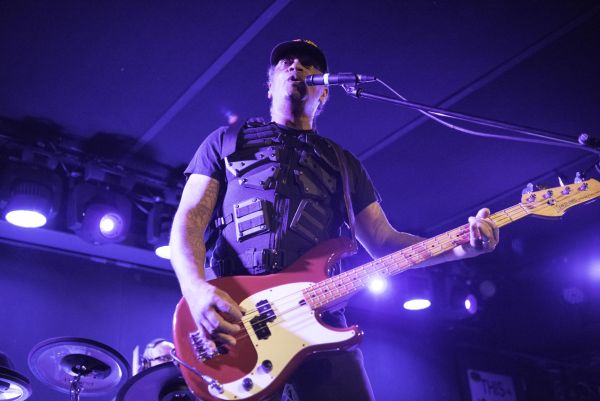 14 December 2021
Black Rose Burning (George Grant) – live – Photo Credit: Robert Braunfeld
Today we have the pleasure to introduce the powerhouse alt-rock artist known as Black Rose Burning, whose new album The Wheel is worthy of your attention.
This is actually their second full-length album, following last year's debut album The Year of the Scorpion. There are one dozen songs here "inspired by love lost, love won, and outer space.". With a healthy set of post-punk/Gothic rock earworms, it should come as no surprise that this album would involve Jason Corbett of ACTORS at his Jacknife Sound Studio in Vancouver.
Here, Black Rose Burning presents a unique bouquet of tracks that call to mind numerous bands while really sounding specifically like none of them. If you had to guess what their influences are based on their high-octane output, you might say this is a potent cocktail of alternative soul as prismed through The Veldt, the post-punk flavors of The Damned, Goth pop Drab Majesty-esque melodics, the death rock of The Cult, and the New Wave pop sensibilities of Colourbox and A.R.Kane.
Big Takeover is pleased to host the premiere of the album in its entirety today.
The LP offers up a compelling blend of ominous Goth atmospheres, dark, but dynamic dancefloor anthems, New Wave '80s tunefulness, and electronics-embedded tech tracks, all draped with the silky, reflective, and longing vocals of George Grant.
Black Rose Burning was formed in 2018 by instrumentalist, producer, and engineer George Grant, whose soulful vocal delivery, instantly recognizable voice, unique grooves, and solid instrumentation are standout features of this music. Grant has also assembled a full band for live performances, including guitarist Frank Morin (World Inferno Friendship Society) and drummer Luis Infantas (Monster Zero).
Spanning the realms of multiple genres, Grant's influences are also multi-generational while maintaining an overall succinct flow and feel. Roughly 40 years of songwriting across many styles has helped George embellish on clever hooks, passionate drive, and energetic performance.
George Grant comments, "This release was a labor of love after the success of my first record. I was working through and adjusting to the post-COVID landscape and took solace in having the time to make another proper record. Over the past four years or so, quite a few relationships that I valued were destroyed in an instant – over politics or just basic unacceptable differences. Then came COVID and I lost a few more for reasons beyond their control. There was a lot of anger in my first record. This one is more melancholic than angry. I write about outer space a lot. On both records. I find it inspirational. It's vastness. It's the place I'd most like to go. Maybe the place I'd most like to escape to might be a better definition."
The Wheel was recorded in George's own studio, PV Recording Company, which has over the years hosted such artists as Emelio Zeff China (Peter Murphy), Knox Chandler (Siouxsie And The Banshees), Chibi (The Birthday Party Massacre), Nellie McKay, Julia Marcel, Paul Bakija (Reagan Youth), Ego Likeness, and Voltaire (with whom Grant also played bass for 10 years).
Available on CD and digitally across the internet, including Spotify and Apple Music. It can also be ordered directly from the band via Bandcamp
CREDITS
Recorded and Mixed by George Grant at PVRCo in Putnam Valley, NY and The Wolf's Den Manhattan
Mastered by Jason Corbett (ACTORS) at Jacknife Sound Vancouver
Cover Art by Eshmoon DM Design
Live photography by Robert Braunfeld
Also enjoy the full-length video for 'Under Twin Suns', a sci-fi themed offering from their debut album:
Black Rose Burning
Website
Bandcamp
Facebook
Instagram
Twitter
YouTube
SoundCloud
Spotify
Apple Music