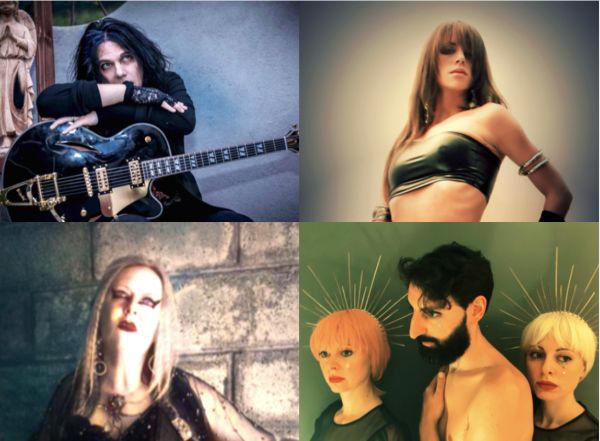 14 December 2021
Collage – Photo Credit: Fabio Santomauro, Anabel Dflux, and Laelia Milleri Photography
Although absolutely a year of uncertainty, what is for certain is that there was a plethora of great music released throughout 2021.
Many folks will be capping off the year with their year-end best-of lists. More focused on the here and now, and what you may want to be downloading from your favorite online music store already now, here you can find a handful of artists worthy of your attention and your ears at this December mid-point.
One of the more prolific post-punk alternative pop-rock artists out of Los Angeles these days, the Michael Ciravolo -led collective Beauty In Chaos has released their new single 'The Kiss of the World' featuring the vocals of Italian songstress Elena Alice Fossi, who is best known as frontwoman of both Kirlian Camera and SPECTRAparis, as well as being a long-term collaborator of legendary producer John Fryer. Apart from their collaborative stunning performance, they have also unveiled a great futuristic and dystopian video, following up BIC's latest single 'Orion', which featured award winning singer-songwriter Whitney Tai.
Curated by Michael Ciravolo (President of Schecter Guitar Research and guitarist in Human Drama for 30 years, and also of Michael Aston's Gene Loves Jezebel since 1998), Beauty In Chaos involves members of The Mission, The Cure, Ministry, Cheap Trick, The Offspring, Gene Loves Jezebel, Marilyn Manson, Human Drama, Bauhaus, Nine Inch Nails, Van Halen, A Flock of Seagulls, plus Zakk Wylde, dUg Pinnick (Kings X), ICE-T, Tim Palmer, Rolan Bolan, and many other music luminaries.
Another artist that has emerged on the radar of quite a few folks this year is darkwave trio VONAMOR, which is made up of sisters Giulia Bottaro and Francesca Bottaro, together with *Luca Guidobaldi., Teasing their forthcoming eponymous album (scheduled to release in February 2022), their single 'Take Your Heart' is both chilling and fiery, while leaving an imprint on your brain that will have you singing lines from the song even afterwards – "Don't stare at me like that. Can't stand your eyes for one more dance. I can help you with a line of mine. Let me help you with a line of me." But it's also groovy and distinctly memorable in the same way as The Flying Lizards' rendition of "Money". Stellar offering from these newcomers. Time to embrace the darkness.
Ava Vox has been quickly turning heads since announcing her debut single 'Crash' under this moniker. A veteran, whose real name is Elaine Blee – a Dubliner now based in County Meath, she is restoring Ireland's reputation of a country that produces superb post-punk, first ignited like pioneers such as Blue In Heaven, Into Paradise, Whipping Boy, and the like. Straddling the fine line that exists between alternative rock / dark pop and post-punk, this single previews Ava's debut album, to be released following the new year. This single should undoubtedly resonate with fans of Siouxsie & The Banshees, Autumn, Florence and The Machine, Divinyls, The Danse Society, and Carole Pope / Rough Trade. Go Ava go! See Ava go… in power.
Jump in and support these artists! Here's to a decent ending to 2021 and a better 2022.
Beauty in Chaos
Website
Facebook
Twitter
Instagram
Spotify
Elena Alice Fossi
Website
Kirlian Camera Facebook
Instagram
Spectraparis Facebook
VONAMOR
Website
Facebook
Twitter
Instagram
Ava Vox
Website
Facebook
Bandcamp
Instagram
Twitter
Spotify