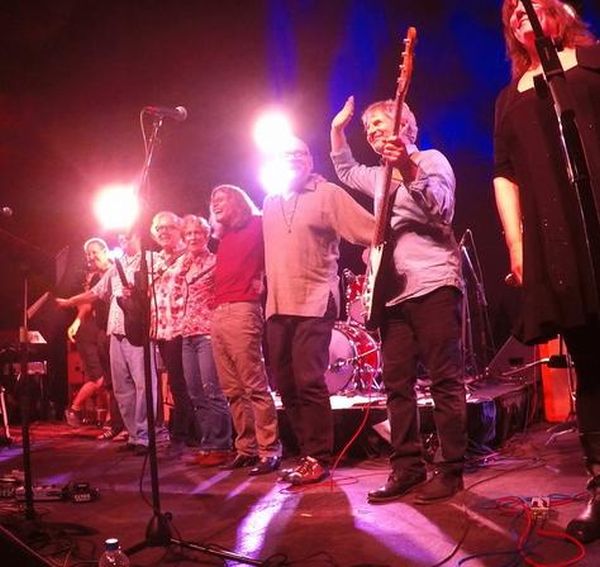 7 June 2021
Left to Right: Corky McClellan, Rick Reich, Mitch Easter, Robin Borthwick, Corky McMillan, Don Dixon, Chris Stamey, Lynn Blakey – on stage – Photo courtesy of Omnivore Recordings
On May 7th Omnivore Recordings released a fun, Nuggets-like trip back to the Summer of Love era in the form of Yesterday's Tomorrow: Celebrating the Winston-Salem Sound.
The album of live performances shines a strobe light on the vibrant '60s and '70s "Combo Corner" rock scene of Winston-Salem, North Carolina.
Original members of bands such as Arrogance, Little Diesel, Sacred Irony, and Rittenhouse Square —including Mitch Easter (Let's Active), Peter Holsapple, Will Rigby, and Chris Stamey (the dB's), and singers Don Dixon, Dale Smith, Lynn Blakey, Bob Northcott, as well as many others (the Occasional Orchestra of live strings, percussion and bass under the music direction of Doug Davis ((Vagabond Saints' Society)) — convened on May 12, 2018 at Winston-Salem's Ramkat club to revisit those fuzzbox years, and this remarkable live recording shines brightly with their camaraderie and precise enthusiasm for those days of yore.
The musicians played the music of Let's Active, Sneakers, Rittenhouse Square, Sacred Irony, Little Diesel, the Imperturbable Teutonic Griffin, and Captain Speed and the Fungi Electric Mothers, and also covers of the Beatles, Electric Prunes, Kool and the Gang, and Bubble Puppy.
The impetus for this extraordinary concert was that Chris Stamey had a book fresh off the press, a song-based memoir called A Spy in the House of Loud. A portion of the book references his time in New York, but the first part remembers, song by key song, the late '60s and early '70s creative rock music scene in Winston.
A surprising number of the Combo Corner crew went on to play and produce music professionally in the decades that followed — often with one another in different configurations (e.g., dB's, Let's Active, or with R.E.M., Steve Earle, Matthew Sweet, Vassar Clements, Hootie & the Blowfish, Big Star's Third Live, Mary Chapin Carpenter, Golden Palominos) and in different locales. They were still in regular contact the day Stamey suggested they try to "play the soundtrack to the book."
Stamey comments, "There's a ley line running through a [music] scene and a city, one that you'll find is worth exploring. Maybe every city has a beloved scene in its rearview worthy of celebration? In fact, I hope this is indeed the case. But this one is our story. Or at least a time-tunnel's glimpse into a part of it."
The concert was captured to multi-track, lovingly mixed by Stamey and Easter, and is available as Yesterday's Tomorrow: Celebrating the Winston-Salem Sound, a multi-decade tour-de-force, and an important document in itself.
The album is more than just a celebration. It's a history lesson, with the present happily dressed up in the past, looking toward the future.
To go along with the LP's audio, never-seen-before video footage of the concert is also being released.
Big Takeover is pleased to host the live performance video for "Every Word Means No" (originally by Let's Active) from The Royal Opposition, featuring Mitch Easter. The catch-all for the new big-ensemble groupings was the Royal Opposition, which is only a consonant away from Easter and Borthwick's seminal 1968 surf-rock combo, the Loyal Opposition.
The tuneful and brisk power pop track with indie rock crunch flies by on an enjoyable high, full of heartfelt vocals and backing harmonies, ringing guitar riffs, low-end bass line, and kinetic drum strikes, and scintillating cymbals hits.
Mitch Easter delves into interesting details about the song and video, revealing, ""Every Word Means No" was a great triumph for me because at last I had written a proper folk song! By which I mean a song that doesn't depend on a particular instrumental backing. You could sing this song over a rock band or an autoharp and it would work either way. Everything I'd written before seemed to require the right sort of backing track to "happen." At the time that felt like a weakness, and I needed to prove to myself that I could write one that would succeed around the campfire, too. Not that I had campfire aspirations—this song was written with Let's Active in mind. We were a guitar/bass/drums combo, and it was fun to explore the stripped-down sound of a 3-piece. I thought it would be good to be a "scrappy little outfit", whose live performances sounded pretty much like the record. Or, like the record, only faster. So, this song was just the thing for us starting out!"
"Nevertheless, it has a funny middle section which you could almost call "prog" by some definitions, the beat cuts in half, between the start of that middle section and the return of the normal beat at the last verse, I think there are 11 measures (plus a little breath extra), which is pleasingly asymmetrical, and this really is essential to keep the song from being too repetitious and…too normal. And it sets up a little "kicks back in" for the last verse, something you always need. So far nobody has told me that the song would be OK aside from that goofy middle bit, why'd you put that in?, it kills the flow, etc.—and I'm still surprised."
"A few years ago somebody sent me a video of a band somewhere in Asia doing a song that had the very same riff, and the vocal melody was essentially the same for a while, too. I still don't know whether "Every Word Means No" had some kind of subliminal global reach (it's quite a bit earlier than this mystery song), or if my song is so basic the odds are strong that somebody would come up with pretty much the same thing through sheer happenstance."
"I'm the only person from the original recording in this live performance at The Ramkat, and it's with appreciation and delight that I can say: everybody who's playing and singing here just nailed it!"
Package contains detailed liner notes by Stamey and a 24-page color history booklet with anecdotes, artifacts, and rare photographs.
Order the LP at Omnivore Recordings' WEBSITE
Track Listing:
1. Hot Smoke & Sassafras—Rittenhouse Square
2. Reptilian Disaster—The Love Valets
3. Room With a View—The Royal Opposition feat. Lynn Blakey and Mitch Easter
4. Talk Talk—The Imperturbable Teutonic Griffin
5. Yesterday's Tomorrow—The Love Valets
6. Hollywood Swinging—Little Diesel
7. I See Love—Sacred Irony
8. Black Death—The Love Valets
9. S'il Vous Plaît (Live) – Sneakers
10. Got to Get You Into My Life—The Royal Opposition feat. Don Dixon
11. Condition Red (Live) – Sneakers
12. Every Word Means No—The Royal Opposition feat. Mitch Easter
13. Think feat. Don Dixon—The Royal Opposition
14. Like Wow—Rittenhouse Square
15. King Battle of the Bands—Rittenhouse Square
16. Kissy Boys—Little Diesel
17. The Train Stops Here—The Royal Opposition feat. Mitch Easter
18. I Am Your Doctor—Sacred Irony
19. Ruby (Live) – Sneakers
20. Maybe I'm Amazed—The Royal Opposition feat. Don Dixon
21. Good Times—Sacred Irony
22. Galaxies of Love—The Royal Opposition feat. Bob Northcott
23. I Had Too Much to Dream (Last Night)—The Imperturbable Teutonic Griffin