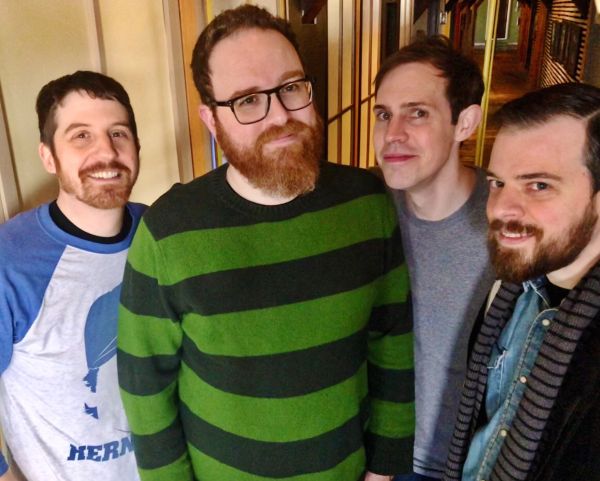 1 May 2020
BOAT – Photo courtesy of BOAT
Tacoma/Seattle-based indie rock legends BOAT make landfall after a 7-year hiatus, releasing their new album Tread Lightly, on May 1st via Magic Marker Records. Big Takeover is pleased to host the premiere of the album today in its entirety.
No need to call this a comeback LP though, as the band never really broke up. They've just spent some time focusing on other things after the release of 2011's acclaimed Dress Like Your Idols LP.
According to frontman D. Crane, the band's friendship has always been the greatest component of its existence, so even though they weren't making music, the crew of BOAT sailed on.
"We all have busy lives, but just generally enjoy hanging out with one another and eating pizza and playing songs," Crane says. "I focused on Unlikely Friends, J. Long focused on his work at KEXP and recording bands, J. Goodman focused on his other band Brackets, and M. McKenzie continued to be mysterious."
"Things really picked up when J. Long and I started sending each other demos. He creates crazy drum loops, and I make a song around them, and send them back. He adds extra melodies on keyboards and vocals, and chops them up and sends them back to me for more layers."
Considering their close bond, it isn't surprising that their 6th studio album Tread Lightly doesn't sound like a band coming back after nearly a decade. The album's dozen crunchy but harmonically honey-coated songs swiftly and succinctly hit that Superchunk/Shins/Built to Spill/Ben Folds/Presidents Of The United States sweet spot you didn't realize you've been missing.
And speaking of Presidents…if you listen closely, you'll discover a President tucked away in "Zombie State Of Mind," Mr. Chris Ballew in all his glory.
"He is awesome," declares Crane. "He gave us a bunch of different ideas, and we just put them all together. Listening back to the Presidents of the USA albums, he does so many cool little vocal things that I didn't even realize until after he contributed to our song. He's just a true Seattle artist. Much respect for Ballew!"
If you listen closely enough, you'll discover that the ominously titled Tread Lightly actually contains positive, uplifting, and empowering messages about life and getting older.
Lead single "So Many Reasons Your Hair Turns Grey" will make you laugh, but when you think about the lyrics a little harder, you'll completely appreciate it on a different level. "Metabolism" is another lyrically sly number that starts out as a lo-fi piano ballad, but then morphs into a melodic psych-pop delight.
"(To All The) Sweaty People" plunges directly into gritty rock 'n' roll, moving like a rhythmic behemoth, both heavy and active, with jagged guitar lines, low bass undertow, and overlapping exclamatory harmonies.
The sonically askew "I Believe In The Principle" swims in layers of angular acoustic and electric guitars and wordless floating harmonies,conjuring up retro-pop at its finest vintage on the verses, and then morphing into trippier psych-tinted chorus sections.
"Zombie State Of Mind" is classic indie pop-rock, jangling and melodic, but also edged with harder guitar shards, shouted out vocals, and lively drumwork. Lyrics like "Monsters surround us every day" hit the socio-political target, but the sound is up-tempo and the feeling is upbeat.
The songs on Tread Lightly offer something more cerebral; healing vibes from someone who's been through trauma and wants to help the world heal, yet leaves you thinking and finding comfort/wisdom in.
Crane agrees, commenting "I think more than almost any other album, this one captures what is going on in my mind. It was subconscious, but I think the record kind of plays like a diary to me. Maybe a 40 year old's diary?"
TRACK BY TRACK
"Metabolism"
"This song started on the ukulele, and then the piano, and then M. McKenzie came in and recorded guitar and bass over everything. It is the simplest song on the album, and also my favorite."
"To All the Sweaty People"
"This song was intended to sound like Harvey Danger meets The Detroit Cobras. Are you a sweaty person? This one's for you."
"So Many Reasons Your Hair Turns Grey"
"This was the first song written for the album. D. Crane wanted to record a 7 inch with this on the A side and a cover of The Grateful Dead's "Touch of Grey" on the B side. It started as a really noisy instrumental that didn't sound right for BOAT. Eventually, layers were subtracted and J. Long rearranged the parts, and after mowing the lawn on a sunny day last summer, D. Krain wrote some lyrics, and brought back the falsetto. J. Long adds the sweetest vocal layers ever, and J. Goodman plays an impossibly complicated lead over the choruses that makes it all stick together."
"Tread Lightly"
"This is the title track. D. Krain had brain surgery and tooth surgery in 2018, and this track was inspired by MRI machines and doctor visits of all kinds. It also references J. Askew (BOAT's sometime keyboard player), who occasionally and mysteriously shows up to practice with the band."
"In the Water"
"This is the fastest tempo of any BOAT song ever. It was almost called "Israelites Part 2," but was renamed at the last minute. It is all about summers in Washington State, and staying up too late."
"I Believe in the Principle!"
"Is this song's melody stolen from Eddie Money's "Baby Hold on to Me?" Does that make it better or worse? It's for you to decide."
"Be as Good as You Want to Be"
"This was almost the title track of the LP. It features some noisy guitar, coupled with sweet verses about friendships and mortality. Kind of a classic recipe for a hit single??? Originally, titled, "Not a Parade, But Candy's Lining the Streets.""
"Only Without/Lonely Without"
"This song starts with a noise passage inspired by Lee Ranaldo of Sonic Youth. D. Krain wanted to make an album similar to Sonic Youth's Washing Machine. After about thirty seconds of this, it turns into a classic pop song, with a duet between Shelley Short and D. Krain. We actually have Lee Ranaldo's business card (he recorded at KEXP with J. Long once) at our rehearsal space, and almost called him and asked him to play on it, but everyone chickened out. So you get D. Krain and J. Long pretending to be him and Thurston."
"Mind Bending"
"This song is a combination of two songs that were going to be on the album. The first one was called "Metal Bending," and the second one was called "Teeth Compaction". It features some epic Moog and guitar work from J. Goodman."
"Zombie State of Mind"
"This was a project where we had people call our hotline and record them saying the title, and then building a song around it. The song is all about how 10 or 20 years goes so quickly, and if you're not careful, you just become a zombie of routines. In the chorus, D. Krain and J. Goodman go into full zombie mode. We asked Chris Ballew (Presidents of the USA, Caspar Babypants) to add background vocals and leave the answering machine message. He couldn't have been nicer, and if you listen closely enough, you might hear your phone call on the chorus."
"Loneliness Kills"
"This song was the last song written for the album, and features J. Long singing impossibly happy sounding vocals over a huge bass beat. It features Shelley Short and D. Crane duetting on a weird whispery chorus. It is destined to be a hit."
"The Ballad of Gaz Coombes"
"Over the last few years, we have seen friends go through a lot of relationship changes and despair, and this is a song about that. D. Krain loves Supergrass and wrote the song from the perspective of Gaz Coombes after Supergrass stopped playing together. Now, Supergrass are doing a reunion tour. Coincidence, or was it spoken into existence??? Either way, BOAT is available to open any and all US dates for Supergrass!"