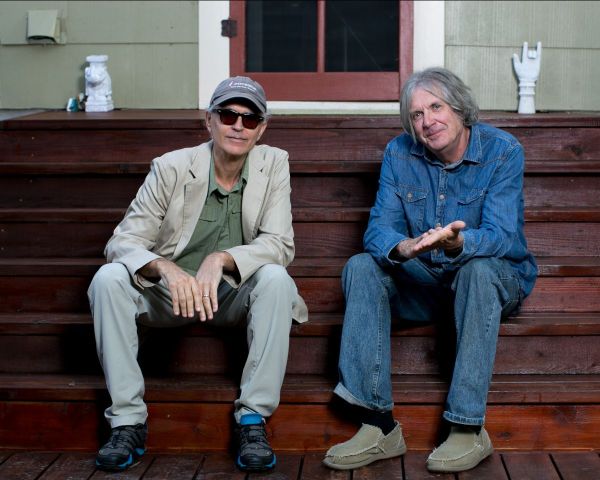 27 May 2021
Kramer and Jad Fair – Photo Credit: Brian Birzer
Renowned musicians Jad Fair (Half Japanese) and Kramer, as indie rock duo Jad Fair & Kramer, are gearing up for the US release of the remastered/remixed version of their third collaborative album, The History of Crying, Revisited, on June 18th via Shimmy-Disc and Joyful Noise.
Their original LP, The History of Crying was only released in Europe in 2017, but now through NYC's Shimmy-Disc label it gets a new life with remastered and remixed tracks from famed music producer Kramer himself.
The 12-song full length was produced and recorded by Kramer at his Noise Miami studio in Florida. Long-time fans of Jad Fair will be blown away by his vocals on the album, and fans of Butthole Surfers will go wild for Paul Leary's fiery guitar solos across the record.
With the announcement, Jad Fair & Kramer have dropped their lead single, "Red Red Sun," a sunny, laid-back indie rock jam featuring some killer guitar solos and a timeless vibe.
Big Takeover is pleased to host the premiere of the music video for the pair's haunting second single, "I'll Give You the Moon." The atmospheric number is matched by an equally mysterious video that's steeped in shadows and lit by flickering candlelight.
The waltzing, yet dark lullaby swirls with music box-like and carnivalesque notes, while Jad Fair's hushed, but deliberate vocal tone and foreboding guitar reverberations cut through the delicate instrumental fabric.
The song's theme touches upon how to prove an all-consuming devotion to another, with its title as the answer to the conundrum. In the video Jad Fair carries a physical representation of the moon in one hand as a symbolic gift for his beloved.
Kramer launches into insightful detail about the creation of the tune, revealing, "So i sent a barrelful of song titles to Jad for The History of Crying, so he could write lyrics for this brand new LP we were making together. our first in 20 years."
""I'll Give You the Moon" was the third title I sent, and it was weighing heavily on me, at that moment, heavier than all the others, the whole notion of it…of what it takes. People refuse to just believe in love. They need to be convinced. and then they still just refuse to believe it. That was really bugging me. I needed to talk to Jad about it."
"So i called him on the phone."
"Hey Jad, if you really could give someone the moon, not just metaphorically, but, I mean really just reach up into the nighttime sky and pull it down, and give it to that person, just as you would 100 red roses, do you think they'd finally believe that you really and truly loved them?"
"Well, Kramer, I think, hmmm… hummm…I think it would probably depend upon the person you were giving the moon to."
"So, Jad, you don't think there's any one thing that would always work, to prove your love, for everyone and everyone? The same way a vaccination would work all the time, no matter whose arm the needle was stabbing into? to prevent polio, or the measles, or diphtheria, or that thing you get when you step on a nail?"
"I don't know, Kramer. I think you just have to try everything. I think it just isn't a one-shot-deal."
"But you'd start with the moon, if you really really really loved them. right, Jad? No matter who it was."
"Well, Kramer, I guess that would be a good place to start, if you really really loved them."
"The way i see it, Jad, if you really really really really do love someone, you start at the very top, and then you just work your way up from there. So I'd always start with the moon. And if that didn't work, I guess we'll just have to write a song about it, and see if that works."
"OK, Kramer. I'll send you some lyrics in a few days. or maybe in, like, hmmm. would maybe about ten minutes from now be OK?"
Pre-order A History of Crying, Revisited at Shimmy-Disc
Jad Fair Website
Kramer/Shimmy-Disc Website