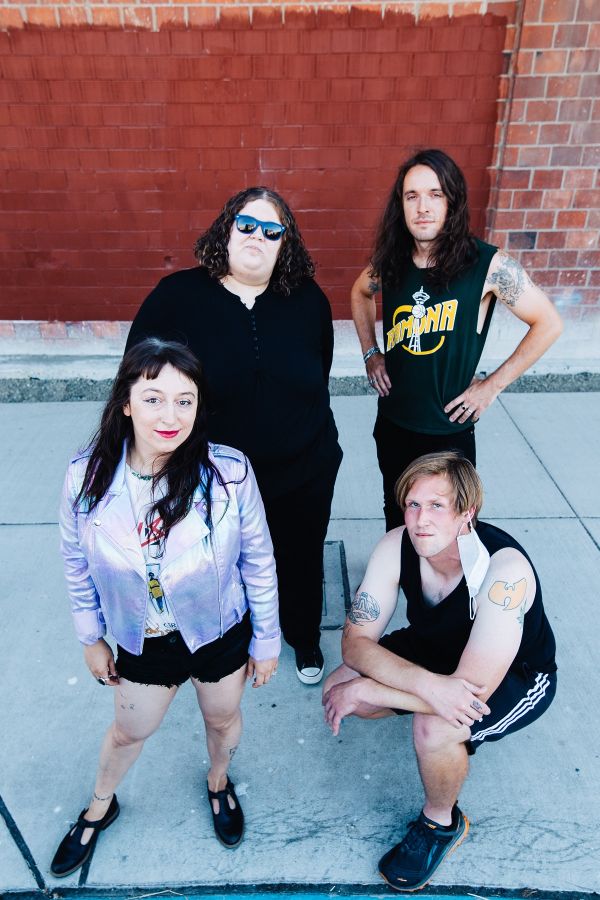 5 September 2020
LipStitch – Photo Credit:Tommy Calderon
On their debut full length Who's Left and Who's Leaving, which officially releases tomorrow, Bellingham, WA-based quartet LipStitch charge fearlessly into the land of big amps and bigger hooks. Big Takeover is mighty pleased to be hosting the premiere of the LP in its entirety today.
LipStitch draws inspiration from Pacific Northwest Riot Grrrl, '80s punk-edged hard rock, and '70s NYC pre-punk glam.
Band members Amanda Hodgins, Chris Williams, Danielle LeBeau, and Bryan Hunter cut their teeth playing covers around Puget Sound. Quickly realizing that there was some real magic in their chemistry, they transitioned into writing original music that offered the hooks, simplicity, and joy reminiscent of the artists who inspired them in the first place.
In fact, propelled by nothing more than word-of-mouth and a December 2018 two-track demo, LipStitch has already opened for Death Cab for Cutie, Odesza, The Coathangers, and Dude York. With the help of Seattle underground staple Rocket Heart Records, they're ready to present their debut studio full length to the world.
Written primarily in the fall of 2018 and 2019 as the band were entering new stages of their lives, Who's Left and Who's Leaving traces the process of grappling with grief and eventually coming out the other side.
"As we were entering our late twenties and early thirties, a lot of our friends and people vital to our community moved away. It felt scary and confusing," says Hodgins. "We realized all of us were experiencing some form of grief, and we wanted to write songs exploring that."
From the very beginning, this album was fueled by camaraderie. After getting married, Williams (lead guitarist) and Hodgins (vocalist, rhythm guitarist) found a place with a big enough garage to host band practices. Their place was always intended to be full of music and friends, which is what happened after Williams met LeBeau (bassist) at work. They quickly bonded over their love of gear.
Hunter (drummer) and Hodgins were already playing together in a separate project. Each of them often crossed paths; cooking together, telling jokes, and sharing beers. Naturally, they started bonding over their love for loud guitars and catchy riffs, and decided to start writing something together. This is how the first few tracks of Who's Left and Who's Leaving were born.
Fittingly for a band that stands tall in the broad canon of "garage", Who's Left and Who's Leaving was written and recorded in the garage of the house shared by Williams and Hodgins. This might assist with the gritty acoustics, but to truly capture the right sound they brought in good friend Erik Takuichi Wallace of Shibusa Sound and his portable recording rig. "Erik not only helped us record and mix this, he gave us lots of tips and tricks," tells Hodgins. "We wouldn't sound half as good without him."
Staying true to their Bellingham roots, the band invited local friends and fellow Bellingham musicians to perform guest vocals on several tracks which included Kelsey Tribble of The Censors, Whitney Flinn of Cat Valley, Kristen Stanovich of Cat Positive, Justin Taylor of No Guts, and Ridge Bernosky of The Interrogation.
At the heart of this project is four friends who enjoy each other's company and are nostalgic for simple, earnest songs. "Living in this world the last few years has been discouraging for a lot of people." says Hodgins "The world is burning around us. Everything feels urgent. Sorting out those feelings – but finding friendship and hope anyway – is what this record, and this group, is about."
This feeling of hope and striving for something better informs not only the lyrics, but the rousing garage rock sound of the album's songs. Album opener "Homesick" may wallow at times in morose lyrics, but sonically it reaches for the rafters with scintillating guitar blasts, punchy drum strikes, and passionate vocals, and tuneful harmonizing.
The restlessly kicky "Give Up" employs staccato guitar lines on the verses, but charges forward forcefully on the chorus sections, while "Hold On" burns with an emphatic hard rock fire that sparks the perceptive depths of the lyrics about needing to relinquish control on every aspect of your life (because not everything can be scheduled and managed as planned).
"Tough Year" pretty much sums it up for us all, but LipStitch leavens serious lyrics with a can-do attitude, melodic vocals, and as always, catchy hooks in abundance. The band are adept at blending power pop sweetness with rock 'n' roll grit and this track is a prime example of this spirited hybrid sound.
Sliding guitar lines ring out on the reflective to propulsive anthem "Best of Us," while jackhammer bass line, kicky drums, and cymbals crash form a vibrant pattern that belies some of the downcast lyrics, like, "Getting out of bed can take the whole day/ Will I get a break? / Is it too late?"
The more contemplative and folky "What's Next" shows off another facet of the band, featuring acoustic guitar strum and vulnerable vocals, yet still shining with a bright and active sound. A deep bass line groove takes center stage on "Dig," lurching forward with determination, as an emotive Hodgins cries out, And if we've lost our way / we'll try again someday."
The bracing, Veruca Salt-like "Mid Thought" tumbles headlong through the air, while "Dang" explodes with hard rock fervor on its short and sharp exclamatory chorus sections. Album-ender "Resolution" wraps it up with triumphant guitar lines, supple bass undertow, churning drum beats, an another anthemic chorus that asks, "Does anyone believe in love? The answer a heartfelt and resounding yes to those who face challenges head-on and find connection with each other.
Ruminating over the album's themes and meaning(s) Hodgins relates, "These songs were written when all of us were in pretty big life transitions. It's about being scared of change, trying to move past it, trying to embrace it, and finding community in spite of everything going on in the world. Ultimately, that's what this project has been for us – a home away from home. A place that feels safer than anywhere else – and we hope to bring some of that to people who hear it."