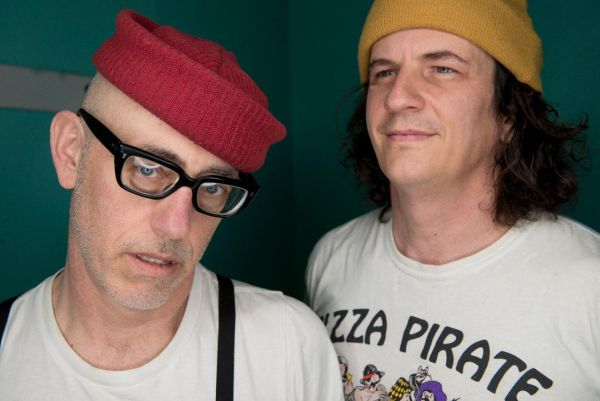 21 May 2021
the Mistons – Photo Credit: James Rexroad
Hailing from Portland, Oregon, rock 'n' roll/punk duo The Mistons self-release their dynamic, gritty, and stark new album World of Convenience today, and Big Takeover is pleased to host the premiere of the LP in its entirety.
Veteran musicians Sean Croghan and Micah Kassell are two Oregonians living on one street with a travel trunk of music history behind them, bashing and screaming it out in song, with their hearts on their old and tattered sleeves. The voice scrapes, rasps, and breaks over hot-wire guitar lines and bedrock drums, pleading, prodding, and provoking.
Their twist on Portland Rock is influenced by the natural environment – the river, the rain, the hills, and darkness falling, just like so many Oregonian bands before them…
Croghan and Kassell are surrounded by history, and a community of other artists and creators. The duo explain, "We are trying to keep alive a music form. This is the music [we were] born to make, [We're] not going to stop now."
It's full speed ahead on World of Convenience, with the punk preachers mixing critical thought with a no-frills, kick-ass hybrid of garage rock/punk music – unapologetic, but sincere in their direct vision and unvarnished execution.
The raucous title track is a barrage of wiry guitar angles that jab the ears in a rapidly churning cycle. The fast-slapped drum beats also drive the song forward as the punk-spirited exclamations fly out with vehemence. The passionate tirade is anchored by relevant lyrics about self-imposed isolation in our fractured society/community.
The single "High Water Style" slams with battering drum strikes, bright, but grinding guitars, and exclaimed vocals about the haves and have-nots, while hard-rocking "Transmission" with its banged-out piano notes is a high-energy burst about the outsiders in life who are waiting in the wings for their time in the spotlight.
Grimy garage rocker "My Heart" lurches with a staccato pace, jagged guitar riffs, bashed drums, and fervent vocals, while emotionally frustrated "Don't Understand" plows through with determination as the song's lyrics deplore inequity and other challenges faced in life.
World of Convenience was recorded at Halfling Studio by Adam Lee and The Mistons.
About the full length, Croghan comments, "World of Convenience is my returning to home album. It's about our place and the music that set the tone for my life. Its urgency comes from the streets, our city or time. It's intentionally simple, like a old folk song, something shared to be repeated by others. This album is purely us, with blemishes and all, raw. I think Adam did a fantastic job of capturing us and bottling the songs for home consumption."
Order World of Convenience at Bandcamp