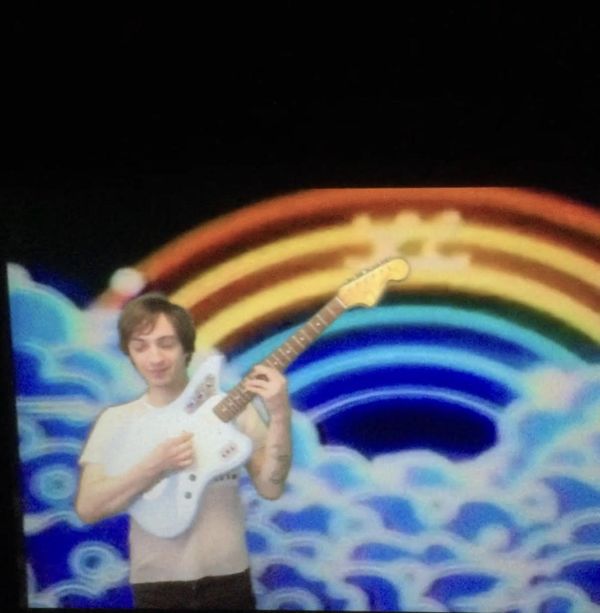 5 March 2021
Brian Damage – Photo Credit: Chris Mengerink
Brian Damage is a melodic, dynamic, lo-fi, and synth-driven rock outfit from Columbus, Ohio. The band was founded by musician/bartender/barista/prankster Brian Baker, who has played in loads of regional bands including Brat Curse, DANA, Sega Genocide, Hydrone, Smug Brothers, Astro Fang, and the list goes on and on…
Big Takeover is pleased as a punch-drunk boxer to host the premiere of Baker's debut album, Yesterday's Slime, today on its release date. The LP finds multi-instrumentalist Baker behind the drums and on guitar, bass, synthesizers, and vocals.
Taking its cues from a long line of Ohioan heroic art-damaged indie rock guitar bands, the sound here fondly recalls the snotty spark of early indie rock, injected with walls of toy keyboards, and layers of oscillating, bleeping, and blooping synthesizers.
Baker's overactive mind and hyped-up energy run riot through the vividly scintillating baker's dozen of tracks. He sings with a gritty and defiant punk rock attitude, aiming true with direct lyrics on messed-up relationships, self-doubt/-worth, and the challenges of everyday life.
Baker picks his brain for a Track-By-Track rundown of his new album:
"Yesterday's Slime is an album that was recorded mostly in my living room. It features myself playing all of the instruments, and it is mixed and mastered by my friend and sound master, Chris Young. I will go through each track and break them down for you."
"The first track, "Too Far," starts with a bagpipe. When I went to vote at the library, there was an older gentleman sitting against a tree playing bagpipe, so I recorded it with my phone. Nothing else needs to be said about this song."
"Track 2, "Appease your Fingers," is a song that I think might be about masturbation, though I'm not sure. This song also starts with a voicemail recording that my friend Alissa (who also did the album art) left me. It's like she's channeling The Godfather and Lion King at the same time. I don't think there's anything else that is interesting enough to comment on about this track."
""Wrong Chord" is the first song on the album to incorporate the drum machine. It has a different feel to it IMO because of the drum machine. It is a Roland TR-505, and it is one of my favorite belongings. It has the best drum sounds. What more could I possibly say?"
""Juicy Secret." This song is hilarious."
""Coolest Guy" was made mostly on small Casio and Yamaha keyboards from ages past. In my head I wanted it to sound like that cover of "Money" by The Flying Lizards from the Wedding Singer soundtrack. I don't think it sounds like it at all though. My favorite character in Wedding Singer is Steve Buscemi."
"Now we're going to move on to "Goofing off in Hell." Try to keep up. A friend of mine who is named Steve Emmons, told me about a tentative song title called "Goofing off in Hell" that he never actually wrote. So with his permission, I took a stab at it. What you hear when you listen are the results. Also, this is the only track on the album that displays my guitar mastery. Be careful."
""Cubical Blues" is a song about working, and how terrible working is. This is the only song on the album I'm not happy with. I won't bring attention to what I don't like about it, so that maybe the listener won't notice."
""Disheveled" was a song I wrote like a year before all of the other songs. It doesn't quite fit in, but I like that about it. It's sort of the 'Black Sheep' of the album, and I am David Spade. There's a music video for it that Alissa Paynick made featuring a dragon sock puppet just going about his day. Can you believe that? Let's move on."
""Thoughts of a Dying Police Chief" is a song about the thoughts of a police chief on his death bed, and some of the things that might pass through his dying brain. This song also has a part that wasn't recorded in my living room. I work at a bar, and it's not open because we're living in a pandemic. I took all of my keyboards there and taped down the C key and my friend Adam Hardy recorded the room. That's what the ambiance behind the guitars is made of. It was really cool."
"Next we go in to my fake Ramones song called "Psycho Horny." This song is about people I've known that just seem horny for naughty behavior. It speaks for itself. But seriously, it's a fake Ramones song."
"This next song ["Jewel Encrusted Plane"] I wrote on one of the worst days of my life. I had all of these realizations about myself. I realized that I smell terrible, all of my friends have been paid by my parents, my beautiful girlfriend is completely imaginary, and my name isn't actually Brian, it's Jogson Jewelweed and I was born in an entirely different universe but no one believes me. That's fine. Anyways… I've said too much…"
"Moving on! Finally, we've reached the end. The lid on top of this album is a very strange song called "Blow Back." I don't know what this song means. It's complete nonsense, but it seems very theatrical. It starts with a sample from an old dinosaur movie of a woman asking a man if he actually shot a dinosaur. Maybe I'm the dinosaur? I am getting pretty old. Anyways, thanks for reading. I hope you enjoy this album!"
Order Yesterday's Slime at Bandcamp