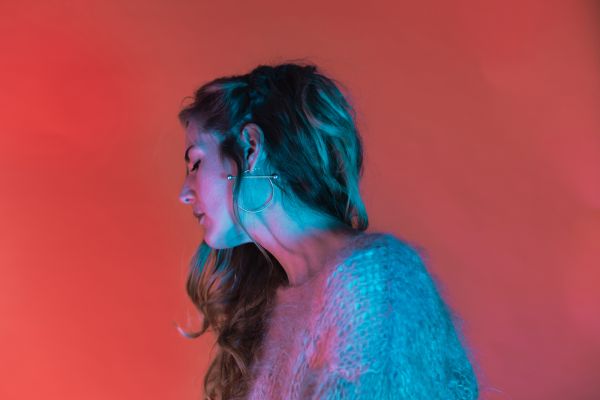 4 March 2021
Badlands – Photo Credit: Rickard Grönkvist
On March 5th, Swedish producer, composer, sound designer, and touring musician (playing synths/keyboards in The Radio Dept.) Catharina Jaunviksna, AKA Badlands, will release her powerful album Djinn via RITE. The LP is a memorial to her mother who passed under unclear circumstances.
For Jaunviksna, Djinn has become a telling image of how the darkness in her own life culminated a couple of years ago. When she thought life couldn't get any worse, her mother was found dead in her apartment.
She'd had a bad addiction for a long time, which could have contributed to her sudden passing – but there were a number of mysterious circumstances linked to her death, which led to many difficult and unanswered questions.
While waiting for answers that were long overdue, the uncertainty made Jaunviksna paralyzed and desperate. In the middle of that unreal and macabre situation, the first grains for Djinn were sown…
Each song on the record approaches the art of letting go in different ways – through resilience, sorrow, and spirituality. The result is a chronicle that combines these themes of love and loss with a palette of electro, post-punk, and New Wave influences into emotionally warm and enveloping music.
Big Takeover is pleased to host the premiere of the nostalgic music video for the sweepingly buoyant single "Let Go."
Amid shining synths pulsation and press, a peppy percolation of fuzzy electro-notes, and a crisply brisk beat, Jaunviksna's clarion vocals reach out with new-found hope.
Light touches of Middle Eastern psychedelia swirl into the rhythmic mix, as well as the occasional spacey laser blast and launch pad countdown, adding to the feeling of lift-off into a higher plane of understanding and existence.
The video clip uses authentic 16mm film from when her mother was growing up in the north of Sweden. The hazily displayed, but engaging vintage scenes roll out as a collection of cherished memories captured on film.
While deeply personal, the footage of Jaunviksna's mother becomes universal upon viewing, a window into familial bonds and a connection to the past. But it is also a poignant reminder that life is fleeting…
Jaunviksna reveals, ""Let Go" is a tribute to life and a study in the transience of everything. The track and video reflects how temporary everything is — one moment it's there, the next it's gone. Memories are cloudy and hard to trust, but they are what makes us. It represents the art of letting go and the different stages in that incredibly challenging process. But in the end, you're free."
Dijnn pre-order at Bandcamp