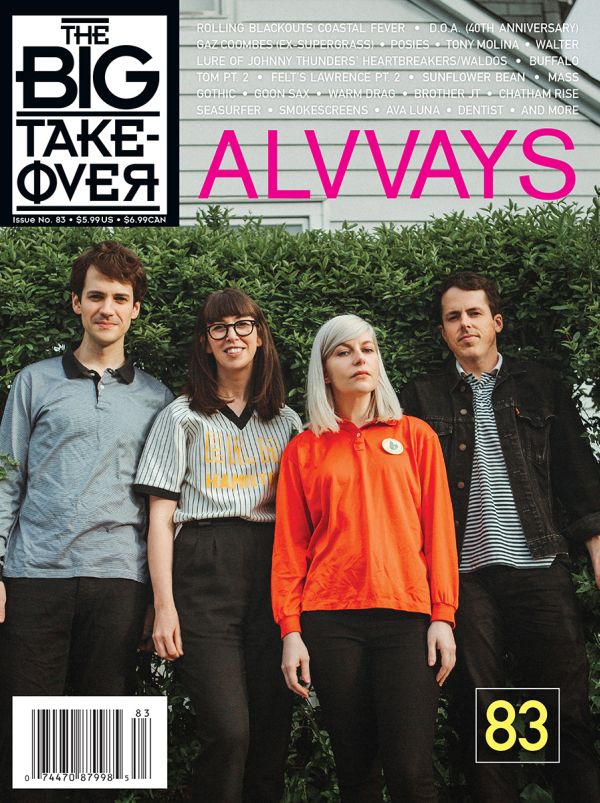 24 November 2018
Once again the big news is that Big Takeover #83 Fall 2018 issue was completed in Brooklyn, NY and Oakland, CA this month! The issue stars Toronto favorites Alvvays on the cover, and features fabulous history interviews with Walter Lure of the legendary Johnny Thunders' Heartbreakers and The Waldos, mysterious '80s Felt frontman Lawrence pt. 2, and original Vancouver punk greats D.O.A., plus Buffalo Tom pt. 2, Rolling Blackouts Coastal Fever , Gaz Coombes (ex-Supergrass), The Posies, and Tony Molina.. Plus there are shorter chats with Sunflower Bean, Mass Gothic, The Goon Sax, Warm Drag, Brother JT, Chatham Rise, Seasurfer , Smokescreens, Ava Luna, Dentist, and more! A full description of its contents is just below
The magazine will begin shipping any day now, so you should see it quite soon! Remember, we only come out twice a year, every Spring and Fall, so you don't want to miss one of our jam-packed 150-page issues!
(IMPORTANT: If you are a subscriber and you need to update your address, please tell us. Send updates to me at jrabid@bigtakeover.com)
And since the issue #83 will soon be shipped to subscribers and stores, now is an excellent to go to our secure online store to preorder it if you would like to receive it in the mail (You can also buy any or all of our 82 back issues there that have been released over the past 38 years, too!), or subscribe if you've been meaning to, or renew your subscription if it has run out.
And just a reminder that there's still time for the perfect Holiday (or birthday, or whatever type of) gift: Big Takeover magazine subscriptions and back issues!! Give the gift of music appreciation and good reading to those you love! (And maybe to yourself while you're at it.)
Speaking of which, for more super gifts, here's a reminder about our t-shirts, CDs, and our other fun stuff like Big Takeover beer cozies and signed posters that might be just the thing!
That's right, also just in time for Christmas, Hanukkah, and other holidays, etc.!! Big Takeover issues, subscriptions, back issues, t-shirts in three colors, black, white, and burgundy red in thirteen sizes (including our new children's sizes, 2T, 3T, 4T, and 6MO, 12MO, and 18MO baby onesies!!!!! The coolest gift ever for the kids!), and our accessories (BT beer cozies for only $5 and 12 X 18 color BT Anniversary Festival Posters for $4, which I will sign if you want me to!), as well as our related CDs (including the limited edition Springhouse CD album, From Now to OK), also make the perfect birthday, Christmas (or Hanukkah or other holiday) gifts! Especially in this time when we are all trying to economize.
This means our t-shirts still come in three colors (black, white, and burgundy red) and are only $14 for men, $13 for women, and $10 for children's shirts and baby onesies, even including postage.
Also, all but two of our back issues are still available (if your friends like a specific band we've featured) and there's always the mega-deluxe gift, the complete set of all of our 83 issues to date, including the two that are out of print! Check theback issues page and you will see that offer.
And we are also offering used, good-quality CD copies of the three out-of-print SPRINGHOUSE CDs from 1991-1993 as well as sealed, limited edition art-package copies of Springhouse's 2008 third LP From Now to OK (See why it got an 86/100 in Paste!), as well as CDs by EVEN WORSE, LAST BURNING EMBERS, DOUG GILLARD, NON-LINEAR THINKERS and EDP!
If you want to subscribe or renew or give the gift that keeps on giving, just go to our subscribe and feel free to indicate which issue you'd like to start with (or have your friends start with); issue #82 (X cover), the current issue #83 (Alvvays cover), or the Spring issue #84 (Ariana Grande cover – Ha! Just kidding. Just wanted to make sure you were still reading). It's only $20 for four issues (save 23% off the newsstand price including average sales tax), or $32 for overseas, or $26 for Canada. Or, for those in the U.S., you can send us a check made out to "Big Takeover" for $20 to the following address:
The Big Takeover
356 4th St. 2nd fl.
Brooklyn, NY 11215

Or if you want to order just issue #83, you can send us a check (or make a Paypal payment to jrabid@bigtakeover.com) for $6 to that address or order it.
Here, again, is what's in issue #83!!!!:
Interviews: Alvvays (cover) * Rolling Blackouts Coastal Fever * D.O.A. (40th Anniversary) * Gaz Coombes (ex-Supergrass) * Posies * Tony Molina * Walter Lure of Johnny Thunders' Heartbreakers/Waldos * Buffalo Tom pt. 2 * Felt's Lawrence pt. 2 * Sunflower Bean * Mass Gothic * Goon Sax * Warm Drag * Brother JT * Chatham Rise * Seasurfer * Smokescreens * Ava Luna * Dentist * and more
Editorials: "The President's Orwellian War on Truth" * Sommer: "The Utter Emptiness of Elvis Costello and What This Tells Us About Our Life and Times" * Kelson: "How YouTube and Spotify Changed Music Listening"
Live Reviews: Alvvays * Avengers * Belle & Sebastian * The Damned (and Giuda) * The Decemberists, Jeff Tweedy, Parquet Courts * Jeremy Enigk * Murphy's Law, H.R., Jesse Malin Band * Posies * Radiohead * Red Elvises * Rolling Blackouts Coastal Fever * Sloan * Superchunk, Aimee Mann, Trashcan Sinatras * The Byrds' Sweetheart of the Rodeo at 50
CD/Vinyl/Cassette/Digital Reviews: Aints! * Airstream Futures * Ash * Alice Bag * The Band * Beach House * Beremy Jets * Beths * Bevis Frond * Big Black * Black Watch * Terry Callier * Ralph Carney & Chris Butler * Cat Power * Nick Cave & the Bad Seeds * Chills * Gene Clark * Cloud Nothings * Paul Collins * Alice Coltrane * Death Cab For Cutie * Dot Dash * Dropkick * Bob Dylan * Alejandro Escovedo * Ex-Optimists * Feeders (Sam Vicari) * Neil & Liam Finn * Ella Fitzgerald * For Against * Gang of Four * Goon Sax * Gorillaz * Gospelbeach * Groundhogs * Ted Hawkins * Hawkwind * Lee Hazlewood's Woodchucks * Holiday Flyer * Interpol * Shooter Jennings * Jet Black * Joy Formidable * Kinks * Lemon Twigs * Lords of the New Church * Lost Patrol * Love-Birds * Low * Walter Lure & the Waldos * Johnny Marr * Paul McCartney * Joni Mitchell * The National * Willie Nelson * A.M. Nice * 999 * Persian Leaps * Sam Phillips * Pink Fairies * Elvis Presley * Sun Ra Arkestra * The Residents * Reverend Horton Heat * Greg Sage * Sha La Das * Shoes * Paul Simon * Sleaford Mods * Paul Smith * TV Smith * Smokescreens * Spectrums * Stimulators * Frankie Stubbs * Swervedriver * Deniz Tek * Richard Thompson * Tower of Power * Tracyanne & Danny * Kurt Vile * James Williamson * and so much more!
Lastly, thanks to our Patreon sponsors, who make our magazine and weekly radio Big Takeover Show at Real Punk Radio (all archived at The Big Takeover online) viable, without whom we'd have to stop one or both! If you'd like to join them and help support and sponsor us, it is easily done at that Patreon site, or you can always send a check to Big Takeover to our address as a kind donation. We're very grateful!
Hope you all buy the magazine now that it's out! And/or hope you subscribe, as that is still by far the best way to support the print magazines you love if you want them to keep going. It means a lot to them!
And hope you can share the gift of reading and passion for music with your family, friends, and anyone else who is interested! If we can help you, let us know!
Cheers!
Jack R