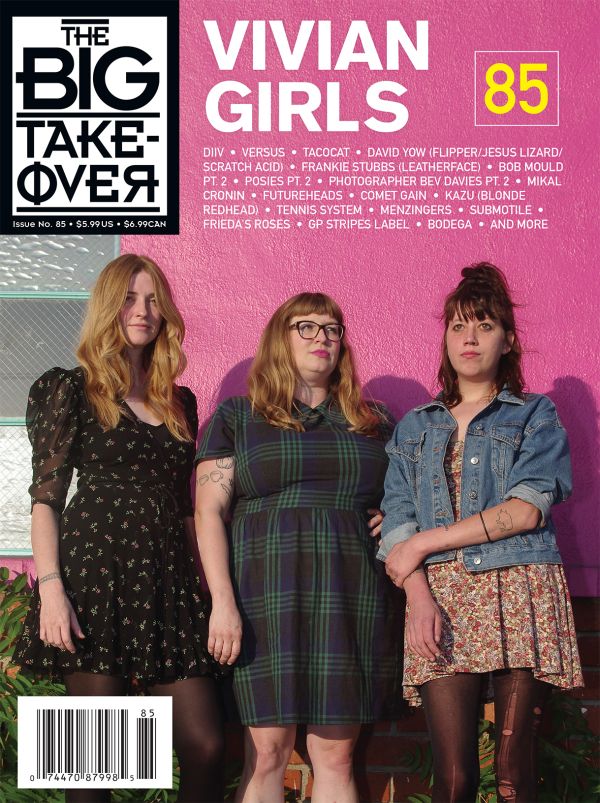 15 December 2019
Good news! Big Takeover #85 Fall 2019 issue is out on the stands! The issue stars the reunited Vivian Girls on the cover, and features fabulous history interviews with Bob Mould part 2, who talks a bit about his old band Hüsker Dü, original Vancouver punk (and '60s rock) photographer Bev Davies, part 2, Jon Auer of Pacific Northwest favorites The Posies, the ever-entertaining David Yow of Flipper, The Jesus Lizard , and Scratch Acid, plus returning New York indie rock stars Versus, feisty Seattle favorites Tacocat, the rejuvenated Brooklyn killers DIIV, and ex-Leatherface leader, ageless Frankie N.W. Stubbs. Plus there are shorter chats with Mikal Cronin, Futureheads, Comet Gain, Kazu (of Blonde Redhead), Tennis System, Menzingers, Submotile, Frieda's Roses, GP Stripes Records label, Bodega, and more! A full description of the its contents is just below.
Remember, we only come out twice a year, every Spring and Fall, so you don't want to miss one of our jam-packed 164-page issues!
And since the issue #85 has been mailed to subscribers and stores, now is an excellent to go to our secure online store to preorder order it if you would like to receive it in the mail (You can also buy any or all of our 84 back issues there that have been released over the past 39 years, too!), or subscribe if you've been meaning to, or renew your subscription if it has run out.
And just a reminder that there's still time for the perfect birthday, holiday, graduation, or whatever type of gift: Big Takeover magazine subscriptions and back issues!
Give the gift of music appreciation and good reading to those you love! (And maybe to yourself while you're at it!)
Speaking of which, for more super gifts, here's a reminder about our t-shirts, CDs, and our other fun stuff like Big Takeover beer cozies and signed posters that might be just the thing!
That's right, also just in time for Christmas, Hanukkah, etc.!! Big Takeover issues, subscriptions, back issues, t-shirts in three colors, black, white, and burgundy red in thirteen sizes (including our new children's sizes, 2T, 3T, 4T, and 6MO, 12MO, and 18MO baby onesies!!!!! The coolest gift ever for the kids!), and our accessories (BT beer cozies for only $5 and 12 X 18 color BT Anniversary Festival Posters for $4, which I will sign if you want me to!), as well as our related CDs (including the limited edition Springhouse CD album, From Now to OK), also make the perfect birthday, Christmas (or Hanukkah or other holiday) gifts! Especially in this time when we are all trying to economize.
This means our t-shirts still come in three colors (black, white, and burgundy red) and are only $14 for men, $13 for women, and $10 for children's shirts and baby onesies, even including postage.
Also, all but two of our back issues are still available (if your friends like a specific band we've featured) and there's always the mega-deluxe gift, the complete set of all of our 85 issues to date, including the two that are out of print! Check the back issues page and you will see that offer.
And we are also offering used, good-quality CD copies of the three out-of-print SPRINGHOUSE CDs from 1991-1993, as well as sealed, limited edition art-package copies of Springhouse's 2008 third LP From Now to OK (Hear why it got an 86/100 in Paste!), as well as CDs by EVEN WORSE, LAST BURNING EMBERS, DOUG GILLARD, NON-LINEAR THINKERS and EDP!
If you want to subscribe or renew or give the gift that keeps on giving, just go to our subscribe and feel free to indicate which issue you'd like to start with (or have your friends start with); issue #84 (Bob Mould cover), the upcoming issue #85 (Vivian Girls cover), or the Spring issue #86 (Kanye West cover – Ha! Just kidding. Just wanted to make sure you were still reading). It's only $20 for four issues (save 23% off the newsstand price including average sales tax), or $32 for overseas, or $26 for Canada. Or, for those in the U.S., you can send us a check made out to "Big Takeover" for $20 to the following address:
The Big Takeover
356 4th St. 2nd fl.
Brooklyn, NY 11215

Or if you want to order just issue #85, you can send us a check (or make a Paypal payment to jrabid@bigtakeover.com) for $6 to that address to order it.
Here, again, is what's in issue #85!!!!:
Interviews: Vivian Girls (cover) * DIIV * Versus * Tacocat * David Yow (Flipper/Jesus Lizard/Scratch Acid) * Frankie Stubbs (Leatherface) * Bob Mould pt. 2 * Posies pt. 2 (Jon Auer) * photographer Bev Davies pt. 2 * Mikal Cronin * Futureheads * Comet Gain * Kazu (Blonde Redhead) * Tennis System * Menzingers * Submotile * Frieda's Roses * GP Stripes Records label * Bodega * and more
Editorials: Rabid: Lock Him Up? Who Really Killed Civility and Respect For Norms? * Sommer: "We've Got Punk All Wrong" * Kelson: "Liverpool '78-'88—Greatest Unnamed Scene"
Live Reviews: Alvvays * The Courtneys * Billy Bragg * Lemonheads * Graham Nash * Ride * Ken Stringfellow * Bridget St. John * Talbott Brothers * Undertones * Vivian Girls * Craig Wedren * Brian Wilson Band (with Al Jardine and Blondie Chaplin) * The Zombies
CD/Vinyl/Cassette/Digital Reviews: Adrenalin O.D. * Aints! * Allah-Las * Archies * Devendra Banhart * Bar-Kays * Beatles * Bedroom Eyes * Belle & Sebastian * Black Ferns * Black Keys * Black Swan Lane * Cabin Fever * Car Seat Headrest * Jimmy Cliff * Lloyd Cole * Frankie Cosmos * Creedence Clearwater Revival * Dead Kennedys * DIIV * Donvan's Brain * Dream Syndicate * Bob Dylan * Steve Earle & the Dukes * Echo & the Bunnymen * Elizabeth * Ex-Norwegian * The Fall * Foxhall Stacks * GospelbeacH * Guided By Voices * Juliana Hatfield * Lee Hazlewood * Jowe Head * John Lee Hooker * In Deed * Bert Jansch * Jeanines * Jefferson Airplane * Joy Formidable * Junior League * Kinks * Chip & Tony Kinman * Mark Lanegan * Latvian Radio * Peter Laughner * Live Skull * Professor Longhair * Jesse Malin * Mars * Mercvrial * Tony Molina * Motörhead * Muffs * My Morning Jacket * The Nazz * Willie Nelson * New Model Army * New Order * New Pornographers * Ocean Blue * Angel Olsen * Pernice Brothers * Peter Perrett * Persian Leaps * The Proletariat * Iggy Pop * Preservation Hall Jazz Band * Proper * Redd Kross * Terry Riley & Gyan Riley * Ride * Robbie Robertson * Rocketship * Mitch Ryder * Schizophonics * Secret Shine * Sleater-Kinney * Soft Cavalry * Sonic Youth * Sore Points * Spoon * Stiff Little Fingers * Subhumans * Successful Failures * Television Personalities * Deniz Tek & the Godoys * Richard Thompson * T.S.O.L. * Vicious Blossom * Wedding Present * Wilco * Wipers * Woolworm * Wreckless Eric * Thom Yorke * And Hundreds More!
Lastly, thanks to our Patreon sponsors, who make our magazine and weekly radio Big Takeover Show at Real Punk Radio (all archived at The Big Takeover online) viable, without whom we'd have to stop one or both! If you'd like to join them and help support and sponsor us, it is easily done at that Patreon site, or you can always send a check to Big Takeover to our address as a kind donation. We're very grateful!
Hope you all buy the magazine now that it's out! And/or hope you subscribe, as that is still by far the best way to support the print magazines you love if you want them to keep going. It means a lot to them!
And hope you can share the gift of reading and passion for music with your family, friends, and anyone else who is interested! If we can help you, let us know!
Cheers!
Jack R