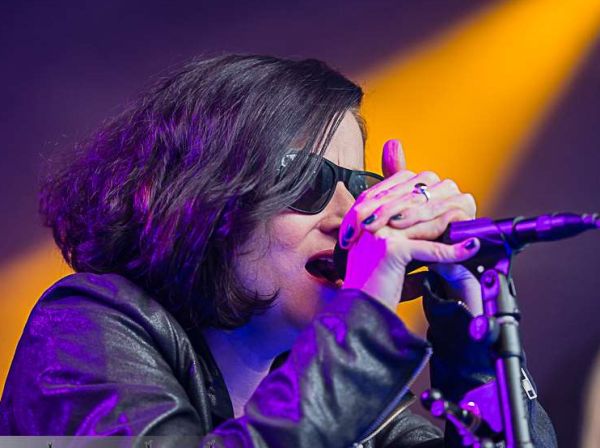 13 December 2019
Apolonia of Seasurfer – live – Photo Credit: Marcel Kahner
Germany-based shoegaze/dream-rock band Seasurfer is the music project founded by sound wizard Dirk Knight. Over the years Knight and his rotating cast of musical talent have released a slew of tantalizing and dynamic to reflective synthwave, dream-pop, and shoegaze-imbued hybrid singles and records.
Following up Seasurfer's previous single "Blue Days" with Elena Alice Fossi from Kirlian Camera on vocals, new single "Lovers Breakdown" sees regular songstress Apolonia on the mic again. Knight and Apolonia now form the core of the band.
In addition to the captivating and edgy lead track "Lovers Breakdown," the single features a very different, ethereal '80s-inspired version titled "Lovers Breakdown (On A Lovely Day)," as well as the dreamy song "The Snakebite" – the latter two both exclusive to the single as bonus tracks.
The Big Takeover is psyched to host the premiere of the moody video for the brooding "Lovers Breakdown." While the fuzzy shoegaze guitars are echoing a bit darker these days, the atmospheric synthesizers contribute a certain kind of 80s-era feeling to Seasurfer's vibrant and textured wall of sound.
In the video, a young woman cocoons in isolated rooms, beset by the end of a relationship and bedeviled by dark dreams. She rewinds in time to the day the break-up occurred, and soon moves from her torpor and restlessly roams the gloom of nocturnal landscapes with the moon shining down on her. A specific, vivid image sporadically flashes by; that of her dressed in white (a wedding gown look, perhaps) with a veil covering her face, but with her head crowned by horns…
Released shortly before the end of the year, this single is already a big step into 2020 when Seasurfer's third, yet-to-be-titled studio album will emerge of the shadows and into the light of day.
Website
Facebook
Twitter
Instagram
YouTube