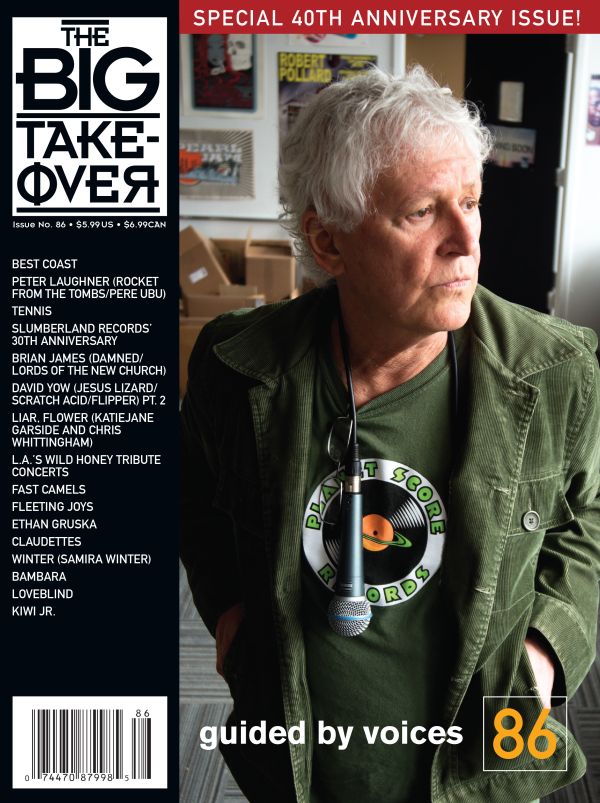 30 May 2020
Once again the big news is that Big Takeover #86 Spring 2020 issue is nearly completed from sessions in Brooklyn, NY and Oakland, CA this month! The issue stars ageless Robert Pollard of Guided By Voices on the cover, and features similar fabulous history interviews with David Yow of The Jesus Lizard, Scratch Acid, and recently Flipper part 2, Brian James of The Damned and Lords of the New Church, Slumberland Records' head Mike Schulman celebrating his label's own 30th Anniversary, and a fascinating remembrance of late '70s Cleveland proto-punk legend Peter Laughner with recollections from ex-bandmates Cheetah Chrome, Craig Bell, Tony Maimone, Sue Schmidt and Deborah Smith. We also have multi-page conversations with Bethany Cosentino of Best Coast, the band Tennis, and the new KatieJane Garside group, Liar, Flower.
Plus there are shorter chats with Paul Rock of L.A.'s Wild Honey Foundation benefit tribute concerts, Scotland's Fast Camels, Fleeting Joys, Ethan Gruska, The Claudettes, Bambara, Loveblind, Kiwi Jr., Samira Winter (of her band Winter), and more! A full description of its contents is just below
The magazine will begin shipping any day now, so you should see it quite soon! Remember, we only come out twice a year, every Spring and Fall, so you don't want to miss one of our jam-packed 148-page issues!
(IMPORTANT!!: If you are a subscriber and you need to update your address, please tell us right away. The post office almost never forwards our issues even if you have a forwarding order in place. Quicky, send updates to me at jrabid@bigtakeover.com)
REMEMBER, since this upcoming issue #86 will soon be shipped to subscribers and those who pre-order it by itself, but will mostly be unavailable in the normal stores that carry us that are closed for social distancing, it is imperative if you want a copy of this that you order it now, so that we can put in the right number of copies for our order with the printer! It is likely we will sell out of our own office stock thereafter, and once they're gone, they're gone. And of course, it can't be impulse-bought like previous issues when you're out and about. Don't delay!
So if you want the issue, you must order straight away before the printer finishes its work, so that we can ship it directly from there in the appropriate number of copies!
This you can do by ordering just the one issue at preorder. (You can also buy any or all of our 85 back issues there that have been released over the past 40 years, too!), or subscribe if you've been meaning to, or renew your subscription if it has run out!!!! (Feel free to email me at jrabid@bigtakeover.com if you fear your subscription has run out!)
And just a reminder that there's still time for the perfect birthday, holiday, graduation, or whatever type of gift: Big Takeover magazine subscriptions and back issues! Give the gift of music appreciation and good reading to those you love! (And maybe to yourself while you're at it.)
Speaking of which, for more super gifts, here's a reminder about our t-shirts, CDs, and our other fun stuff like Big Takeover beer cozies and signed posters that might be just the thing!
That's right, Big Takeover issues, subscriptions, back issues, t-shirts in three colors, black, white, and burgundy red in thirteen sizes (including our new children's sizes, 2T, 3T, 4T, and 6MO, 12MO, and 18MO baby onesies!!!!! The coolest gift ever for the kids!), and our accessories (BT beer cozies for only $5 and 12 X 18 color BT Anniversary Festival Posters for $4, which I will sign if you want me to!), as well as our related CDs (including the limited edition Springhouse CD album, From Now to OK), also make the perfect birthday, or holiday) gifts! Especially in this time when we are all trying to economize.
This means our t-shirts still come in three colors (black, white, and burgundy red) and are only $14 for men, $13 for women, and $10 for children's shirts and baby onesies, even including postage.
Also, all but two of our back issues are still available (if your friends like a specific band we've featured) and there's always the mega-deluxe gift, the complete set of all of our 85 issues to date, including the two that are out of print! Check theback issues page and you will see that offer.
And we are also offering used, good-quality CD copies of the three out-of-print SPRINGHOUSE CDs from 1991-1993 as well as sealed, limited edition art-package copies of Springhouse's 2008 third LP From Now to OK (See why it got an 86/100 in Paste!), as well as CDs by EVEN WORSE, LAST BURNING EMBERS, DOUG GILLARD, NON-LINEAR THINKERS and EDP!
If you want to subscribe or renew or give the gift that keeps on giving, just go to our subscribe and feel free to indicate which issue you'd like to start with (or have your friends start with); issue #85 (Vivian Girls cover), the upcoming issue #86 (Guided By Voices cover), or the Fall issue #87 (Justin Bieber cover – Ha! Just kidding. Just wanted to make sure you were still reading). It's only $20 for four issues (save 23% off the newsstand price including average sales tax), or $32 for overseas, or $26 for Canada. Or, for those in the U.S., you can send us a check made out to "Big Takeover" for $20 to the following address:
The Big Takeover
356 4th St. 2nd fl.
Brooklyn, NY 11215

Or if you want to order just issue #86, you can send us a check (or make a Paypal payment to jrabid@bigtakeover.com) for $6 to that address or order it.
Here, again, is what's in issue #86!!!!:
Interviews: Guided by Voices (cover) * Best Coast * Peter Laughner Remembrance (Rocket From the Tombs/Pere Ubu) * Tennis * Slumberland Records' 30th Anniversary * Brian James (Damned/Lords of the New Church) * Jesus Lizard/Scratch Acid's/Flipper's David Yow pt. 2 * Liar, Flower (KatieJane Garside and Chris Whittingham) * L.A.'s Wild Honey tribute concerts * Fast Camels * Fleeting Joys * Ethan Gruska * Claudettes * Winter (Samira Winter) * Bambara * Loveblind *Kiwi Jr. * and more
Editorials: Rabid: "40 Years and the Takeover Continues!", "Life in a Pandemic Epicenter," and "Turn Him/Them Out in November, Or More of Us Will Die" * Sommer: "Letter to a Young Musician and Music Industry Hopeful" * Kelson: "The Distractions: The Best Album 'Nobody's' Heard"
Live Reviews: Robert Forster * Hot Snakes * Joy Formidable * 999 * Pernice Brothers * Sloan * Stiff Little Fingers & The Avengers * Tribute to the White Album (Micky Dolenz, Todd Rundgren, Christopher Cross, Joey Molland, Jason Scheff) * Slumberland 30th (Peel Dream Magazine, Jeanines, The Natvral, Lake Ruth, Pale Lights)
CD/Vinyl/Cassette/Digital Reviews: Adrenalin O.D. * A Girl Called Eddie * Chet Baker * Be Bop Deluxe * Beths * Big Star * Cilla Black * Black Books * Black Watch * Art Blakey & the Jazz Messengers * Blue Öyster Cult * Bonniwell Music Machine * Breathless * Tim Buckley * Built to Spill * Buzzcocks * Bye Bye Blackbirds * Car Seat Headrest * Roy Clark * Close Lobsters * Cocteau Twins * Coil * Sam Cooke * Cream * Dead Horse One * Discharge * Distractions * D.O.A.* Drive-By Truckers * Dropkick * Dum Dum Boys * Eyelids * Fake Laugh * The Fall * Fast Camels * Fawns of Love * Stephen Fellows * Ella Fitzgerald * John Fogerty * France Gall * Erroll Garner * Germs * Luke Haines & Peter Buck * Jimi Hendrix * Hinds * His Name Is Alive * Joy Cleaner * Nick Kizirnis * Ben Lee * Bruce Licher * Lil Smokies * Stephen Malkmus * Nick Mason * Joni Mitchell * Morrissey * Nada Surf * National Honor Society * Buck Owens & Susan Raye * Pale Saints * Pearl Jam * Pedaljets * Primitives * Proper Ornaments * Psychedelic Furs * Lee Ranaldo & Raul Refree * Real Estate * The Residents * Rifles * Ringo Deathstarr * Rolling Blackouts Coastal Fever * Mick Ronson * Ron Sexsmith * Shoes * Nina Simone * Slowness * Soccer Mommy * Sparks * Special Pillow * Christopher Paul Stelling * Frankie Stubbs * Staple Singers * Successful Failures * Sunshine Boys * Swallow The Rat * Swans * Tame Impala * Tangerine Dream * Linval Thompson * Undertones * Victims * Waxahatchee * The Who * Wire * Tammy Wynette * X * Young Canadians * and Hundreds More!
Lastly, thanks to our Patreon sponsors, who make our magazine and weekly radio Big Takeover Show at Real Punk Radio (all archived at The Big Takeover online) viable, without whom we'd have to stop one or both! If you'd like to join them and help support and sponsor us, it is easily done at that Patreon site, or you can always send a check to Big Takeover to our address as a kind donation. We're very grateful!
Hope you all buy the magazine now that it's out! And/or hope you subscribe, as that is still by far the best way to support the print magazines you love if you want them to keep going. It means a lot to them!
And hope you can share the gift of reading and passion for music with your family, friends, and anyone else who is interested! If we can help you, let us know!
And in this unusual time, we hope you are all well and keeping that way.
Cheers!
Jack R