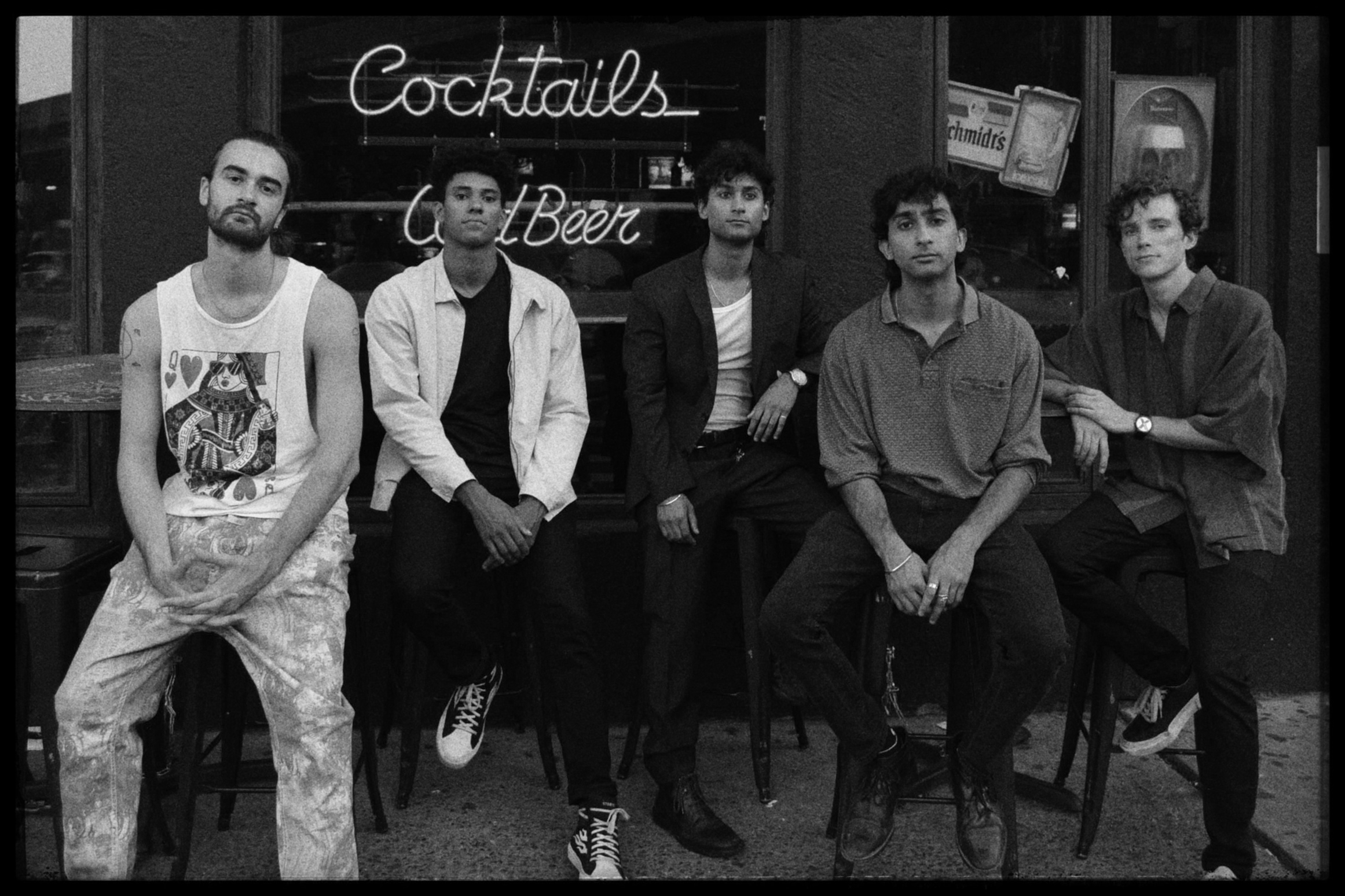 2 November 2022
If you're looking for unadulterated rock and roll, look no further. Komodos are a band to keep an eye on.
Komodos is a Brooklyn-based band who are making some serious moves across the NYC DIY scene. They drink together, write together, carouse together, and (for the most part) live together. Formed in early 2022, the band consists of guitarists Gabriel Altopp and Hunter Boivin, bassist Ben Baumann, drummer Kabir Dugal, and vocalist Taran Dugal. Their shared affinity for blunt-force garage rock landed them in the midst of the eclectic Brooklyn scene, and they haven't looked back since.
Family first, and bandmates second, the group has since embarked on a blistering campaign to conquer the New York City circuit, taking them from LES stages to DIY outposts in Queens. Spearheaded by an intoxicating tangle of distortion, melody and percussion, Komodos' live shows viscerally demonstrate the extent to which their music is that of an organic, honest-to-goodness, bona fide rock & roll band.
Their debut EP, K.O., is out tomorrow, and we're excited to be premiering it exclusively via The Big Takeover today.
K.O. is the end result of the Brooklyn's five-piece's collective effort to sublimate the complex and infamous affair that is living in New York City as a young 20-something. The four tracks are tinged with sonic ephemera of NYC rock & roll from the last half-century, yet as a whole, are unequivocally innovative and modern. Recorded live in the band's apartment studio, and mixed and mastered by Max Harwood (Lewis Del Mar), K.O. is snarling yet sophisticated, cerebral yet brazen. It is an opus of adrenaline, scorn, sex, narcissism, greed, loathing and intimacy, transmuted into a raw wash of harmonics and distortion. It is art for art's sake, a chromatic splash upon the wall of a whitewashed genre, an intrepid bid to silence the cynics and get them dancing once again.
Gritty, incisive, and charged with adrenaline, Komodos' debut EP sets forth a promising foundation for the DIY up-and-comers. This is a band to watch.
We had a chance to sit down with the band to chat about their new release.
The Big Takeover: Hi Komodos! We're stoked to be premiering your debut EP. Before we dive in, could you tell us a bit about who you are?
Komodos: We're a five-piece band from Brooklyn, NY formed in early 2022. We write rock songs in our apartment studio and have been playing them across the city for the better part of the past year.
The Big Takeover: Each of you being experienced musicians in a new band, what backgrounds do the five of you bring to Komodos?
Komodos: We all have a musical background of some sort, some of us having played in bands in the past and Komodos being the first serious project for others. Ben used to DJ, Taran and Gabe played together in a previous group and Hunter and Kabir have been jamming together as roommates for a while.
The Big Takeover: Musically, who/what has influenced your genre-bending approach to songwriting and instrumentation?
Komodos: Each of us has somewhat of a different taste in rock music, and we take cues from the writing styles of the different subgenres and artists that we listen to. Sonically, we've heard a lot of comparisons to early 2000s garage rock, but our influences extend well beyond that. We also find a lot of inspiration in New York and the history of its legendary music scene.
The Big Takeover: Today, you share your debut EP, K.O., with the world. What can you tell us about the EP and what does it mean to you?
Komodos: The EP is the result of two weeks of recording four of our favorite tracks live at our place in Brooklyn, giving it a very raw feel. Since the band formed, we've been writing and playing a lot of shows around the city and this project is sort of reflective of those shows. We really wanted it to have the energy that we feel as artists living in the city.
The Big Takeover: Please take us through your songwriting/creative process for K.O. What did you enjoy the most and what did you find the most challenging?
Komodos: Our sessions are pretty freeform, and we'll generally latch onto one idea that we all like and try to build it up. We each write our own parts and get feedback from each other until we have something that resembles a song—and either keep iterating on it or scrap it altogether. The best part of writing the record was feeling our sound take shape as we honed in on the directions that felt most natural to us. The most challenging part was recording it live and getting a perfect take between all of us.
The Big Takeover: What do you hope fans/listeners take away from it?
Komodos: This is our debut EP and we're really excited to put it out into the world. After seeing the reception of the tracks at our live shows, we hope people will be able to tap into some of that energy with the recordings.
The Big Takeover: Finally, what else is next for you? Will you be touring the album? Any other projects/goals for the near future?
Komodos: We've got a bunch of shows lined up for the fall, including a tour of the Northeast. Apart from that, we'll be working on new material and crafting a diabolical setlist. Overall, we're really excited to see where this EP takes us.
Instagram
Facebook
Soundcloud
Bandcamp
YouTube