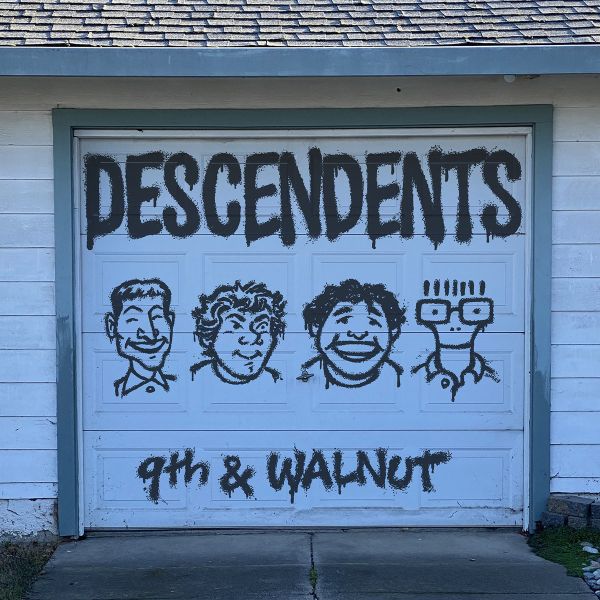 11 January 2022
Hi folks!
Since I have now completed my two countdown radio shows for the Top 50 albums of 2021—go to The Big Takeover Show to hear one song from each over both shows!—here is my complete list of the 150 best albums, 70 best archive/retrospective/reissue releases, and 70 best stand-alone singles and EPs of this previous year—my best bets on yet another great year for music, old and new.
And in one of the more difficult years of our lifetimes, from Insurrection to Omicron, here's a tip of the cap in full and sincere gratitude to the artists below, for giving us this music to listen to while stuck once again at home. Determined musicians and lionhearted labels! I once again salute you more than ever. In our hour of darkness you did not fail us—again.
And to any and all of you who will scan this humble rundown, I hope this little list inspires you to find, or give a second look to, a few cool releases you might miss otherwise that you end up truly loving. Otherwise, such lists are just a whole bunch of navel-gazing time wasting—not my thing at all. But as I listened to all of these a great deal this year, perhaps you might like some of them too, or will be glad to see them recognized if you are already enjoying them.
Cheers to you all and Happy New Year! May it get better for us all from here.
——
Jack Rabid's Picks, 2022's 150 Best Albums (New Recordings):
1 Descendents – 9th & Walnut (Epitaph)
2 Bevis Frond – Little Eden (Fire)
3 Black Watch – Here and There (ATOM)
4 Justin Sullivan – Surrounded (Earmusic)
5 Flyying Colours – Fantasy Country (Club AC30/Poison City)
6 TUNS – Duly Noted (Murder CAN)
7 Chime School – Chime School (Slumberland)
8 The Chills – Scatterbrain (Fire)
9 The Aints! – Live at the Marrickville Bowlo (Fatal/Feel AUS)
10 Piroshka – Love Drips And Gathers (Bella Union/PIAS)
11 Reds, Pinks & Purples – Uncommon Weather (Slumberland)
12 Daniel Wylie's Cosmic Rough Riders – Atoms And Energy (Last Night From Glasgow U.K.)
13 Jorge Elbrecht – Presentable Corpse 002 (Jorge Elbrecht)
14 Triptides – Alter Echoes (Alivenaturalsound)
15 Billy Bragg – The Million Things That Never Happened (Cooking Vinyl)
16 The Feeders – Kerchoo (Sip City)
17 Songs For Snakes – Forced Pleasantries (Songs For Snakes)
18 Muun Bato – Paraphonic Vapors (Little Cloud/Cardinal Fuzz)
19 The Beths – Auckland, New Zealand, 2020 (Live) (Carpark)
20 Successful Failures – James Cotton Mather (FDR)
21 La Luz – La Luz (Hardly Art)
22 Sacred Shrines – Enter the Woods (Rebel Waves)
23 TV Smith – Lockdown Holiday (Easy Action U.K.)
24 Petrified Max – Year Gone By—(Poison Summer)
25 Split Single – Amplificado (Inside Outside)
26 Naked Raygun – Over the Overloads (Wax Trax)
27 Maxïmo Park – Nature Always Wins (Prolifica Inc U.K.)
28 The Stranglers – Dark Matters (Coursegood/Absolute U.K.)
29 Guided By Voices – It's Not Them, It Couldn't Be Them. It Is Them!/Styles We Paid For/Earth Man Blues (GBV Inc.)
30 Art Bergman – Late Stage Empire Dementia (Weework Can)
31 Dinosaur Jr. – Sweep it Into Space (Jagjaguwar)
32 The Tremelo Beer Gut – You Can't Handle… (Crunchy Frog/No-Count/Musick)
33 Teenage Fanclub – Endless Arcade (Merge)
34 Melt Citizen – Life's A Joke, Then You Croak (Melt Citizen)
35 Fawns Of Love – Innocence Of Protection (Kingfisher Bluez/Sunday)
36 Fotoform – Horizons (Dismal Nitch)
37 Ex-Norwegian & Friends – Sing Jimmy Campbell (Beyond Before/Think Like A Key)
38 U-Roy – Solid Gold U-Roy (Trojan Jamaica/BMG)
39 Black Swan Lane – Hide in View (Wanderland/Eden)
40 Donovan's Brain – Sandbox Shadows (Double 12") (Career)
41 Turnsole – Aprication (Turnsole)
42 Sleaford Mods – Spare Ribs (Rough Trade)
43 Lou Barlow – Reason to Live (Joyful Noise)
44 Reno Divorce – Outsider Escape From Berlin (Live) Double 12" (Rusty Knuckles)
45 Greg Antista & the Lonely Streets – Under the Neon Heat (Primal Beat)
46 The Downstrokes – Unsafe At Any Speed (Coffin Curse)
47 The Umbrellas – The Umbrellas (Slumberland)
48 Cloud Nothings – The Shadow I Remember (Carpark)
49 Justus Proffit – Speedstar (Bar/None)
50 Tombstones In Their Eyes – Looking For A Light (Somewherecold/Kitten Robot)
51 The Telephone Numbers – The Ballad of Doug (Paisley Shirt)
52 Ducks Ltd – Modern Fiction (Carpark)
53 The Wedding Present – Locked Down and Stripped Back (Scopitones U.K.)
54 Simon Bromide – Following The Moon (Scratchy U.K.)
55 Haroula Rose – Songs For Beginnings (Haroula Rose)
56 Archie Sagers – New Colours in the Sky (Crafting Room U.K.)
57 Furious Seasons – Home All Day, Home All Night (Stonegarden)
58 Joy Formidable – Into the Blue (Enci)
59 Marty Stuart – Songs I Sing In The Dark (Marty Stuart)
60 Underwater Sunshine – Suckertree (Futureman)
61 Willie Nelson – That's Life (Legacy/Sony)
62 Carina Messier – Nowhere and No When (Carina Messier)
63 Echodrone – Resurgence (Dome A)
64 Goon Sax – Mirror II (Matador)
65 Tambourina – Tambourine Dream (Tambourina)
66 Arab Strap – As Days Get Dark (Rock Action U.K.)
67 Christopher Paul Stelling – Forgiving it All (Tone Tree)
68 Chillingsworth Surfingham – Chillingsworth (ATOM)
69 The Natvral – Tethers (Kanine)
70 Guitararmy Of One – The Spy Detective Collective Album (EA)
71 Film School – We Weren't Here (Sonic Ritual)
72 Lucy Dacus – Home Video (Matador)
73 Fleeting Joys – Despondent Transponder/ All Lost Eyes and Glitter (Only Forever)
74 Altin Gün – Yol (ATO)
75 Quivers – Golden Doubt (Spunk/Bobo Integral/Ba Da Bing)
76 Sister John – I Am By Day (Last Night From Glasgow U.K.)
77 The Be Positives – Everything About… (Think Like A Key)
78 Cheap Trick – In Another World (BMG)
79 King Ropes – Way Out West (Big and Just Little)
80 Claire Tucker – Interior Monolith (Drums and Wires)
81 Parquet Courts – Sympathy For Life (Rough Trade)
82 Idles – Crawlers (Partisan)
83 Messer Chups – Don't Say Cheese (Musick)
84 The Huntingtons – Back to Ramonia (Burnt Toast)
85 Latvian Radio – Phooey! (Belpid)
86 The Reno Casinos – Maritime Melancholia: Singles Vol. 2 (Secret Center)
87 Boyracer – Assuaged (Emotional Response)
88 Fleet Foxes – Shore (Anti-)
89 Restless Leg – Dream Buffet (Peabrain)
90 Wednesday – Twin Plagues (Orindal)
91 Jody Porter – Waterways (Rare Rock)
92 Cub Scout Bowling Pins – Clang Clang Ho (Guided by Voices, Inc.)
93 Juliana Hatfield – Blood (American Laundromat)
94 Lanterna – Hidden Drives (Badman)
95 The Pineapples – Incommunicado (Wicked Ape)
96 Nine Pound Hammer – When the Sh*T Hits The Fan (Acetate)
97 Kiwi Jr. – Cooler Returns (Sub Pop)
98 The Shebangs – Now! Is When (Fabcom!)
99 Moon Cabaret – Mr. Moon (Zip)
100 Star Collector – Game Day (Star Collector)
101 Swansea Sound – Live at the Rum Puncheon (HHBTM/Skep Wax)
102 Night Battles – Year of No Days (Snappy Little Numbers)
103 Shannon & The Clams – Year of the Spider (Easy Eye Sound)
104 The City Gates – Age of Resilience (Velouria)
105 Sleepersound – Idle Voices (Sleepersound)
106 Guardian Singles – Guardian Singles (Moral Support NZ)
107 Perry Serpa – Laying Low in the Highlands (Declared Goods)
108 The Dirtiest – Sovranista (Slovenly)
109 Deniz Tek With Scott Asheton – Take it to the Vertical 12" (Wild Honey)
110 Bobby Gillespie & Jehnny Beth – Utopian Ashes (Third Man)
111 Mitchell Keaney – Head, Gut, Heart (Gilgongo)
112 Panophonic – Awakening (Patetico)
113 The Purrs – We Thought There'd Be More People Here (Live) (The Purrs)
114 Edward Rogers – Catch a Cloud (Zip)
115 The Armoires – Incognito (Big Stir)
116 Dan Jones & The Squids – Serve Without Delay (Daily)
117 Illuminati Hotties – Let Me Do One More (Hopeless)
118 The Catenary Wires – Birling Gap (Shelflife/Skep Wax)
119 Blue Glass – Jardin Des Étoiles (Blue Glass)
120 Pikefruit – Inflorescence (Pikefruit)
121 Roy & The Devils' Motorcycle- Good Morning Blues (Voodoo Rhythm SWITZ)
122 Various – The Problem Of Leisure (Gang Of Four tribute) (Island/UME)
123 Still Corners – The Last Exit (Wrecking Light)
124 Low – Hey What (Sub Pop)
125 Absolutely Free – Aftertouch (Boiled)
126 Jesse Malin – Sad and Beautiful World (Wicked Cool)
127 Culture Shock – Forever + Ever/Mandemic (Supreme Echo/Bluurg)
128 Loretta Lynn – Still Woman Enough (MCA Nashville)
129 The Streetwalkin' Cheetahs – One More Drink (Dead Beat)
130 Folios – Dispatch (Pig's Eye)
131 Spires – Era Was (Artificial Light)
132 Jason Ringenberg – Rhinestoned (Courageous Chicken)
133 The Swindon Lot – The Scariana Trench (Braxeling)
134 Ty Segall – Harmonizer (Drag City)
135 Jeff Elbel & Ping – The Threefinger Opera (Marathon)
136 Barry Gibb – Greenfields: The Gibb Brothers' Songbook, Vol. 1 (Capitol/EMI)
137 Various – Teaching You The Fear…Again—A Tribute To Really Red (C.I.A./Saustex)
138 Jane Birkin – Oh! Pardon tu Dormais… (Verve)
139 Steve Gunn – Other You (Matador)
140 The Shivas – Feels So Good /// Feels So Bad (Tender Loving Empire)
141 Various – I'll Be Your Mirror: A Tribute To The Velvet Underground And Nico (Verve)
142 Reb Fountain – Iris (Flying Nun NZ)
143 Courtney Barnett – These Things Take Time, Take Time (Milk/Mom + Pop/Matathon)
144 Gillian Welch – All The Good Times (Acony)
145 Shrapnel (Australia) – Alasitas (Tenth Court AUS)
146 Various – Highway Butterfly: The Songs Of Neal Casal (Box)—(Neal Casal Music Foundation/Royal Potato Family)
147 The Willie Nelson Family – The Willie Nelson Family (Legacy/Sony)
148 Down By Law – Lonely Town 12" (Kung Fu)
149 George Faulkner – Sings Murry Wilson 12" (Bolt)
150 The Weather Station – Ignorance (Fat Possum)
H.M. Slow Crush – Aurora (Quiet Panic)
H.M. The Mommyheads – Age of Isolation (Mommyhead Music)
H.M. Elroy – Elroy (Grand Phony)
H.M. Peter Bruntnell – Journey to the Sun (Domestico U.K.)
—
Jack Rabid's Picks, 2021's 70 Best Singles & EPs (Stand Alone/Non LP!)
1 Bart & Friends – Tolmie Wild Thymes 10" EP (Kleine Untergrund Schallplatten GER)
2 Bad Religion – "Emancipation Of The Mind" single (Epitaph)
3 Lauds – Lauds EP (Fort Lowell)
4 Triptides – So Many Days EP (Curation)
5 Gospelbeach – Jam Jam EP (Curation)
6 The Black Watch – The White EP (Eskimo)
7 Jetstream Pony – Misplaced Words mini-LP (Spinout Nuggets/Shelflife)
8 Bloodstains – Demo 2020 EP (Bloodstains)
9 Beach House – "Once Twice Melody" single (Sub Pop)
10 Secret Shine – "Empyrean" single (Secret Shine U.K.)
11 The Listening Post – Sad Babbles EP (Braxeling)
12 Real Estate – Half a Human EP/"Days" single (Domino)
13 Lovejoy – Are You Alright EP? (also Pebble Brain mini-LP) (Lovejoy/Anvil Cat U.K.)
14 Reds, Pinks & Purples – "Did You Put Your Song Up Today" single (Slumberland)
15 The Checkered Hearts – Joystick Mini-LP (Die Laughing)
16 The Persian Leaps – Drone Etiquette EP (Land Ski)
17 A.M. Nice – "Your War" 7" (Phratry)
18 Bastards Of Melody – Dover EP (Ransom)
19 Dewey Defeats Truman – The Way You Shatter EP (Silver Girl)
20 Cliff And Ivy – "Bring Us the Night" EP—(House Of Extreme Darkness)
21 Pointed Sticks – "Here Again" single (Pointed Sticks)
22 Affiliate Links – "Walk On Water" single (Affiliate Links)
23 Wet Leg – "Chaise Lounge" single (Domino)
24 Bitter Defeat – Minor Victory EP (Gravel Streak NZ)
25 Savage Republic – "1938" single (Mobilization)
26 Joy Cleaner – "Drive Away From Me" (single) (Joe Cleaner)
27 The Bomboras – The Return Of The Up Up Sound EP (Musick)
28 Petrified Max – "Tomorrow" Single (Poison Summer)
29 Boo Radleys – "A Full Syringe And Memories Of You"/"You And Me" (Boostr U.K.
30 Nada Surf – Cycle Through EP (Barsuk)
31 Melt Citizen – Dullard Ii EP (Melt Citizen)
32 Doug Tuttle – Pinecone EP (Wild Honey)
33 Kramies – "Days Of" single (Kramies)
34 Maxïmo Park – By The Riverside EP (Prolifica Inc.)
35 Massage – Lane Lines EP (Mt. St. Mtn.)
36 Dennis Davison – "The Guise Of Comedy" / "Winterland's Gone" (Dennis Davison)
37 Grandaddy – 2020's Over Covers EP (Dangerbird)
38 Startographers – "Hollow" single (Shifting Sounds)
39 Jack Skuller – My Disappearing Act EP (Trolley Valhalla)
40 Sansyou – "Eyes Front" single (Sansyou)
41 Strangers In A Strange Land & Vince Melouney – "Ring My Bell" single (Ace)
42 Stuyvesant – Crow 7"(Dromedary)
43 Colin Moulding – "The Hardest Battle" single (Colin Moulding)
44 Pam Risourié – So Be It, Eternity EP (Pyrrhic Victory)
45 Tobin Sprout – "Supersonic Chairman" single (Tobin Sprout)
46 The Lickerish Quartet – Threesome Vol. 2 EP (Lojinx)
47 Shirley Collins – Crowlink EP) (Domino)
48 The Resonars – Gold To Blue EP (Hypnotic Bridge)
49 Sean O'Brien & His Dirty Hands – Trouble Boys EP (First Cold Press)
50 Req'd And Collisionville – split single (Wondertaker)
51 Robin Guthrie – Mockingbird Love EP (Soleil Après Minuit)
52 Seasurfer – Drifting EP (Reptile)
53 The Linda Lindas – "Oh" / "Nino" singles (Epitaph)
54 Angel Olsen – Aisles EP (Somethings Cosmic/Jagjaguwar)
55 Superchunk – "Endless Summer" single (Merge)
56 Bye Bye Blackbirds – "We Got Lost" single (Bye Bye Blackirds)
57 Laetitia Sadier – "New Moon" single (Duophonic Super 45s/Drag City)
58 Bentcousin – "Time Will Tell" single (Team Love)
59 American Television – Adolescence EP (Wiretap)
60 Grace Bergere – "La Strada" single (Grace Bergere)
61 Speak, Memory – Adirondack EP (Clerestory AV)
62 Dotsun Moon – "Trouble" single (Dotsun Moon)
63 Spoon – "The Hardest Cut" single (Matador)
64 The Hangmen – "Thunderhead" single (Acetate)
65 World War IX – Phoning It In EP (Emergency Break Thru)
66 Guest Directors – Connected Heavens EP (Topsy)
67 Midnight Oil – "Rising Seas" single (Sony)
68 The Gulps – "The Kings House" single (Youth Sounds U.K.)
69 Tall Poppy Syndrome – "Come Some Christian Eve (Or Halloween)" single (Tall Poppy Syndrome)
70 Johnny Marr – Fever Dreams Pt. 1 EP (BMG Rights Mgmt.)
H.M. Sunflower Bean – "Baby Don't Cry" single (Mom +Pop)
H.M. Josh Stoddard & The Album Leaf – LSME EP (Bennetree)
—
Jack Rabid's Picks, 2020's 70 Best Releases Of Old Recordings & Reissues
1 Colin Blunstone – One Year 50th Anniversary Expanded Edition (Sundazed)
2 Whipping Boy – Heartworm (Needle Mythology U.K.)
3 Gang Of Four – 77-81 box (Matador)
4 The Wipers – Youth Of America Anniversary Edition: 1981-2021 (Zeno/Jackpot)
5 Beachwood Sparks – Sandbox Sessions EP (Curation)
6 The Beatles – Let It Be Super Deluxe box (Capitol)
7 Kaleidoscope & Fairfield Parlour – Sky Children: The Best of… (Think Like a Key)
8 Kinks, The – Lola Versus Powerman & The Moneygoround, Part One (BMG)
9 Bad Brains – Rock For Light / "Pay To Cum" 7" (ORG Music)
10 Merseybeats/Merseys – I Stand Accused (Cherry Red U.K.)
11 The Who – The Who Sell Out Super Deluxe Edition (UMe/Polydor)
12 Trash Can Sinatras – I've Seen Everything Remastered (Last Night From Glasgow U.K.)
13 Ed Kuepper – Singles '86-'96 (Prince Melon AUS)
14 Beach Boys-Feel Flows – Sunflower And Surf's Up Sessions 1969-1971 (Capitol)
15 Half String – A Fascination With Heights Expanded (Independent Project/Darla)
16 Various – The Roots Of Indie Pop 1980-1984 (Cherry Red U.K.)
17 The Long Blondes – Someone to Drive You Home (Rough Trade)
18 Supergrass – In it For the Money Remastered Expanded (BMG)
19 Scars – Author! Author! (Cherry Red U.K.)
20 Various – Think I'm Going Weird: Original Artefacts From the British Psychedelic Scene 1966-68 box (Cherry Red U.K.)
21 Laughing Clowns – Golden Days When Giants Walked the Earth (Prince Melon AUS)
22 The Chameleons – Elevated Living (Cherry Red U.K.
23 New Pornographers – Mass Romantic (Matador)
24 Iggy & The Stooges – You Think You're Bad, Man? The Road Tapes '73-74/ Born in a Trailer: The Session And Rehearsal Tapes '72-'73 box (Cherry Red U.K.)
25 Lilys – A Brief History of Amazing Letdowns (Frontier)
26 Breathless – Between Happiness and Heartache (Tenor Vossa U.K.)
27 Nick Lowe – Labour of Lust (Yep Roc)
28 The Readymades – More Live Than Not; San Francisco 1978 (Liberation Hall)
29 The Scenics – Scenic Caves 12" (Dream Tower CAN)
30 Elton John – Regimental Sgt. Zippo (Island/Mercury)
31 The Shins – Oh, Inverted World 20th Ann. Remaster (Sub Pop)
32 My Bloody Valentine – Isn't Anything / Loveless / M B V (Domino)
33 Buzzcocks – Late For the Train – Live and in Session box (Cherry Red)
34 Nancy Sinatra – Nancy Sinatra: Start Walkin' 1965-1976 (Light In The Attic)
35 George Harrison – All Things Must Pass 50th Anniversary Edition (Capitol/EMI)
36 Richard Hell & The Voidoids – Destiny Street Complete (Omnivore)
37 The dB's – I Thought You Wanted to Know (Propeller Sound)
38 Mercury Rev – The Secret Migration Deluxe Edition (Cherry Red U.K.)
39 Marvin Gaye – What's Going On: Deluxe 50th Anniversary (Motown/uME)
40 Joe Strummer – Assembly (Dark Horse/BMG)
41 Fred Neil – 38 MacDougal (Delmore)
42 Jack Nitzsche – The Reprise Singles 1963-1965 (Hanky Panky)
43 The Outsiders – Calling on Youth (1972)
44 Red Lorry Yellow Lorry – Generate: Live: Batschkapp, Frankfurt, 23.01.1992 (Red Lorry Yellow Lorry U.K.)
45 Oh-Ok – The Complete Reissue (HHBTM)
46 Bob Dylan – Springtime in New York: The Bootleg Series Vol. 16 (1980 – 1985) (Legacy/Sony)
47 R.E.M. – "Radio Free Europe" 7" single (40th Anniversary Reissue)—(Craft)
48 Belly – Bees (4AD)
49 Meantime – Live At Berkeley Square 1981 (First Cold Press)
50 The Gun Club – Fire Of Love/Miami (Blixa Sounds)
51 The Vibrators With Chris Spedding – Mars Casino (Cleopatra)
52 The Beau Brummels – Turn Around: Complete Recordings 1964-70 box (New Sounds/Cherry Red)
53 Bailter Space- Wammo (Matador)
54 Ray Charles – True Genius box (Tangerine)
55 Various – 415 Records Still Disturbing The Peace (Liberation Hall)
56 The Band – Stage Fright 50th Anniversary Box (Capitol/Ume)
57 Crucifix – Dehumanization (Kustomized)
58 Motorhead – No Sleep 'Til Hammersmith Deluxe (Imotorhead)
59 John Coltrane – Lush Life 12"/ Another Side of John Coltrane (Craft)
60 The Clean – Unknown Country / Mister Pop (Merge)
61 Bert Jansch – Crimson Moon/ The Ornament Tree (Earth/Fire)
62 The Gordons – The Gordons (and Future Shock) (1972)
63 Mose Allison -The Complete Atlantic/Elektra Albums 1962-1983 box (Strawberry/Cherry Red U.K.)
64 Super Furry Animals – Rings Around The World 20th Anniversary Edition (BMG)
65 Various – Shake The Foundations: Militant Funk and the Post Punk Dance Floor (Cherry Red U.K.)
66 Various – Daptone Super Soul Revue Live at the Apollo (Daptone)
67 The Pioneers – Greetings From The Pioneers (Doctor Bird/Cherry Red U.K.)
68 Gary Numan – 45×15: The Singles Collection 1978-1983 (Beggars Arkive)
69 Rubinoos – The CBS Tapes (Yep Roc)
70 Grizzly Bear – Yellow House (Warp)
H.M. SVT – Always Comes Back, the Authorized Recordings (Liberation Hall)