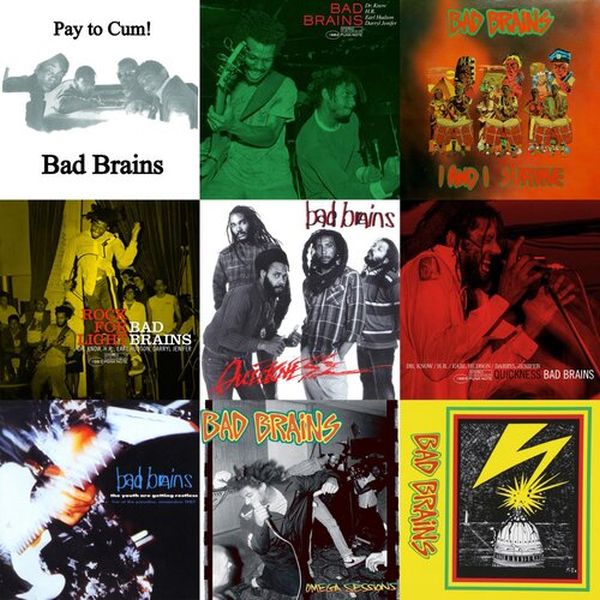 19 May 2021
Bad Brains – 9 albums
Legendary Washington, DC-based hardcore Rasta-punk outfit Bad Brains, who spearheaded the hardcore movement in the late 1970s, have won back the rights of their back catalog and have started reissuing their raw and socio-politically relevant albums on their own imprint, Bad Brains Records, via Org Music.
All audio is being remastered by Dave Gardner, chief mastering engineer at Infrasonic Los Angeles. With the help of the band, Org Music and Gardner spent over a year tracking down the best possible audio sources for each title, including many original analog tapes that were previously thought to be lost for good.
Each title, which will be distributed internationally, will receive a standard (black) vinyl release and limited edition color vinyl release, with many also available on CD and cassette. More titles will be added to the series as Bad Brains regains control of additional masters.
Veteran Bad Brains bassist Darryl Jenifer comments, "I'm proud to announce to you the blessings and return of all Bad Brains master rights/recordings to Bad Brains and out of Babylonian captivity. These rights and other items include master reels, recently discovered photos,… etc. Thanks to JAH and all involved in this glorious feat. Stay tuned for the "re-everything" involved in all of our NINE studio albums and more. Big UP to Org Music for their faith, hard work, and dedication to BAD BRAINS RECORDS."
The roll-out of the run of records is taking place now and continues through early next year, with successive titles arriving about a month to a couple of months after each other.
Bad Brains' first 7", Pay To Cum, is out now, and the band's self-titled debut LP will bow in June.
I & I Survive will follow in July, Rock For Light is set for September, Quickness for October, and The Youth Are Getting Restless, Omega Sessions, and Live at The Fillmore 1982 (getting its first ever physical release) are scheduled for 2022.
Along with the albums, Org Music is creating a sixteen-page fanzine-style booklet, printed on newsprint, which features never-before-seen photos, vintage concert flyers, and new writings about the band from contemporaries inclding Henry Rollins, Chuck Dukowski, Jesse Malin, and our very own Jack Rabid!
The zine will be available from select independent record stores as a gift with purchase, and from the Bad Brains Records web-store.
(Pre-)Order the albums at Bad Brains Records Website
Website
Facebook
Instagram
Spotify