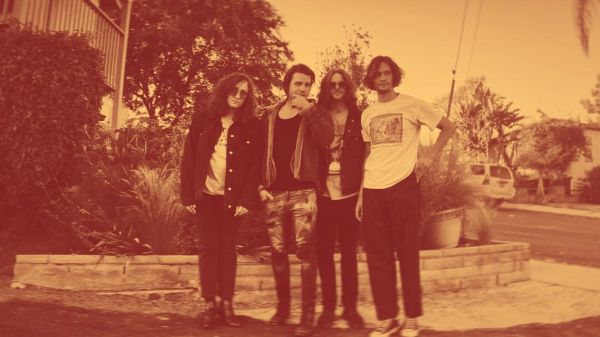 19 May 2021
Smiling – Photo Credit: Finn MacLaine
Smiling is the electric brainchild of performer, composer, songwriter, guitarist and vocalist, Annie Shaw. Originally from Denver, CO and now based in San Diego, CA (after a detour to Haight Ashbury), she started playing piano at age three, guitar at ten and started her first band in second grade.
Smiling was formed in 2015 under the name of Annie Girl and the Flight and did several tours of the US and Canada, with two tours opening for Against Me!
New album Devour comes out August 6th on vinyl, CD and digital through Rebel Waves Records You can pre-order the LP at the label's Bandcamp
Going into the now defunct Dock Studios in Sacramento, CA where Thee Oh Sees and Ty Segall undertook much of their output, the band tracked ten songs in two days, with most of them done the first day. With its psychedelic overtones, interleaved guitars and violins and layered melodic vocals, Devour sits somewhere between Fugazi and My Bloody Valentine.
Although Annie Shaw is the main songwriter, she enjoys working within a band format and collaborating with other members. She doesn't make demos for the band, but prefers to just play them the song at rehearsal. "The band brings their energy and perspectives. I usually don't write the parts for others instruments although in rare cases I do. I wrote all the songs on Devour, but am starting to do more co-writes. The balance of writing alone and with others is magical as it is grounding for me. I feel grateful to have others working on art with me."
About "Forgetful Sam," a dynamic and psychedelic track from the upcoming album, she adds: "The meanings of my songs usually change over time and that's absolutely the case with "Forgetful Sam." At the time of writing it, my friend Chloe Buckley was still alive. She passed on and then she became the "her" I can't stop thinking about when I hear the song."
"She was a pro surfer and it's her surfing in the video. Regardless of what I was thinking when I wrote it, which I can't say because I truly don't know, "Forgetful Sam" has become a song about unnatural systems destroying themselves and longing for those who've passed on."
Big Takeover is pleased to host the colorful and at times poignant music video for restless indie rocker "Forgetful Sam."
The video was made by Annie Shaw and starring Chloe Buckley and Shayla Thernes. In certain clips Buckley fearlessly rides the ocean waves, while a bulk of the trippy footage is a vivid carousel whirl of flashing and brightly hued geometric and kaleidoscopic designs.