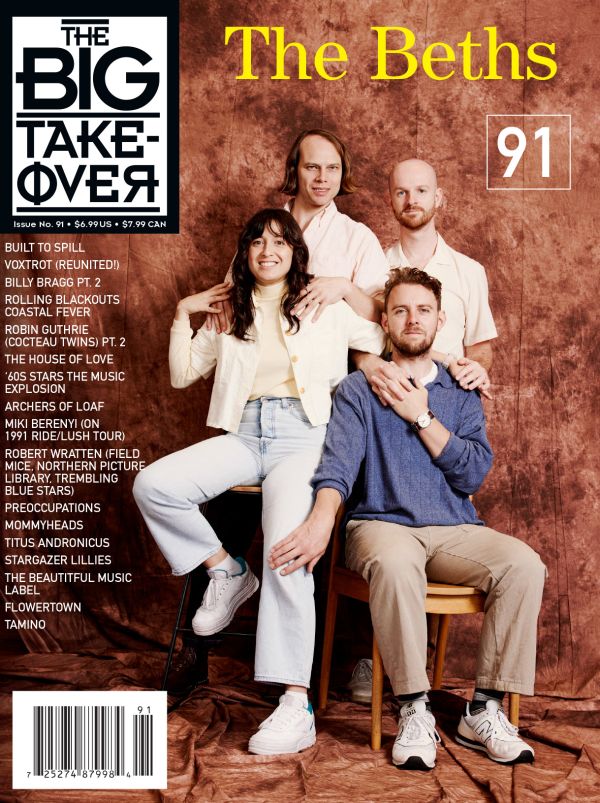 4 December 2022
Once again the big news is that Big Takeover issue #91 Fall 2022 is nearly completed from sessions in Brooklyn, NY and Oakland, CA this month! The issue stars beloved New Zealand stars The Beths on the cover, and features fabulous history interviews with 40-year English "Bard of Barking" Billy Bragg part 2, shoegaze legend Robin Guthrie, ex-Cocteau Twins, part 2, Robert Wratten from Field Mice, Trembling Blue Stars, and Northern Picture Library , etc., Australian greats Rolling Blackouts Coastal Fever, Texas' reunited wonders Voxtrot, '60s stars The Music Explosion, popular vets Built to Spill, and a long interview with Miki Berenyi of Lush and Piroshka, including an exclusive unpublished excerpt that was cut from her new book, about Lush's 1991 U.S. tour with Ride!
Plus there are shorter chats with Guy Chadwick of The House of Love, Archers of Loaf, Preoccupations, Mommyheads, Titus Andronicus, Stargazer Lilies, Flowertown, Tamino, The Beautiful Music label, and more! A full description of its contents is just below.
The magazine will begin shipping any week now, so you should see it quite soon! Remember, we only come out twice a year, every Spring and Fall, so you don't want to miss one of our jam-packed 188-page issues!
(IMPORTANT!!: If you are a subscriber and you need to update your address, please tell us right away. The post office almost never forwards our issues even if you have a forwarding order in place. Quickly, send updates to me at jrabid@bigtakeover.com)
REMEMBER, since this upcoming issue #91 will soon be shipped to subscribers and those who pre-order it by itself, but will sometimes be unavailable in the usual stores that used to carry us that closed or grew limited for social distancing, it is imperative if you want a copy of the magazine that you order it now, so that we can put in the right number of copies for our order with the printer! It is likely we will sell out of our own office stock thereafter, and once they're gone, they're gone. And of course, it can't be impulse-bought like previous issues when you're out and about. Don't delay!
So if you want the issue, you must order right away before the printer finishes its work, so that we can ship it directly from there in the appropriate number of copies!
This you can do by ordering just the one issue at preorder. (You can also buy any or all of our 90 back issues there that have been released over the past 42 years!), or subscribe if you've been meaning to, or renew your subscription if it has run out!!!! (Feel free to email me at jrabid@bigtakeover.com if you fear your subscription has run out!)
And just a reminder that there's still time for the perfect Christmas, Chanukah, other holidays, birthday, graduation, or whatever type of gift: Big Takeover magazine subscriptions and back issues! Give the gift of music appreciation and good reading to those you love! (And maybe to yourself while you're at it.)
Speaking of which, for more super gifts, here's a reminder about our t-shirts, CDs, and our other fun stuff like Big Takeover beer cozies and signed posters that might be just the thing!
That's right, Big Takeover issues, subscriptions, back issues, t-shirts in three colors, black, white, and burgundy red in thirteen sizes (including our children's sizes, 2T, 3T, 4T, and 6MO, 12MO, and 18MO baby onesies!!!!! The coolest gift ever for the kids!), and our accessories (BT beer cozies for only $5 and 12 X 18 color BT Anniversary Festival Posters for $4, which I will sign if you want me to!), as well as our related CDs (including the limited edition Springhouse CD album, From Now to OK), also make the perfect birthday, or holiday) gifts! Especially in this time when we are all trying to economize.
This means our t-shirts still come in three colors (black, white, and burgundy red) and are only $16 for men, $15 for women, and $12 for children's shirts and baby onesies, even including postage.
Also, all but two of our back issues are still available (if your friends like a specific band we've featured) and there's always the mega-deluxe gift, the complete set of all of our 90 issues to date, including the two that are out of print! Check theback issues page and you will see that offer.
And we are also offering used, good-quality CD copies of the three out-of-print SPRINGHOUSE CDs from 1991-1993 as well as sealed, limited edition art-package copies of Springhouse's 2008 third LP From Now to OK (See why it got an 86/100 in Paste!), as well as CDs by EVEN WORSE, LAST BURNING EMBERS, DOUG GILLARD, NON-LINEAR THINKERS and EDP!
If you want to subscribe or renew or give the gift that keeps on giving, just go to our subscribe and feel free to indicate which issue you'd like to start with (or have your friends start with); issue #90 (Billy Bragg cover), the upcoming issue #91 (The Beths cover), or the Spring 2023 issue #93 (Taylor Swift cover – Ha! Just kidding. Just wanted to make sure you were still reading). It's only $24 for four issues (save 23% off the newsstand price including average sales tax), or $36 for overseas, or $32 for Canada. Or, for those in the U.S., you can send us a check made out to "Big Takeover" for $24 to the following address:
The Big Takeover
356 4th St. 2nd fl.
Brooklyn, NY 11215

Or if you want to order just issue #91, you can send us a check (or make a PayPal payment to jrabid@bigtakeover.com) for $10.50 (including postage) to that address or order it.
Here, again, is what's in issue #91!!!!:
Interviews: The Beths (the cover) * Built to Spill * Voxtrot * Billy Bragg pt. 2 * Rolling Blackouts Coastal Fever * Robin Guthrie (Cocteau Twins) pt. 2 *'60s stars The Music Explosion * Miki Berenyi of Lush (including special exclusive unpublished excerpt cut from her book about the 1991 U.S. Ride/Lush tour) * Robert Wratten (Field Mice, Trembling Blue Stars, Northern Picture Library, etc.) * The House of Love * Archers of Loaf * Preoccupations * Mommyheads * Titus Andronicus * The Stargazer Lilies * The Beautiful Music label * Flowertown * Tamino, and more.
Editorials: Rabid: "'Other Than That, How Did You Like the Play Mrs. Lincoln?' On Political Violence, A New Nullification Crisis, and Cold Civil War" * Kelson: "The First Cut is the Deepest" * Lauden: "Big Star's #1 Record At 50"
Live: Asleep at The Wheel * The Beths * Billy Bragg * Boss Martians * The Chills * Circle Jerks * The House of Love * Jawbreaker (with Linda Lindas and Worriers) * Kiwi Jr. (with Gladie and Weird Nightmare) * Rolling Blackouts Costal Fever * Superchunk * Supergrass * Voxtrot
CD/Vinyl/Cassette/Digital Reviews: Affiliate Links * Beremy Jets * Andrew Bird * Birds In Row * Arthur Brown * Black Nite Crash * Black Swan Lane * the black watch * Blondie * Brian Jonestown Massacre * Broadcast * Tim Burgess * T Bone Burnett * Buzzcocks * Cakekitchen/Graeme Jeffries * Can * Channel 3 * Cheap Star * Ray Charles * Circlons * Codeine * Frankie Cosmos * Creedence Clearwater Revival * The Cult * The Damned * Miles Davis * Dawes * Dead Kennedys * Death Cab for Cutie * Desario * Dinosaur Jr. * John Doe * The Dogs * Donovan's Brain * Downstrokes * Dream Syndicate * Eater * Eddie & the Subtitles * Editors * DB Edmunds * Elf Power * Andy Ellison * Empire * Brian Eno * Everclear * Booker Ervin/Clark Terry/Cecil Taylor * Everly Brothers * Evil Nature * The Faction * Marianne Faithfull * Fanny * Foals * Finnogun's Wake * Flamin' Groovies * Al Foster/Bobby Watson * Frenchy & the Punk * Alex G * Lisa Gerrard & Marcello de Francisci * Godfathers * Godley & Creme * Gogol Bordello * Guest Directors * Gun Club * Vince Guaraldi * Luke Haines & Peter Buck * Happy Ending * Hawkwind * Lee Hazelwood * Healees * Robyn Hitchcock * Holy Fawn * Horsegirl * Hot Chip * John Howard * Greg Hoy & the Boys * Iceage * Interpol * I Was a King * Bert Jansch * Keith Jarrett * Elton John * Juniper * Kilbey Kennedy * The Kinks * Chip Kinman * Kramies * Lambchop * Daniel Lanois * Lauds * Libertines (U.K.) * Lickerish Quartet * Linda Lindas * David Long & Shane O'Neill * Love Battery * Maple Mars * Bob Marley & the Wailers * Cass McCombs * Medicine * Joe Meek * Melody's Echo Chamber * Melt Citizen * Mercyland * Carina Messier * Mightmare * Mommyheads * Mountain Goats * Motörhead * The Muffs * Marcus Mumford * Mutants * Johnette Napolitano * Bill Nelson's Red Noise * Neu! * New Riders of the Purple Sage * Newtown Neurotics * Alyssandra Nighswonger * Nightingales * The Nils * No Age * Salim Nourallah * Oasis * Michael J. O'Connor * Of Montreal * Angel Olsen * The Orchids * Outsiders * Panda Bear & Sonic Boom * Panda Riot * Party Battleship * Peel Dream Magazine * Pentangle * Lee "Scratch" Perry * Persian Leaps * Grant-Lee Phillips * Pinx * Pointed Sticks * Los Popularos * John Prine * The Raging Nathans * Redd Kross * Lou Reed & John Cale * R.E.M. * Jonathan Richman & the Modern Lovers * Paul Roessler * The Rolling Stones * Roxy Music * Todd Rundgren * The Sadies * Sansyou * Savage Republic * Scary Hours * Schizophonics * Secret Machines * The Senders/Nastyfacts * She & Him * Silent Boys * Silversun Pickups * Simple Minds * Frank Sinatra * Skids * Jack Skuller * Sleepyhead * Sloan * The Smile * TV Smith & The Bored Teenagers * Soccer Mommy * Soft Machine * Sonic's Rendezvous Band * Soulside * Special Pillow * Spiral Stairs * The Squalls * SRSQ * Startographers * St. Christopher * Bridget St. John * Stooges * Strait-Jackets * Joe Strummer * Submotile * Successful Failures * Suede * Suneaters * Sun Ra Arkestra * Sun's Signature * SVT * Tall Dwarves * Norma Tanega * That Petrol Emotion * Times Beach * Tintern Abbey * Too Much Joy * Tragically Hip * Trauma School Dropouts * Trotsky Icepick * UK Subs * Underbites * Valery Trails * Sharon Van Etten * Melvin Van Peebles * Vibrators * Tom Waits * Wedding Present * Weyes Blood * Jack White * Wilco * Paul Williams * Yeah Yeah Yeahs * Frank Zappa * various: Keep It In Motion: A Tribute to Guided By Voices * And Hundreds More!
Lastly, thanks to our Patreon sponsors, who make our magazine and weekly radio Big Takeover Show at Real Punk Radio (all archived at The Big Takeover online) viable, without whom we'd have to stop one or both! If you'd like to join them and help support and sponsor us, it is easily done at that Patreon site, or you can always send a check to Big Takeover to our address as a kind donation. We're very grateful!
Hope you all buy the magazine now that it's coming out! And/or hope you subscribe, as that is still by far the best way to support the print magazines you love if you want them to keep going. It means a lot to them – and us!
And hope you can share the gift of reading and passion for music with your family, friends, and anyone else who is interested! If we can help you, let us know!
And in this unusual time, we hope you are all well and staying that way.
Cheers!
Jack R