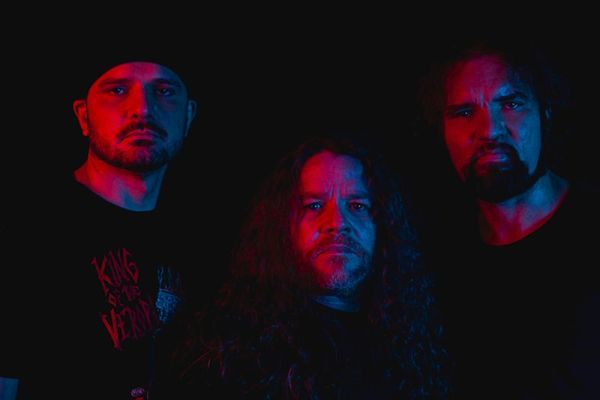 20 April 2021
Pentral – Photo Credit: Diego Formiga and Andressa Sarmanho
Brazilian progressive rock / metal trio Pentral present their single 'Aiming For The Sun' on the heels of lead tracks 'All My Wounds' and 'Silent Trees' – all foreshadowing their debut long-player What Lies Ahead of Us.
Set for release this May, this concept album is a reflection on today's society, presenting the saga of a lowly couple fighting for their lives and sanity in the Amazon forest setting.
One of their heavier offerings to date, 'Aiming For The Sun' keeps the blazing riffs on high and the gritty groove flowing. A tragic reflection on today's society, the long-player addresses the tragic reality of many Amazon dwellers, whose habitat, lifestyle, and livelihood are brutally taken from them, not to mention the destruction of the forest itself.
Through their videos and lyrics, Pentral tells the story about the destruction and pilfering of the Amazon's natural habitat. The video for the new single, as well as earlier video for 'Silent Trees', was filmed in their native Amazon – as chapters in a dedicated saga that will unfold, track by track. Directed by Roger Elarrat and produced by Luana Klautau, this also involves Lucas Escócio as director of photography and Elarrat as editor. The video features actors Anne Costa, Guto Galvão, Eduarda Cursino, Boris Knez, and Aldo Lima as well.
"Unfortunately, this is happening all the time in our country and in many places across the globe. We are fortunate because we had opportunities in our lives, but many of our people didn't have same shots and are being butchered as well as our plants and animals and the whole environment. Inhabitants of the forest are being hunted down. This is a reality that must be disclosed and fought," says Victor Lima.
"In this second chapter of the couple's saga, the Amazon land grabbers show their real face and what they are up to. Through its dark vibe and pulsating lines, this song conveys a feeling of urgency and emits a claim for help, showcasing the agony of the people inhabiting the woods."
For this 10-track LP, the trio worked with legendary producer Tim Palmer (David Bowie's Tin Machine, The Mission, HIM, U2, Robert Plant, Tears For Fears, Ozzy Osbourne, Goo Goo Dolls, Pearl Jam). Produced jointly by Pentral and Tim Palmer , the album was also co-produced with Sergio Fouad and Cesar Bottinha. Palmer also mixed the LP, which was mastered by Justin Shturtz (HIM, The Psychedelic Furs, Nancy Wilson, Slipnot, Tin Machine).
Hailing from Belém in northern Brazil, Pentral is made up of Victor Lima (vocals, guitars, songwriter, lyrics), Vagner Lima (drummer) and Joe Ferri (bass guitar). Their unique take on alternative rock can be described as progressive, heavy, groovy, and melodic, while the band also deliver a strong political message about what is going on in Brazil and all over the world.
Pentral stands for 'spirit' in Latin, indicative of the message this band is trying to inspire via their sound – the need to transcend this material world through the power of music, without losing connection with reality and human frailties.
The power trio is deeply influenced by their Amazon roots, their music strongly attached to many global influences while trying to honor Brazil's groove and unique harmonies, progressive rock, metal music, atmosphere and melody. This debut album sums up years of experimentation and the search for human awareness of the environment, peace and equality.
'Aiming For The Sun' is available everywhere digitally, so be sure to catch them via Apple Music and Spotify or your other favorite online platforms. Their full length What Lies Ahead of Us will be released on May 7th.
Website
Facebook
Twitter
Instagram
YouTube
Spotify
Apple Music