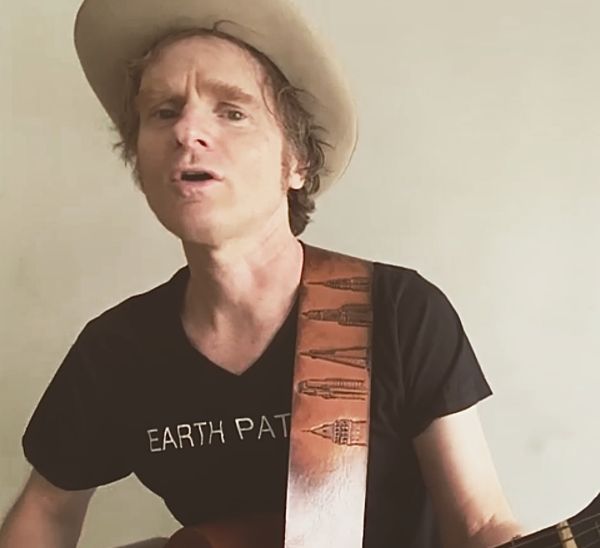 5 May 2020
Ethan Gold – Photo Credit: Jay Ponti
A lot has been happening lately to cause division within this country and well beyond its borders. Hence, this is a welcome occasion to find something that lets the light in, enough to warm your bones, give you a feel-good buzz, and inspire hope. Gather 'round for the latest single from singer-songwriter Ethan Gold, which will do exactly that.
Hailing from the City of Angels, Gold presents his new single 'Not Me. Us', along with an animated video that is an inspiring call for unity in troubled times. Gold directed this video himself and co-produced it with Jay Ponti. Editing and effects were performed by Adam Laiben. The song itself was produced and engineered by Dave Tweedie (So You Think You Can Dance, No Doubt, Flipsyde, Akon).
With a songwriting style and approach reminiscent of Elliott Smith, Wilco and John Lennon, Gold has ambitiously taken on a greater mission through his music, to 'Make Sensitivity Cool Again'. Masterful and introspective, his message is simple and unique with a profundity lacking among many of today's artists. Gold sings about the longing for human connection in the city, and also for the natural world.
"I wrote 'Not Me. Us' as an anthem to reflect the times. I started with the then-current Bernie slogan "Not Me Us" – a simple phrase, a moral protest against the lack of compassion, lack of empathy, and narcissism that's become a point of pride for current political leadership in many countries. As a person who's primary political motivator is concern for our biosphere, I found this phrase very appealing, as it respects the interconnectedness of all life," says Ethan Gold.
"Musically I went with a sound that's more traditionally American. There's a power in those idioms. I wanted to call out the hard fight everyone is having in the country, while also allowing everyone to feel, in a time where the dominant feelings are factionalism and fear, that the things which unite us could still be greater."
Raised in San Francisco during the long extended hangover after hippie times, Ethan Gold is son to Beat author Herbert Gold and Melissa Gold, a collaborator and girlfriend of legendary concert promoter Bill Graham – the two died together in a helicopter crash. A childhood of constant change and chaos may have led Ethan to the unique way he approaches music. Today he lives and dreams songs, writing much music while asleep.
"There's huge economic inequality destroying American life. A country that pioneered the notion of everyone being able to be comfortably middle class is now breaking into bitterness and division as a huge majority of the population is frightened, living paycheck-to-paycheck, and at the risk of bankruptcy from one unexpected illness or job loss. Even people working multiple jobs are having trouble making ends meet," says Ethan Gold.
"So I put a mosaic of families in the song and video. A father who's sick but can't afford treatment. A son falling into hatred. A mother working two jobs but barely surviving. A young daughter hopeful. Proud grandparents who see their life's work crumbling as their children slide down the economic ladder. We could all be all these people; this is every family. The struggles so many are having aren't so different from each other."
In 2013, Gold suffered a serious head injury. After a long recovery, he now credits the temporary dissolution of his cognitive ability with an upgraded inner power, creativity, and clarified mission: in a world that seems more and more combative, bringing sensitive people and quieter things – music and poetry and the living earth – back into their magnificence.
Following his acclaimed Songs From A Toxic Apartment LP during his recovery, 2018 brought the release of the naive-electronic Expanses (Teenage Synthstrumentals) and Gold's tribute to childhood favorites Live Undead Bedroom Closet Covers. Gold also handled film scoring for Blumhouse supernatural thriller Don't Let Go and brother Ari Gold's feature films Adventures of Power and 'he Song of Sway Lake, which features John Grant and the Staves singing Gold's songs.
Ethan Gold has just finished recording his upcoming double-album Earth City, which explores themes of longing — for human connection, for romance, for city nightlife, and ultimately for connection to the threatened natural world. The release is expected to arrive later this year.
'Not Me.Us' is out now everywhere digitally, including stores such as Apple Music, and streaming platforms like Spotify.
SINGLE CREDITS
Music, lyrics, lead vocals, mixing and mastering by Ethan Gold
Produced and engineered by Dave Tweedie (So You Think You Can Dance, No Doubt, Flipsyde, Akon)
Additional vocals by CJ Emmons, Byrd Ducket, Joe Bagale, Ali Coyle, Matt Baker, Elvis Perkins, Stacy Matulis, and Victoria Theodore
Guitars by Ethan Gold, Jay Ponti, and Dave Tweedie
Drums, percussion and bass by Dave Tweedie
Piano and organ by Victoria Theodore
The 'Not Me. Us' single follows Gold's most recent offering – 'Never Met A World Like You' to coincide with the first climate strikes. He also performed, for the first time after his head injury, at three L.A. rallies in late 2019.
Ethan Gold
Website
Bandcamp
Facebook
Twitter
Instagram
YouTube
SoundCloud
Apple Music