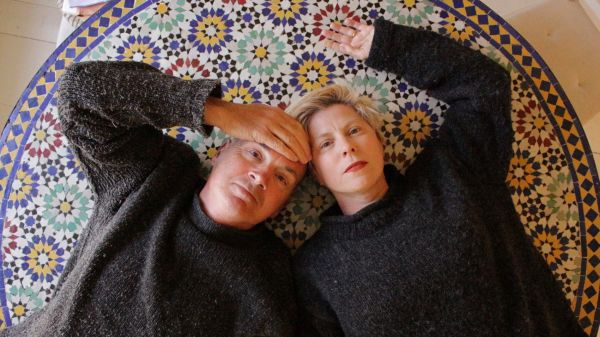 28 April 2020
Short-Haired Domestic – Photo Credit: Jake Friese-Grene
Today offers a special treat for The Big Takeover and readers alike as we introduce the duo Short-Haired Domestic and their debut single 'A song in Latin about the importance of comfortable shoes'. This is the new project of renowned celebrated producer Tim Friese-Greene. Based in southern England these days, this is a labor of love with is life partner – musician and songwriter Lee Friese-Greene.
This is the first of two tracks on their sweetly unexpected double A-side single 'A song in Latin… A song in Hindi…' Here we find immaculate production (we expected no less from this legendary producer) in a space that borrows the best of such artists as Frou Frou, Stereolab, Marnie and the Scandinavian queen of sonic trickery Aurora.
Tim Friese-Greene may be best known as producer and unofficial member of Talk Talk. Among the most innovative producers of his era, he is also rightfully recognized for his colossal work as producer of Catherine Wheel, Lush, Thomas Dolby, Sidi Bou Said and Firefly Burning before shifting his primary focus to creating music as a solo artist.
Since 1995, Friese-Greene has put out various releases under his own name and also as Heligoland.
Short-Haired Domestic is a labor of love for the UK duo. This first single is the first preview of the duo's eponymous album, to release this summer. Each track features vocals sung in a different language. At their heart are a breakbeat loop, sampled fragments, scratching, insistent funk and Latin rhythms, surprising appearances of acoustic guitar and just about every sound that's possible to wring from a WASP synthesizer.
"I was interested in a kind of heavy slowed-down funk, with quite a lot of abstract noise, and generally embracing dirtiness and imperfection. I had the idea around 2017 to make a slow funk album, but didn't want to get bogged down in drummers or drum programming, so I picked 9 breakbeat loops off some 90s DJ vinyl that I had knocking about. At about the same time, Lee and I were taking Italian lessons and I was struck with how readily she adopted the nuances of the language," says Tim Friese-Greene.
Lee Friese-Greene was a member of early '90s London Riot Grrl band Sidi Bou Said. 20-odd years was pre-occupied with parenting, teaching, doing up houses, and dabbling in music, including performance of back vocals for Tim's projects. More recently, Lee is the songwriter, lead singer and guitar player for Devon-based band Pavlova.
"I am about the least bilingual person I know, but seem to be ok at mimicry, having called in favors from friends to translate words and help her pronunciation. Writing lyrics for translation was a challenge – in English I would think about all the usual literary devices- rhyme , alteration , metaphor, etc., but most of this goes out of the window once translated. So as the project progressed, I found I was writing more direct, straight forward words and then, with the help of the translators, things were tweaked to fit the melody," says Lee Friese-Greene.
Lead track 'A Song in Latin' was the first song Tim and Lee wrote after coming up with the 'Short-Haired Domestic' album concept. This first offering boasts a catchy pop edge, optimism and mystique due to the use of an incomprehensible language. Through this complex composition and quirky stylings, the performance is believable, accessible and endearing. emotion to be largely generated by the music as a response to the lyric.
"Tim suggested I start with a Latin language, so I though – why not just do it Latin? We weren't aware of any other records in Latin. I found a Latin translator tool online – no idea how accurate my translation is but having gone to what was once a rather stuffy grammar school, I did have to study Latin for a couple of years, so recall it being reasonably straightforward and easy to pronounce. Anyway this is a song about always wearing your own shoes and choosing your own path, because other people's shoes never feel right even if they appear to be the same size," says Lee Friese-Greene.
As of June 5, 'A song in Latin… A song in Hindi…' will be available digitally. It is now available for pre-order via Bandcamp. Late summer brings vinyl and CD releases of the full album, which will also be downloadable via the regular digital sales platforms.
CREDITS
Songs written and performed by Tim Friese-Greene and Lee Friese-Greene
Recorded and mixed at The Hold, Totnes
Mastered by Caspar Sutton-Jones at Gearbox Records and
Steve Kitch at Audiomaster
Sleeve artwork by Left Bridge
Calcium Chloride CaCl 009
TRACK LIST
1. A song in Latin about the importance of comfortable shoes
2. A song in Hindi for insomniacs
Short-Haired Domestic
Heligoland Website
Short-Haired Domestic Facebook
Bandcamp
Twitter
SoundCloud