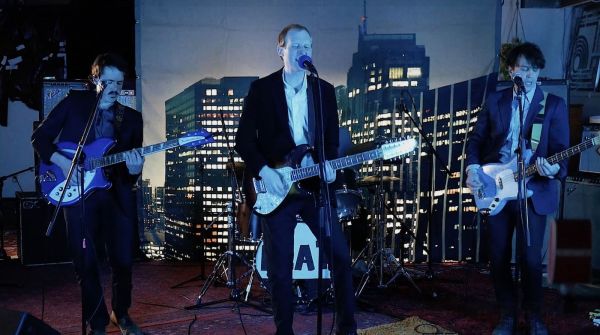 16 July 2021
Kiwi Jr. – Photo Credit: Danny Alexander
On the heels of their latest album, Cooler Returns, Kiwi Jr. coolly announce their first series of live dates, kicking off with the River & Sky Festival in Sudbury, Ontario on July 17th.
Fall and Winter dates include support with TUNS, Surfer Blood, Tobin Sprout, Trace Mountains, and Nap Eyes, as well as a hometown Toronto headline show at the Horseshoe Tavern on Friday, October 15th.
Want a taste of what to expect at the band's upcoming live shows? You can watch the group's performance on famed Seattle radio station, KEXP, right here:
See below for a full list of dates.
Kiwi Jr. has partnered with cartoonist Dmitry Bondarenko on a 24-page booklet of illustrated lyrics, which is available at Bandcamp and on tour.
Jeremy Gaudet, Kiwi Jr singer/lyricist says, "To see all of the insanity of our lyrics represented visually is wild. There's stuff I saw in here that surprised even me, and I wrote the damned thing."
For more information on the Cooler Returns Comic, visit the group's merch table or Bandcamp page.
The Fingers Crossed Tour:
Sat. Jul. 17 – Sudbury, ONT – River & Sky Festival
Fri. Oct. 1 – Los Angeles, CA – Gold Diggers
Fri. Oct. 15 – Toronto, Horseshoe Tavern !
Thur. Nov. 11 – New Haven, CT – Cafe Nine %
Fri. Nov. 12 – Brooklyn, NY – Brooklyn Made % $
Fri. Nov 19 – Columbus OH – Ace Of Cups $
Fri. Dec. 3 – London, ON – Rum Runners * *
Sat. Dec. 4 – St. Catharine's, ON – Warehouse * *
Fri. Dec. 17 – Hamilton, ON – Bridgeworks * *
Sat. Dec. 18 – Ottawa, ON – Club Saw * *
Mon. Dec. 28 – Charlottetown, PEI – Trailside Music Hall &
Tues. Dec. 29 – Halifax, NS – Seahorse Tavern &
2022:
Fri. Jan. 7 – Pittsburgh, PA – Club Cafe &
Sat. Jan. 8 – Philadelphia, PA – Johnny Brenda's & "at"
Fri. Jan. 14 – Washington DC, Songbyrd ++ "at"
Sat. Jan. 22 – Montreal, Ritz &
Fri.. Feb. 11 – London, UK – Dalston Victoria
Sun. Feb. 13 – Leeds, UK – Brudenell Social Club ~
Mon. Feb. 14 – Manchester, UK – Night & Day ~
Tues. Feb. 15 – Bristol, UK – Louisiana ~
Thur. Feb. 17 – Copenhagen DK – Ideal Bar
Fri. Feb. 18 – Stockholm, SE – Obaren
Sat. Feb. 19 – Oslo, NO – Blaa
! w/ Sahara and Dorothea Paas
% w/ Surfer Blood
$ w/ Tobin Sprout
* * w/

TUNS


& w/ Nap Eyes
++ w/ Trace Mountains
"at" w/ Gladie
~ w/ Chad VanGaalen
Tickets available at Kiwi Jr.'s Website