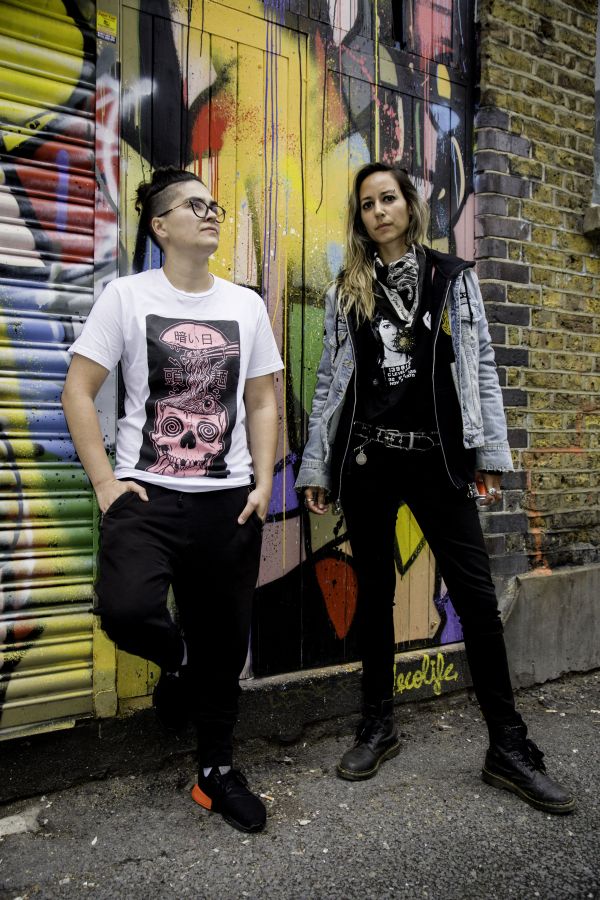 15 July 2021
Tarah Who? – Photo Credit: Denis Lecocq
Who is Tarah Who?? It turns out that 'Tarah' is a grunge-punk duo residing in Los Angeles, and its namesake, the France-born Tarah Carpenter, is the mastermind and frontwoman of the band who channels explosive emotionality into rousing anthems alongside drummer and backing vocalist Coralie Hervé.
The potent pair have released a run of singles and music videos this year, following up on the success of the band's 2020 EP 64 Women. This EP was dedicated to 64 women who were detained in an immigration detention center in downtown LA on November 19, 2014 alongside Tarah herself.
Tarah Who? recently released the single "Illusion of Freedom" (co- produced by Jason Orme, the guitarist for Alanis Morissette), as well as the Mother's Day-themed number "La Petite Boche."
Third single "Bad Time" just came out and Big Takeover is pleased to host the premiere of its accompanying powerful and harrowing music video.
The song's lyrics are connected to the #MeToo movement and are timely and relevant. It's a cry of defiance that brings past abuse to light and a way forward from past traumatic experiences.
The music video showcases Carpenter and Hervé passionately performing the song in an outdoor setting, but is is also mainly a storyteller that focuses on a young woman is overcome by negative feelings brought on by an abusive relationship.
The viewer sees her reliving a bad incident from her childhood where she is trapped in a room with a menacingly looming male figure.
She eventually breaks free from her dark thoughts, lashing out at her tormentor in her mind's eye, smashing him with a picture frame as his image turns into a fractured pieces of a cracked mirror…
As he disappears, the young woman takes control and is able to leave her past behind…
Carpenter relates details about creating the music video, stating, "We thought that this music video was going to be 'simple'. We had actress Kriss Dozal to play the character because the story is too close to me and I wasn't comfortable acting."
"Kriss is amazing, she could cry on the spot, and it was really interesting to see a real actress do her job. We don't really have actresses in our videos. It was mind-blowing actually to see how Kriss was able to get into the character as soon as she heard 'action!'."
"We had a few technical difficulties that Maria Quintana (director of photography), Lena Baez (director), and Tobias Lerman Matonte (producer) overcame very quickly."
"The wind was our enemy that day and the whole crew worked really hard to make this video happen despite the physical efforts to bring all of the heavy equipment up a hill that was not accessible by vehicle, wild goats walking over the stage, the wind breaking the stage a couple of times, and re-writing the story on the spot because we could not fit all of the scenes anymore! It was a really big challenge, especially for the film crew."
"Corlie and I just had to perform this time, but I think that they managed to do something really cool. Maria confidently told me after the shoot that Lena and herself were crying the next day because of all of the stress but they are very happy with the result."

Instagram
Facebook
Twitter
YouTube
SoundCloud
Website