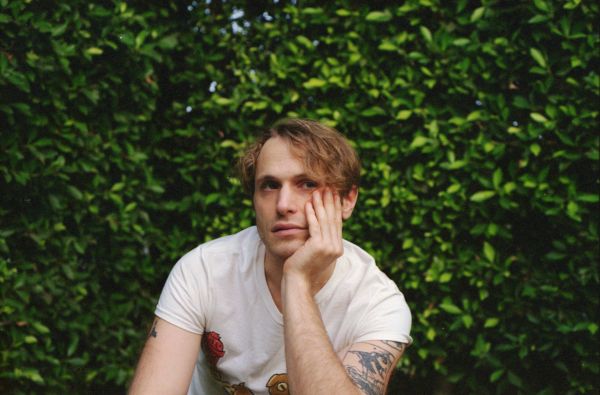 18 August 2021
Sleep Diet – Photo Credit: Ciera Broussard
It's been many years since there has been a new Sleep Diet release to speak of, and with "Change Candidate," the Los Angeles-located band are making a bold comeback.
The songwriting project of David Charles Boe, Sleep Diet hasn't released original music in over a decade, due in part to his time spent running the well known DIY venue Non Plus Ultra, dabbling in ambient music, and putting together a collection of covers entitled Cop Wife Waitress.
"Change Candidate" marks a shift for the prolific creative, invoking Bowie with his personality-soaked vocal performance and the funk-infused instrumentation. There are baroque flourishes, including a brass section, and backing 'choir'.
The song itself was written while feeling "utterly disgusted" during the US presidential primaries. Boe explains, "Seeing these empty suits promising everything in the abstract and nothing in the specific was so galling to me. An endless parade of criminals and grifters, most of them born white and wealthy, trying to sweet talk the public en masse."
The music video is a prop-filled performance that feels like a late night show on public access TV, Boe is the star, and his quirky band supports his every move.
It's a tongue-in-cheek visualization of the types of appeals you might catch on television during a political race, deeply passionate, but only out of self-interest.
The new single comes ahead of an EP, expected later this fall or early next year, that finds Boe exploring even more sonic territory, pulling from '90s slowcore and shoegaze for something entirely different than "Change Candidate,"
It's all part of the Sleep Diet expanding universe, which Boe is only just beginning to reveal.