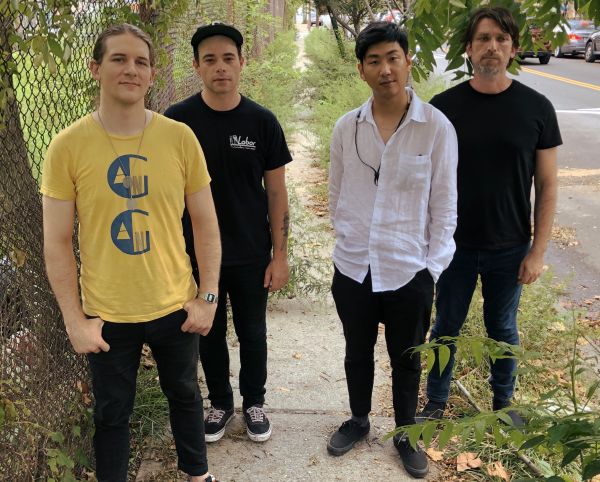 14 August 2020
Gawn – Photo courtesy of Gawn
There's something about the classic story of starting a band that feels so compelling during quarantine. At this point, the idea of cramming into a basement to see that band whose name has been popping up on fliers around town sounds like a dream, a relic from a reality that's starting to feel increasingly remote.
Gawn, the New York-based band led by Zach Koenig, had been living that dream, playing DIY spaces up and down the East Coast and landing opening slots for acts like Hater and Ringo Deathstarr before everything ground to a halt this spring.
The group's debut, The Essence Ov Everything, documents their feverish early years. The sound is decidedly lo-fi, recorded by the band in their tiny Brooklyn practice space, attempting to capture the magic of each song as immediately after it was completed.
Opener "Secret Hideaway" feels like the perfect soundtrack to a late summer day, the slide guitars and Koenig's slacker delivery providing the backdrop to an afternoon of beer and companionship.The muted shuffle and emotional chords that comprise "Curiosity" makes it clear that this an album of depth, it's refrain of "make time for those you love the most" resonating more deeply in this year of social distance.
Lead single and the album's standout track, "No Light", channels snotty pop sensibilities a la Violent Femmes, it's combination of acoustic guitars, bluesy riffage and creaky, overdriven vocals invoking the beer soaked sounds of early Beck. It would work perfectly as the opening track on a mixtape from your cooler older brother.
The album's B-side is moodier, and soaked in spring reverb. Songs like "Call on Me" and "In Yr Head" feel bigger in scope than the record's rowdy opening half, making more use of guitar effects, layered vocals and open space. There's a nice reprieve in "Holiday Tradition", the brief ambient track that breaks the album into two distinct moods.
Gawn's debut effectively captures the scrappy, raw excitement of a new band doing things on their terms, and with no pretense. With their Fall tour indefinitely postponed, it'll be interesting to hear what the next chapter of this young group's career sounds like.
Album (pre-)order LINK