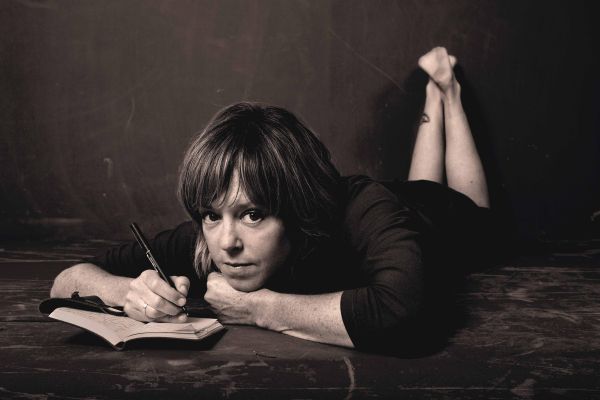 13 August 2020
Emily Barker – Photo Credit: Emilie Sandy
UK-based indie folk singer-songwriter Emily Barker will be releasing her latest album, A Dark Murmuration of Words, on September 4th via Thirty Tigers.
On Barker's sixth full-length the artist searches out the invisible connections that shape a rapidly shifting modern world. Like the dark matter that makes up the bulk of the universe or the shape-shifting coordination of a flock of starlings at dusk, it's the gaps of the unspoken, invisible, and unacknowledged where reality takes shape.
The LP is a timely exploration of climate change, racism, sexism, and myths of economic progress through the lens of what it means to return "home."
Originally from Western Australia, Barker relocated to England in her 20s, where she began performing at open mics while working at pubs and cafes. "I had this constant question of whether or not I should go home, but music kept me here," she says. This lingering nostalgia brought with it a meditation on our conceptions of home. "This question was amplified by our increasing climate emergency and contending with the fact that Australia was originally owned and lived on by indigenous people. My home was acquired by force."
She's been wrestling with these questions ever since. For her current album Barker joined forces with producer Greg Freeman (Portico Quartet, Peter Gabriel, Amy Winehouse) in pursuit of a more modern sound inspired by contemporaries like Phoebe Bridgers and Laura Marling.
Enlisting the help of a whole flock of musicians, they began production at StudiOwz in Pembrokeshire, Wales. Together with Rob Pemberton (drums, percussion), Lukas Drinkwater (bass), Pete Roe (guitars, keyboards), Misha Law and Emily Hall (strings), Barker and Freeman sculpted an album with nooks and crannies, full of secrets to uncover with every listen.
Big Takeover is pleased to host the premiere of the powerful and poignant video for the equally potent and relevant track "Where Have The Sparrows Gone?". The song's lyrics look outside an apartment window and imagines a post-apocalyptic birdless London, while the cinematic-quality short film video goes even further in fleshing out the dytopian scenario.
Baker delves into the details behind the song and video, revealing, "I live in Stroud, Gloucestershire where there is a wealth of talented creatives. For this album, I wanted to collaborate with people in my local arts scene, in part because localism is one of the themes of the album, but also due to the limitations imposed by lockdown. When it came to the video for "Where Have The Sparrows Gone", I turned to Tom Jacob. I've known Tom for some years and seen him develop as a filmmaker through his music video work with musician friends Mesadorm. His talents extend to photography, scriptwriting and film/tv composition, but it was his musicianship that made me think he would be the perfect choice for this music video."
"There are sparrows in the eaves above my bedroom window, which has a view above our tiny terrace garden and stretches out over one of the five valleys. In the mornings I enjoy sitting in the window bench seat, watching the sparrows dart from the eaves above me to the seed balls below. They are a common bird in this old part of town where the walls are made of Cotswold stone and the roofs of slate tiles – allowing for plenty of nesting places unlike newer, more sealed-up builds."
"The song title came from some words I saw on an environmental campaign poster. It called to mind an old folk song by Pete Seeger 'Where Have all the Flowers Gone?' but also got me wondering if, despite the abundance of sparrows in my own town, their numbers were actually diminishing. I looked into it and found that over the last few decades the sparrow has gone from being one of the world's most common and widespread birds to being Red Listed as a species of high conservation concern – in the UK alone, numbers in rural areas have halved since the 1970s, whilst in towns and cities they have declined by 60%. My thoughts returned to the sparrows outside my window – how sad it would be to look out and not see and hear their vibrant movement and chatter. I hope that day never comes."
"The lyrics for 'Where Have The Sparrows Gone?' tell the post-apocalyptic tale of a mother and child fleeing a devastated, future London, now devoid of sparrows and the trees that were once their home, to find a safer place to be. Rather than trying to portray the whole story in a short video, we decided to focus in on one verse: "Ashes in my pocket / I'll scatter them when we stop / He loved to be by water / Down where the waves bow and buck", which tells a story within a story."
"We don't know exactly what happened to the father, but we know he is no longer there. As they flee, the mother and child make a detour to the ocean to scatter his ashes. Tom and I had numerous video calls over the course of lockdown to develop the plot and map it out against the song lyrics. There was just one problem with our storyline and that was that it involved not only a trip to the sea, but another character – two things that weren't permissible during lockdown. So we waited…and waited…and waited some more, until finally restrictions were eased enough to proceed."
"Rosalba Francis-Marlot plays the child character. Rosa's a neighbor and good friend of Tom's who I'd met on numerous occasions and was always drawn to – she's one of those kids that seems wise beyond her years, often dropping something profound into casual conversation. She's also quite the film buff at just ten years old. She was thrilled to be asked and Kim, her mother, was also into the idea. Tom and I both knew she would do a brilliant job."
"Lukas Drinkwater – my real-life husband – appears as the father in a flashback sequence. He also helped out as camera assistant, as did Kim, so our crew and cast totaled five people from just three households. We filmed at home in Stroud until late one Friday night, then got up in the early hours of the next morning and drove to Portishead where the beach scene was filmed – that exhausted look and the bags under my eyes are genuine! Everyone did such an incredible job on this, especially Tom, who worked tirelessly and meticulously to achieve what feels more like a short film than a music video – which was exactly the outcome I was hoping for. Thank you to Tom, Rosa, Kim and Lukas for putting your all into this."
Website
Facebook
Twitter
Instagram