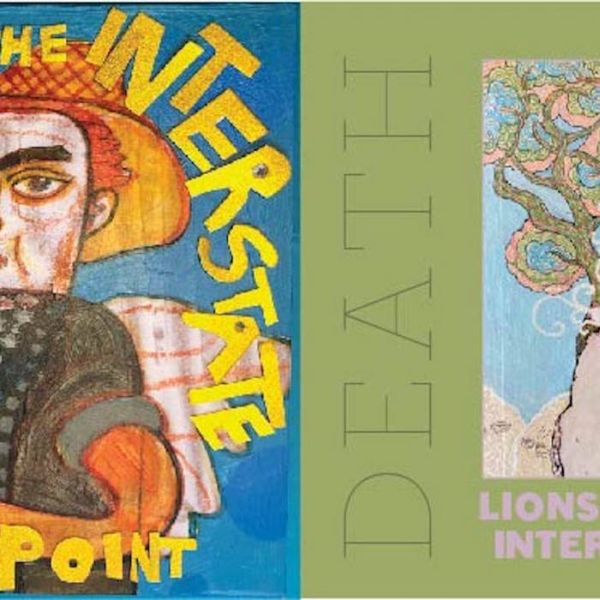 9 September 2021
Lions of the Interstate – Hug Point / Death/Love
Portland, Oregon-based indie rock band Lions of the Interstate have released a double EP that delves into Covid-era struggles, long friendships and, finally, the life cycle itself.
Lions of the Interstate unveiled the two EPs, titled Hug Point and Death/Love, in one striking package on September 8th via Braxeling Records. The two releases bookend each other sonically and thematically.
Hug Point features seven compact pop-punk nuggets while Death/Love features two suites (with five and four songs respectively) that deliver connected and thoughtful rallies of psychedelia, garage and, conceptually if not stylistically, prog.
The EPs are the band's second, following a self-titled effort that made its way onto Big Takeover Publisher/Editor Jack Rabid's Top 100 Singles and EPs list for 2020.
Lions of the Interstate consists of Braxeling veterans Ben Alberts (who also plays in the label's Metropolitan Farms, the Honus Huffhines, and Magnetic Health Factory), Rich Millward (also of Magnetic Health Factory), and drummer Arturo Diaz.
Alberts took the helm on Hug Point, with the songs mostly stemming from a trip to the Oregon Coast he'd braved during the pandemic. "I went to Hug Point, but there were signs throughout Clatsop County warning us to stay six feet away from everybody," he recalled. "Hugs were basically illegal."
A painting by William Hernandez adorns the cover. "The person in the painting seems to be reaching out to something or someone they just can't grasp," said Alberts.
Whereas most songs were written during the last 18 months, "Seamonsters" was co-written by Lions of the Interstate and Jeremy Petersen, a longtime Portland music insider who now works at Colorado Public Radio, decades ago in Idaho.
"It sat in my head for ages and I always wanted to record it," Alberts said. "In my head as I worked on some of the lyrics, I imagined David Gedge singing it, and as I moved it towards a more nautical theme, I decided on naming it after the classic Wedding Present album."
Death/Love features the songwriting expertise of Millward, who'd crafted the concept just before the pandemic. Millward had lost his father, Wayne "Ace" Millward, a few years earlier. Upon receiving a reel-to-reel machine as a gift, he found himself able to listen to tapes made by the elder Millward, also a musician. The songs featured lengthy spoken introductions, some of which are featured within the Death/Love EP.
Wayne "Ace" Millward was an FBI agent who recorded music and stories to the reel-to-reel tapes while on stakeouts across the Northwest. "He would mail these tapes to himself as a primitive kind of copyright," Alberts explained. The devout Mormon would further purchase bottles of wine, pour out the alcohol, and make bottleneck slides. Alberts and Millward would use some of those slides in subsequent recording sessions.
Death/Love features a painting and cover inspiration from Lloyd Eugene Winter IV, who also designed record covers for Finn Riggins and Horse Feathers.
Whereas Alberts and Millward considered separate releases, they opted to tie them together as a single entity, a gift to music lovers in that the two discs fit together neatly. The longtime musical partners complement each others' songs and themes in anticipatory and participatory manners.
The recordings "represent for us some of the happiest moments we have had over a pretty difficult year," Alberts said. Millward, in particular, has undergone several lifetimes worth of stress since March 2020: He's an ICU nurse in Portland.
Hug Point and Death/Love are available at Bandcamp now.
Hug Point and Death/Love wrap up a fertile spring and summer creative period for the Braxeling contingent. The label this March released the Swindon Lot's full-length The Scariana Trench and an EP from Metropolitan Farms frontman Josh Mayer's solo project the Fabulous 464s, called Rose from the Rubble. In July, the label revealed the newest solo project from the Knowle Roars guitarist and singer Michael Joseph O'Connor, called the Listening Post (the Sad Babbles EP features four mournfully catchy pop treasures).
And in August, the label brought out the newest release from the Harmony Motel. Topical Depression, from the Zags' Stanton Hall, is a "wild diversion" that, like a hidden gem of an inn, is "worthy of a visit," according to the Power Popaholic website.