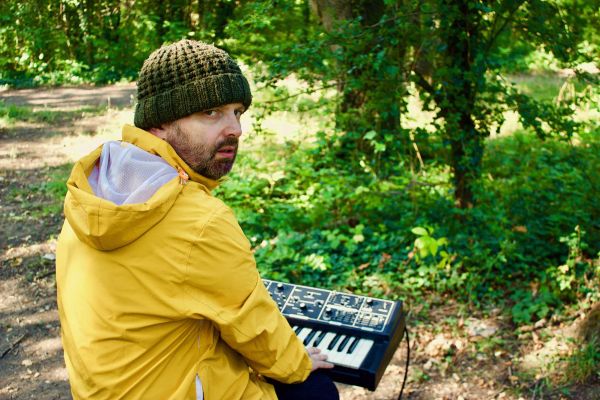 5 October 2021
Rodney_Cromwell – Photo Credit: Alison_Ahern
Sometimes when you learn about new music being released by an artist you really admire (or even love), it feels like you're welcoming back an old friends. And that is exactly the sentiment that can be expressed when we speak of British electronic producer Rodney Cromwell.
It's been a few years since we've covered his music, which is apparently because he's been so busy running a London niche underground synthpop-oriented label called Happy Robots Records (and also, no doubt, due to pandemic-related delays).
Now Cromwell will be releasing a new single through that same label with distribution by Cargo Records. 'Memory Box' is a song about perceptions of reality and the certainty of our memories. How do we believe anything in a world where truth and honesty are of so little worth?
Rodney Cromwell is the nom de plume of Adam Cresswell. With minimal percussion, his lyrics float over a bed of vintage synthesizers and effected guitar. Shunning a clean '80s synth sound, the song is almost psychedelic in outlook, reminiscent of the minimal synth of acts such as Broadcast, Pram or Silver Apples.
The music video for "Memory Box" is an atmospheric montage of heavily effected and distorted shots of rural Britain, and was inspired by film auteurs such as Stan Brakhage and Chris Marker.
Writing and recording in his home studio in Catford, South London, Cromwell employs an old-school approach using predominantly vintage hardware. Mixed and co-produced by Richard Bennett at Acme Hall Studios (New York) and mastered by Pete Maher (U2, Goldfrapp, Paul Weller, Pixies, The Alarm). Martin J Langthorne, who also designed the album artwork, contributes guitar.
"It was one of the first songs written for the new album. At the time, I was still disorientated from illness. I turned on the TV and there was Boris Johnson's lackey, Dominic Cummings, spinning some yarn. In my post-fever state he came across like Wormtongue from Tolkien, talking about riverbanks, woods and castles while literally sitting in a perfumed rose garden like in Alice in Wonderland. I wouldn't say that influenced my directly, but certainly my own state of brain-fog sent my writing off in a more heady and fantastical direction," explains Adam Cromwell.
"I wanted the song to have the feel of a marching clockwork toy, so the beat is really simple and metronomic with the synths doing the talking by enveloping the song."
This single is the title track of the forthcoming 'Memory Box' album, a mixture of electronic hauntological excursions, dreampop and European coldwave that is scheduled for release in early 2022. Using analogue synths, drum machines with parts played almost entirely live (with minimal computer sequencing) and vocals recorded without autotune, this record conjures up an organic, albeit dream-like, world that is inspired as much by Alice in Wonderland, Franz Kafka and Anna Kavan as it is by its sonic influences such as Kraftwerk, The Cure and Stereolab. The sonic pallet of 'Memory Box' is both reassuringly familiar and completely distinctive.
Rodney Cromwell's debut LP 'Age of Anxiety' (2015) and 'Rodney's English Disco' EP (2018) have garnered Rodney Cromwell features in Electronic Sound Magazine, NME, Huffington Post, Paste, Record Collector, BBC6 Music and national RNE3 in Spain, for whom he also recorded a live session. The debut album featured in scores of Best of Lists including Electronic Sound Magazine and he was named 'Most Promising New Act' by The Electricity Club. He has appeared on compilations alongside Cavern of Anti-Matter, John Foxx, Devo, OMD, Katy Perry and other notable artists.
Rodney will be playing a handful of live dates to support the album's release. His debut festival appearance at Indietracks 2015, described as 'a spiritual experience", led to further festival appearances in the UK and in Spain, in addition to supporting artists such as Pram, Marsheaux, Death & Vanilla, Rowetta and Steve Davis. In 2020, he also performed as part of Damo Suzuki's backing band.
As of October 27, 'Memory Box' will be available digitally everywhere, including Spotify, Apple Music and Bandcamp, where his earlier releases can also be found. On October 28, London's Hope & Anchor will host his Single Launch Party with appearances by Mood Taeg and Still Forever. Tickets can be obtained HERE.
CREDITS
Written and recorded by Adam Cresswell
Martin J Langthorne – guitar on 'Memory Box'
Mixed and co-produced by Richard Bennett at Acme Hall Studios, New York
Mastered by Pete Maher
Album artwork by Martin J Langthorne
We cannot miss this opportunity to take you back to Rodney's very own memory box with several of his previous singles:
Rodney Cromwell
Website
Bandcamp
Facebook
Twitter
SoundCloud
YouTube
iTunes
Spotify
Amazing Tunes