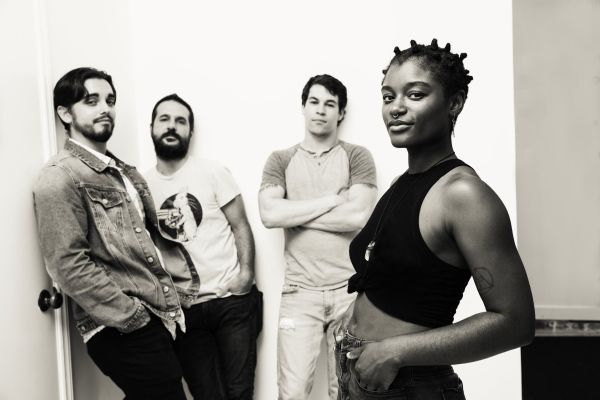 5 October 2021
Whoop – Photo Credit: Alexandria Lassiter
Only formed in the fall of 2020, North Carolina's Whoop has already evolved their weekly barn jams into a hugely relatable, disarmingly charming debut album. Due in September, Whoop! is a record that's equally organic and tuneful, introspective and celebratory, stylistically diverse, yet musically coherent – all connecting through vocalist Fal's supple and soulful, sweet-but-street timbre.
Whoop! releases on November 19th via Porcelain Records.
A mélange of backgrounds and influences spanning indie, jazz, rock, reggae, and hip-hop, Whoop thrives by letting raw musical instinct be band leader. Nothing is over-played or over-produced; nothing is superfluous or gratuitous in their innately authentic, ego-free explorations of groove, melody – and of the everyday human condition; about "Post-relationship introspection," as Fal puts it.
Fal had previously collaborated with Whoop bassist Nick on recordings, and he knew drummer Will from school. Completing the band's perhaps unlikely, but all-the-more-compelling for it cocktail came Grammy-winning Canadian guitarist/producer Steve Bigas (Ziggy Marley, Taj Mahal, Daniel Lanois etc.), who was mentoring Nick in an audio engineering program.
The foursome began meeting on Friday nights in Steve's converted barn studio in Raleigh. Moments of musical magic were captured, distilled, and tastefully shaped into complete songs. Whoop! is one of those rare records that channels universal emotions to the point of instant familiarity and reassuring, bonding validation.
The album will be accompanied by multiple music videos, as well as highly-anticipated live shows. In the meantime, Big Takeover is pleased to host the premiere of the irrepressibly melodic retro-pop single "Cool."
A strutting drum beat, gritty guitar jags, limber bass line, crisp handclaps, vintage background pop harmonies, and Fal's defiantly spirited vocal delivery run through the cool kiss-off tune.
Fal gives some details about the track, explaining, ""'Cool" is a fun one. It channels this kind of screw-you-I'm-over-it energy. We all know someone whose ego crowds their entire personality. They're usually the ones who are too caught up in superficial things, stuff that doesn't matter, or surface level "whatever". It's like: take off those shades dude and see what's really in front of you. You're not as cool as you think."
Lyrics:
You're too cool for me
You're too cool for me
So you say you wanna ride the wave
Well I don't think you can
Know I don't wanna come off mean
I don't wanna be arrogant
See I don't care where your money and your mouth is
I wanna go
But you don't care
No you don't really care
You don't see it the way I do
You're so cool but
(Like you do)
You're so cool
(Like you do)
You're too cool for me
Your too cool for me
You're too cool for me
Yea yea yea yea
You're too cool for me
We'll see your mother and your brother and your sister and your daddy they know
That you're fooling yourself
And you're fooling your friends
You're their foe
And you've been talkin like a hot shot big cat
Stepping on the beat so cool
Like who's that
I don't wanna know I don't wanna okay your game anymore
You're so cool
(Like you do)
You're so cool
(Like you do)
You're too cool for me
(Like you do)
You're too cool
You're too cool for me
Too cool
Too cool
Too cool
Too cool
To cool for me yeah
I said your too damn cool
IcY baby, know what you do
I said that you're too fucking cool for me
And you're my weakness