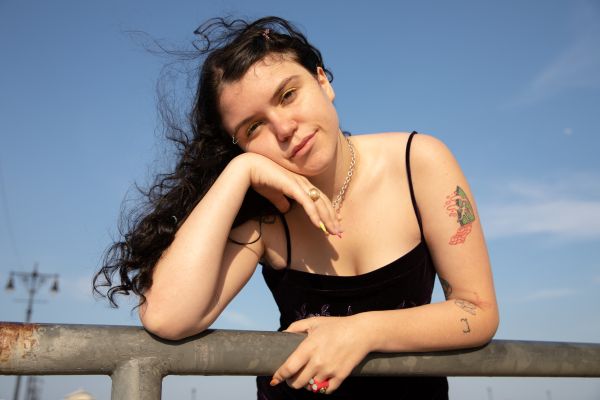 8 October 2021
Shower Curtain – Photo Credit: Lizzie Soufleris
For the last few years Victoria Winter has been releasing small collections of charming, introspective indie pop. Like her sister, who releases hazy shoegaze under the Winter moniker, the music is sung in English and Portuguese, harking back to their childhood in Brazil.
Now a resident of New York, Victoria's Shower Curtain project has just shared the 4-song EP Something Instead.
Opener "Running" is a brisk dream pop song, Winter's vocals floaty serenely over a rubbery bassline as she confronts the insecurities any artist faces when sharing their work. The chorus of "I feel like my art is ordinary art" hits hard, the reverb dripping off her works like rain on an overcast day.
The scenic video finds her exploring New York, complete with a choreographed dance movement. "U Make Me Feel" starts out delicately before erupting in an overdriven wash of guitars, the lo-fi video appropriately ending with the band rocking out.
The spry drum beat on "Me Engole" gives the collection a nice boost of energy. The only song in Portuguese, it finds Winter remembering "past traumas from being in love as monsters."
Speaking on the EP, she explains that it feels like a fresh start, and listening back to her old releases, it is indeed a full evolution. Jangly, hushed acoustic offerings are now widescreen, shimmering pop songs.
"This feels like the start of a journey where I'm bringing more genuine and true sounds to the audience," she explains.
"I Keep Trying" closes takes the EP's sonics in a darker direction, the dissonant chords building to a tense close. It's an exciting new direction for the young artist, and we'll be keen to see where she goes from here.