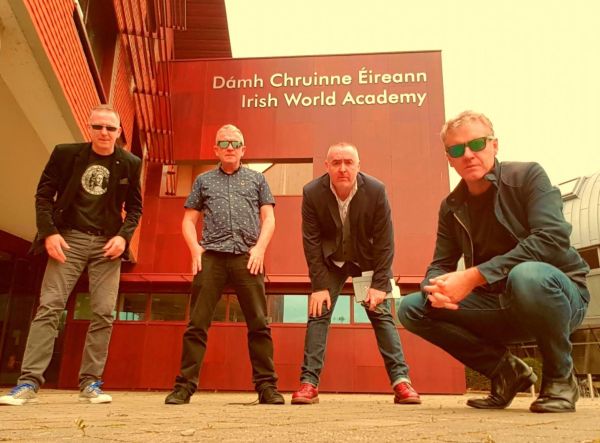 13 July 2021
Sons of Southern Ulster – Photo Credit: P. Merchant
Continuing our recent exploration of artists from the Emerald Isle, we present the latest offering from a band called Sons of Southern Ulster – an intriguing name. With its members currently split between continents, the Atlantic has not kept them apart. The band has recently been collaborating with none other than Pete Briquette of The Boomtown Rats and the Bob Geldof band. Pete Briquette is an Irish bassist, record producer and composer.
Formed around the songwriting partnership of Justin Kelly and David Meagher, Sons of Southern Ulster released their debut album 'Foundry Folk Songs' in 2016. Things have come first circle, so to speak, with Pete originally from Ballyjamesduff in County Cavan and the Sons from such a nearby community.
Coming in late August, the two artists will be releasing their joint 'Turf Accountant Schemes' EP. In the meantime, we can all enjoy the first single to come of this, entitled 'Polaris', a brilliantly titillating song set to an electronic soundscape, as if the sound of stars twinkling.
Spatially perfect in its element, the unmistakable voice of frontman Justin Kelly tells a story harking back to the members' childhood in a harrowing moment that has stuck with them throughout their life. Impactful, remarkable and brilliant!
Sounding somewhat how you might imagine Sleaford Mods might sound after taking lessons from Ian Dury and Sparklehorse, Sons of Southern Ulster sing about quite different subject matter than the Mods do, taking their inspiration from the Ireland of their youth.
Having grown up in Bailieborough, County Cavan, they reflect on life as it was long before the advent of the internet, when community, personal struggles, death and unemployment were rampant and the church sat high on its steel white horse. Amidst the brooding and reflective themes explored, their tunes are interspersed with moments of light and insight.
As for 'Polaris', this particularly song touches on regret, lost opportunity, death and, not surprisingly, alcohol – a recurring theme with the band's material (they admit). The accompanying video was produced by Nicky Fennell.
"The first music I ever bought was the 'Like Clockwork' single by the Boomtown Rats when I was twelve or thirteen. I was obsessed with The Rats so when Pete Briquette reached out to ask if he could remix a few tracks from our 'Sinners and Lost Souls' album, we were absolutely shocked. Apparently, a mutual friend has passed the album on to him and he was suitably intrigued. Pete also grew up in County Cavan, so he'd get a lot of the references and the tone. Lyrically the songs are very "Cavan" in that they are on the surface often quite harsh but contain a lot of dark humor," says Justin Kelly.
"I remember when the Boomtown Rats broke through. At that time it was highly unusual for an Irish band to make it in Britain. But for a Cavan man to be there!!! That was just bizarre. Cavan men were made to be farmers – not No.1 pop stars."
The 'Turf Accountant Schemes' EP features four tracks from the band's second album 'Sinners and Lost Souls' (2020), each of them re-imagined and re-mixed by Briquette. The other three acerbic classics are 'Fear My Scorn', 'Live in the Past' and 'Stubby Yellow Fingers'.
Mixed / engineered by David Minehan (The Replacements, Buffalo Tom, Dropkick Murphys), produced by Daragh Dukes, and mastered by Richard Dowling at WavMastering (David Bowie, Brian Eno, Sinead O'Connor, Primal Scream, Suede, Interpol, Foo Fighters), this EP features striking artwork by acclaimed Danish artist Claus Castenskiold.
"In Sons of Southern Ulster, we took a very conscious decision to sing songs about Cavan as it was always a bit underserved, not just in music but in infrastructure and resources. In many ways, the Irish government ignored us and left us to our own devices – for better or worse. I think Pete picked up on that," says David Meagher.
The 'Polaris (Pete Briquette Remix)' is out now and the 'Turf Accountant Schemes' EP will be released, both digitally and on vinyl, on August 27. It can be ordered via Bandcamp
CREDITS
Written by Justin Kelly and David Meagher
Remix by Pete Briquette
Produced by Daragh Dukes of Dukes Productions, Limerick
Engineered / mixed by David Minehan at Wooly Mammoth, Daragh Dukes, The Slimmer Twins at Bog Road Studio
Mastered by Richard Dowling at WavMastering, Limerick
Justin Kelly – vocals
David Meagher – guitars
Paddy Glackin – bass
Noel Larkin – drums
Cover artwork by Claus Castenskiold
Video production by Nicky Fennell
All photos taken by P. Merchant
While you're here, do take the opportunity to also enjoy their debut album 'Foundry Folk Songs'
Keep up with Sons of Southern Ulster
Website
Bandcamp
Facebook
Twitter
Apple Music
Spotify
Keep up with Pete Briquette
Facebook
Twitter
Wikipedia
Discogs