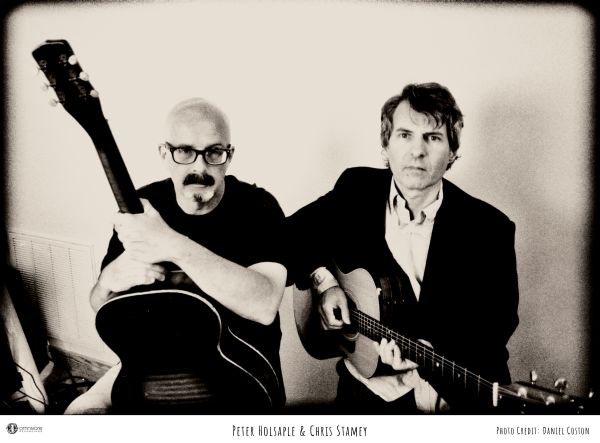 13 July 2021
Peter Holsapple & Chris Stamey – Photo Credit: Daniel Coston
"Today Could Be the Day" is the lead-off track from Our Back Pages, a recently released album via Omnivore Recordings from renowned musicians Peter Holsapple and Chris Stamey.
Our Back Pages is a tribute to The dB's, the band Stamey founded in 1978 in New York. Released on June 18th, the LP has been widely applauded as a worthy addition to the rich catalogs of the two songwriters.
Big Takeover is pleased to host the premiere of the nostalgic lyric video for the heartfelt and engaging track "Today Could Be The Day."
The music video is packed with snapshots of Holsapple and Stamey in action on the stage, and these colorful performance images are intercut with vintage black 'n' white found footage of old-fashioned car races, hoedowns, carnivals, and parades.
Holsapple's sprightly tune comes from the band's forgotten era after Stamey had left, and it was, in fact, the last song on the outfit's final (at that point) album, The Sound of Music, on IRS Records, an optimistic epitaph if there ever was one.
The duo have performed the upbeat song over the years on their promotional tours for Holsapple & Stamey albums, 1991's Mavericks (Rhino / RNA) and 2009's hERE aND nOW (Bar/None), and it was always an energetic highlight of their live sets.
When Our Back Pages was being assembled a couple years ago, "Today Could Be the Day" was the album's natural first track. Additional fiddle comes courtesy of John Teer (from Chatham County Line) and helps keep the song's message of forward-looking hope present.
"I've always hoped 'Today Could Be the Day' might live beyond its initial release," says Holsapple. "The version Chris and I have released on Our Back Pages holds true to the original, but updates it to fit the more acoustic-based ideals we sought for a 21st century recording project. Chris' harmony and production on the track is sure to make long-time dB's fans and new followers very happy, I think."
Order Our Back Pages at Omnivore Recordings' Website