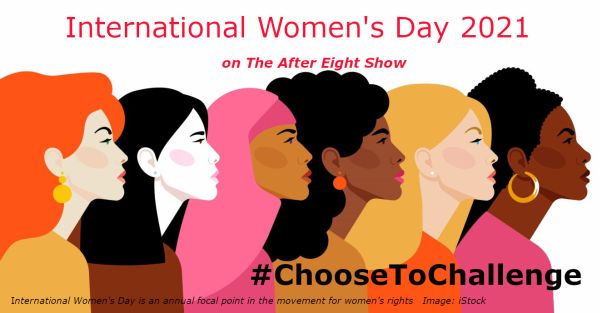 9 March 2021
To mark International Women's Day on The After Eight Show, a number of women in the Music Industry were invited them to record their thoughts and nominate a piece of their own music and/or a piece by a female artist who has inspired them. The response was completely overwhelming!
As a result, you can listen to the considered thoughts of 22 women about the state of gender equality in music. They discuss their own experiences, hopes and fears for the future, and in some cases offer advice for young musicians building a career in this industry.
Together with their chosen music, their contributions into a 2 part special which is broadcast on 15 different radio stations this week (i.e. part 1) and next (i.e. part 2). At the weekend, a podcast consisting of both parts will be shared. Learn more HERE
There are performers from the world of indie pop, metal, jazz, traditional and classical music. There are women from the world of music PR, artist management, music teachers and the boss of a London radio station who was a member of some prominent punk bands in the 70s – between them, they have a wealth of knowledge and experience of surviving and prospering in the music industry!
We'd like to say a big thank you to Richard Harrison of Smile Radio for rescheduling Monday night on his awesome station in Yorkshire – they will be playing Part 1 from 8pm followed immediately by Part 2
There are some wonderful stories to listen to. The very first one is immensely powerful – a woman who has risen from very, very challenging circumstances to build a business and create some beautiful music. There is practical advice – resources for young artists to draw from and make use of, some very funny moments and some stunning music by the contributors themselves as well as inspirational music by Nina Simone, Tori Amos, Aretha Franklin, Alice Coltrane and many others.
The list of contributors is as follows:
𝐏𝐚𝐫𝐭 𝟏
Madisyn Whajne (musician from Whitefish River First Nations)
Aoibheann Carey-Philpott (Singer, songwriter, choral director, foodie, nature-lover, artist… from Cork)
Marianne Dissard (Desert noir chanteuse, Thanet-hinged performer, brutally honest author. Left her home in Tucson Arizona for a dream boat in England.)
Eliza Shaddad (singer, songwriter, film score composer, co-founder of Girls Girls Girls – now based in Cornwall)
oh emma miller (singer, songwriter, music blogger from Elgin, Scotland)
𝐀𝐧𝐧𝐚 𝐑𝐮𝐬𝐬𝐞𝐥𝐥 (founder of AR Artist Management helping music artists to start, build and grow successful, sustainable music careers, host of The Virtual Manager podcast – from London)
Charlotte Carpenter (singer, songwriter, music label boss, podcast host of Indie Insider … from East Midlands)
Katie Spencer (singer, songwriter, guitar player from Yorkshire)
Tusks (Artist/ Producer from London)
Jo Beth Young (singer, songwriter, composer, music blogger and podcaster)
Clelia Felix (French composer, songwriter, musician)
𝑷𝒂𝒓𝒕 2
Monique Barry (singer, songwriter, music producer from Toronto)
Aisha Vaughan (musician, producer, singer, songwriter from Bristol)
Fiona Joy Hawkins (pianist, singer, composer from NSW, Australia)
𝐂𝐚𝐭𝐡𝐞𝐫𝐢𝐧𝐞 𝐉 𝐂𝐚𝐦𝐩𝐛𝐞𝐥𝐥 (founder of CJC promotions, music promoter & radio presenter)
Fiona Ross (jazz vocalist, pianist, producer, composer, writer on music and former Head of British Academy of New Music, London)
𝐃𝐞𝐞 𝐖𝐞𝐛𝐛 (radio station boss at Mad Wasp Radio in London, former punk rock guitarist)
𝐀𝐧𝐧𝐢𝐞 𝐒𝐦𝐚𝐫𝐭 (singer, songwriter, musician, music teacher, leads 2 choirs in Scotland for children and adults) https://soundcloud.com/annie-smart-1
𝐉𝐞𝐬𝐬𝐢𝐜𝐚 𝐑𝐨𝐰𝐞 (founder of Bunny Music – platform celebrating and championing womxn in the industry) https://bunny-music.com/
Ruth Blake (musician, singer, songwriter from Somerset)
𝐄𝐦𝐢𝐥𝐲 𝐏𝐚𝐥𝐞𝐧 (founder of KnightressM1, violinist, musician, singer from Oakland, California)
Kar Stanton Music (Scottish multi -nstrumentalist, songwriter now based in Manchester)
This week's schedule for your listening pleasure:
Wednesday: SLE Radio (UK) and Babylon Radio (Ireland) 8pm GMT, Bombshell
Radio (Toronto) 10pm EST, CBJ Radio (Wyoming) 10pm Mountain Time
(midnight EST)
Thursday: Fantasy Radio (UK) 6pm GMT, SME Fusion Radio (South Africa)
8:15 SAST (6:15 GMT)
Friday: Ridge Radio and Isolation Radio 8pm, Prospect Radio 10pm (all UK
GMT)
Saturday: West Norfolk Radio 7pm, Crowzone Radio 8pm, Mad Wasp Radio
(London) 11pm – all UK GMT
Sunday: KB Radio (Ontario) – 5pm EST
Monday: KRAC Radio (Montreal) – 9pm EST
Tuesday: Smile Radio (UK) 8pm GMT
In the meantime, please also enjoy this fabulous Spotify playlist in celebration of women indie musicians: