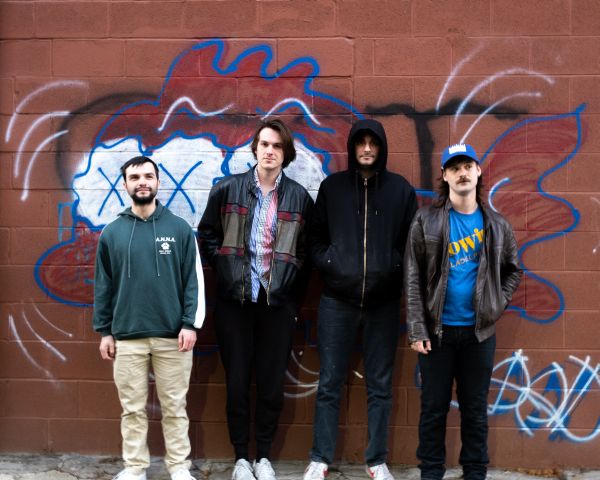 9 March 2021
Gaadge – Photo Credit: Rich Shook
Gaadge is a project created by Mitch DeLong in the summer of 2014 that has graduated into a full-fledged band. After recording and releasing the bedroom demo "Whirl" and playing scattered shows of original music with a changing line-up, the project lay dormant until DeLong relocated to Pittsburgh in 2016. It was here that he reunited with drummer Andy Yadeski and guitarist Ethan Oliva (two members of lo-fi outfit Barlow) and met bassist Nick Boston.
With the band slowly coming together, Gaadge released the Gaadge / Barlow split cassette tape with their fellow bandmates in October 2018. Recorded entirely at the band's practice space, the tape showcased sounds ranging from MBV's fuzzy wall-of-noise to Pavement's chiming guitar melodies.
This release inspired DeLong to immediately begin writing a follow-up full-length album.
Titled Yeah?, the LP will see the light of day on March 19th via Crafted Sounds.
Recording for the album began in April of 2020 and was also done in the band's practice space, as well as Oliva and DeLong's house. The final product was mixed and mastered by Ryan Hizer of Good Sport and Trey Curtis.
Yeah? is the realization of Gaadge's fever dream: a wild ride through a variety of alternative music genres.
Big Takeover is pleased to host the premiere of "All You Can Absorb" a grungy slacker rock number with casual-angst vocals, slightly dissonant interplay of angular guitar lines, heavy bass grind, and laid-back drumming with off-hand cymbal-taps. At the end of the song, the instrumentation rouses into a fuller spin cycle, but the sing-song vocals stay in a gentle holding pattern.
"All You Can Absorb" lyrics:
"All you can absorb. Take another round and tell me what you found.
Enough to figure that thing out? I know where I've been.
To never there again, just absorb the things you can.
Still, nothing quite prepares you for the thrill that's waiting there.
All you can absorb, don't push me into something more, I'll hate it."
DeLong explains the meaning of the song, relating "It's just about absorbing situations in life, and taking what you can from lessons. But also finding a balance in allowing yourself to trust your gut and not let past shit get to you at the same time."
Pre-Order Yeah? at Bandcamp
Facebook
Twitter
Instagram
Spotify
Apple Music