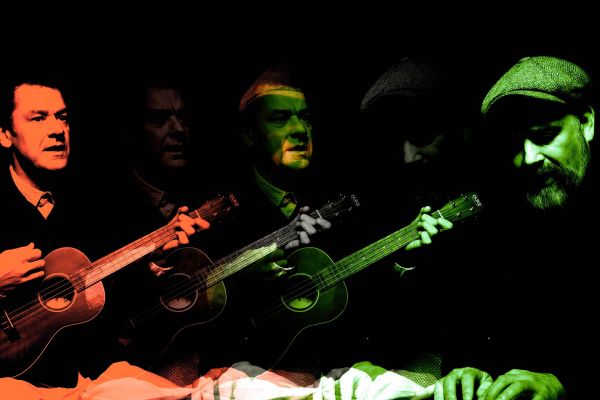 22 June 2021
The Gorstey Lea Street Choir – Photo Credit: Michelle Martin
Britain's The Gorstey Lea Street Choir are back in the driver's seat, so to speak, as they take us on a new whirlwind trip with new single 'That Chitty Bang Majik', the second taster from their forthcoming 8-track album '…from Prince's Park to Farsley – Volume I', to be released via Britain's 500 Broadcast Recording Co.
Following up the release of lead track 'Bluebird, Hollywood… Domino', this new offering is a lackadaisical power pop track that builds to a crescendo of question and answer vocals, it's main lyrical themes being isolation, lack of communication, escapism and 'Carpe Diem frustration. We are doubly pleased as now we have two wonderful tracks to listen to on repeat – well actually three if you include the track 'Cinquante Cinq Six Huit' (streamable below), which we also highly recommend.
The Gorstey Lea Street Choir are Michael Clapham and Russ Phillips, two friends whose musical collaboration is rooted in a friendship that blossomed over 35 years ago. Having met as teenagers in the mid-'80s, it took until 2016 for them to turn their teenage plans — discussed back when both were involved in aspiring Manchester bands — into a reality with the birth of this project.
Recorded at the Gorstey Shack (Russ's converted garage) and Magic Garden Studios in Wolverhampton with producer Gavin Monaghan (Robert Plant, Editors, Ocean Colour Scene, Scott Matthews, Squeeze, Goldblade), 'That Chitty Bang Majik' was mixed by legendary producer George Shilling (Blur, Primal Scream, Cathal Coughlan, Teenage Fanclub, Mike Oldfield) and mastered by Ride frontman / producer Mark Gardener at his OX4 Sound Studio in Oxford.
"The song came about last January after a Christmas repeat that we had both watched of Chitty Chitty Bang Bang' Michael stated, 'we love the film and the soundtrack and we started discussing 'the flying car'' and before you know it '…that Chitty Bang Magic' was born," says Russ Phillips.
"This song represents the poppier side of our indie credentials whilst still retaining our core vibe, 12 string guitars chime alongside brass punctuations and Moog synths, with the two vocal Gorstey chant upfront, telling the story of the track. We are really looking forward to folks hearing the rest of the LP in early July when it arrives, the 4 new tracks and the 4 re-imaginations of 'Extended Play One' tracks by Choque from Black Star Liner," says Michael Clapham.
'…from Prince's Park to Farsley – Volume I' is the follow up to the duo's 'extended play one' album, which was released in December 2020 and received support from BBC 6 Music, BBC Introducing, Amazing Radio, and a whole host of DAB and worldwide radio stations.
'That Chitty Bang Majik' is available everywhere digitally. The full album '…from Prince's Park to Farsley – Volume I' is out on July 9 and can be pre-ordered via Bandcamp or otherwise HERE
CREDITS
Written and arranged by Michael Clapham and Russ Phillips
Performed by The Gorstey Lea Street Choir
Recorded at the Gorstey Shack and Magic Garden Studios with Gavin Monaghan
Mixed by George Shilling
Mastered by Mark Gardener at his OX4 Sound studio in Oxford
Video edited by Michael with original drawings and cartoons from Russ.
The #carshare footage is one take with a wink and a nod to #PeterKay #carshare and #JamesCorden #carpoolkaraoke "at" JKCorden "at" peterkay_co_uk
As promised above, you will thank us for introducing you to this beautiful piece of sonic perfection:
While you're here also enjoy the first single, which is of a somewhat different vibe:
The Gorstey Lea Street Choir
Facebook
Twitter
Instagram
Bandcamp
SoundCloud
YouTube
Spotify