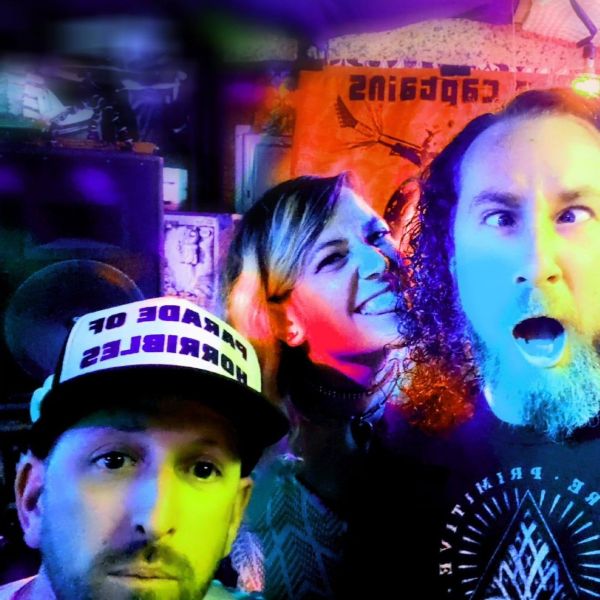 2 November 2021
No Captains – Photo Credit: D. Sando
California's Bay Area has always been a hotbed in terms of music output, so it is no surprise that we so frequently find artists from that part of the country amidst playlists and garnering recognition further afoot. Today we present one such band, hailing from San Francisco. American alternative funk-rock metal hybrid trio No Captains are ending 2021 on a dark and brooding musical note with the release of some new music. Namely, this week brings the release of their new single '13th Moon', the first sacrifice from the band's fourth album 'Friends Like These' (out in early 2022).
Beginning with an epic and foreboding intro meshed of bass and violin, the drums kick in and so does the coven. With a wickedly pronounced and convincing vocal delivery by frontman Alex Shonkoff, the necromantic raconteur who unravels the twisted bloody fears of a horrific night.
Power rhythm section Danny Sando (bass and back vocals) and Vince Shore (drums and percussion) do their awesome best to fuse alternative metal with funk rock and alternative metal – a winning for formula for fans of such artists as Mr. Bungle, Primus, Rage Against the Machine, Tool and Faith No More.
Ominous and menacing, the trio collaborated on this track with another artist we are well familiar with – violinist Emily Palen of KnightressM1. We also covered her latest 'Dreams and Devastation' album and follow-up single 'Infinite Blue'. On '13th Moon', her screeching eerie performance commendably sets the ghostly backdrop that will give you goosebumps.
A fascinating and adrenaline-filled track with a gruesome tale to tell, this song was inspired by classic Halloween and monster movies with their characteristic werewolves, mummies and zombies. To boot, in 2020 (when we assume this track was written), there were actually 13 full moons instead of the 12 you would otherwise expect.
This song is the narration of the Head Black Cat summoning the appearance of all these creatures to rise up and take over humanity. The bass thumps along in a marching feel while the drums hold down a booming tribal essence to bring the listener closer to a trance-like state.
"The vocals seize the instrumental underlay in power-gothic style, letting you know the narrator is most assuredly controlling the downfall of humans. At the same time, the "like no other" violin effect sets the soundscape for this demise. As I see it, these four elements hypnotize, creating a "loss of time" atmosphere that the listener is eerily okay with," says Danny Sando.
Influenced by Mr. Bungle, Iron Maiden, Tool, Primus, Red Hot Chili Peppers and Rage Against The Machine, No Captains is on a mission to let the music transport you. At their live shows, the environment will take you for that ride, offering something for those wanting to jump around to, letting their aggression out. This is music to shake your butt to or let you forget about the things that stress you out. No Captains starts the roller coaster and, because there are no captains, holding on for that ride is completely up to you.
On October 29, '13th Moon' will be released digitally and will be available across streaming platforms and online stores. The forthcoming long-player will follow in early 2022.
SINGLE CREDITS
Recorded, mixed and mastered by B.Z. Lewis of 132 Studios
Produced by Danny Sando and No Captains
Lyrics by Danny Sando, Alex Shonkoff, Vine Shore
Bass & Backing Vocals: Danny Sando
Drums: Vince Shore
Lead Vocals: Alex Shonkoff
Violin: Emily Palen
No Captains
Website
Merch
Facebook
ReverbNation
SoundCloud
YouTube