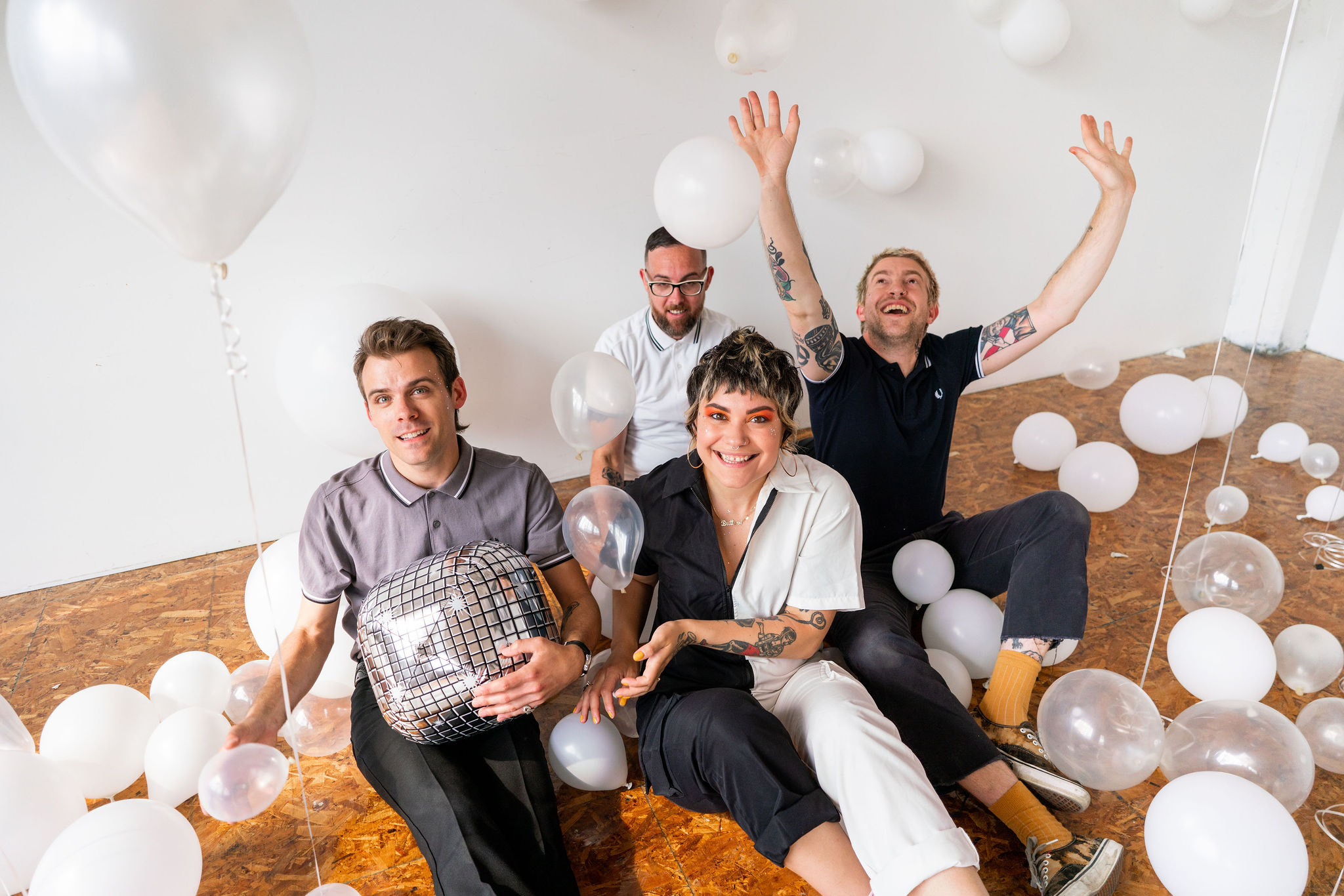 31 October 2022
Photo Credit: Caity Macleod
Philadelphia neo two-tone ska band Catbite takes on The World/Inferno Friendship Society's "A Night in the Woods" off the upcoming LP Endless Possibility: A Tribute To Jack Terricloth out this Halloween (Oct. 31) in support of the Jack Terricloth Foundation's memorial shows. Pete Ventantonio, aka Jack Terricloth, unexpectedly passed away May 12, 2021 at the age of 50. He was a legend of the New York and New Jersey punk scenes, an unbreakably principled mischief maker, and an inspiration to punks around the world. He fronted Brooklyn cabaret-punk collective The World/Inferno Friendship Society for 25 years and legendary New Jersey hardcore outfit Sticks & Stones before that.
"One of the first bigger shows we were asked to do as a band," says Catbite guitarist Tim Hildebrand, "was to open up for the legendary World/Inferno at PhilaMOCA in our hometown of Philly. We were all big fans and were super stoked and also sort of nervous since we're a ska band playing a very non-ska show and had no idea how the band or crowd would react. But Jack and the rest of the band were the coolest people. It was a show that we'd never forget. When we were asked to participate in this tribute to Jack, we jumped at it. We decided on "Night In The Woods" because it has these super rad ska undertones while still carrying that weird as heck World/Inferno sound and vibe, which gave us so much room to have fun with it! We're super proud of how it came out and are even more proud to carry on Jack's legacy through his music!"
"A Night in the Woods" is a perfect pick for the spooky season as the protagonists of the song, The Bridgewater Astral League, were written about like the graverobbing punks of the '80s by Terricloth, and brought to life by vocalist Brittany Luna: "You would have liked some friends of mine / They made accidents happen / They'd dig a body from the ground / Give you the shirt off its back if you didn't have one," and carried out like an action theme song by Hildebrand's frenetic guitar, Ben Parry's funhouse basslines and Chris Pires' propulsive drums.
The Jack Terricloth Foundation was created in the wake of this tragedy to keep Jack's memory alive. The Foundation is creating a grand event honoring the life of a performer who's touched so many lives, featuring a long weekend of Inferno members honoring their friend through song and ritual. Simultaneously, the Foundation will be releasing Endless Possibility: A Tribute to Jack Terricloth, an album of World/Inferno and Sticks & Stones songs featuring this Catbite track, Jeff Rosenstock, Ted Leo, Bouncing Souls, The Slackers, Worriers and more. The Jack Terricloth Foundation was made to raise money to help artists in need and its first donation will be to support MusiCares. All proceeds generated from the tribute album now through Halloween will go towards the MusiCares charity organization.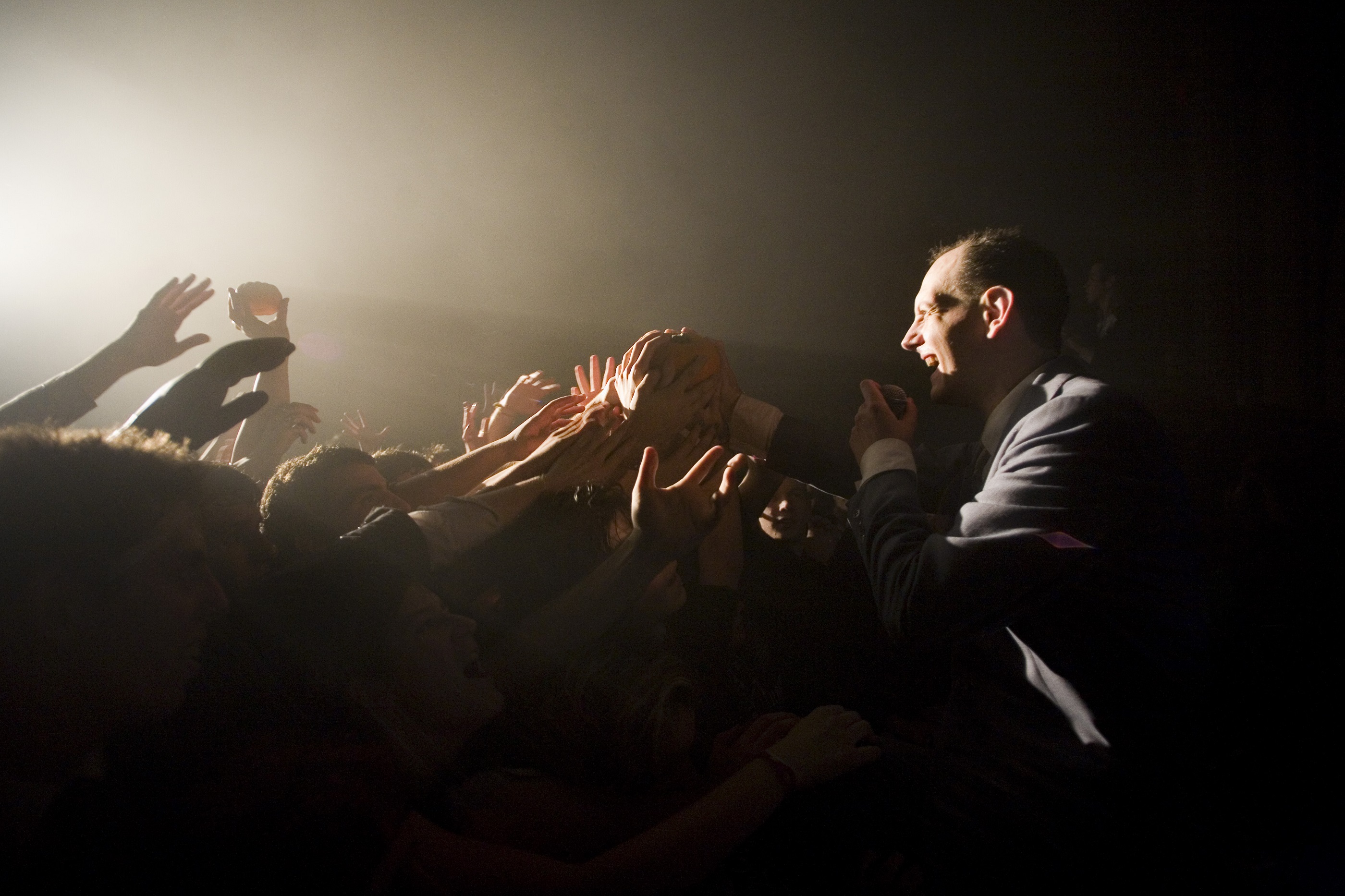 Jack Terricloth 2009 Hallowmas, Photo Credit: Konstantin Sergeyev
For their New York City record release party, The Foundation is creating a grand event honoring the life of a performer who's touched so many lives, featuring A Mischief Night Sinfonietta where The East Coast Smashism Chamber Orchestra will play the songs of The World/Inferno Friendship Society. The instrumental string ensemble will be made up of some of Jack's former musical collaborators and they'll be performing songs arranged by Peter Hess, Scott Hollingsworth, Franz Nicolay, Rebecca Schlappich, Ken Thomson, and Pat Muchmore. Orbiting that anchor event will be a long weekend of celebrations showing love to their friend through song and ritual.
In a live session with Paste Magazine in 2019 Terricloth coyly states, "Everyone has a favorite dead punk rocker. I hope to be yours one day," before going into a swing-punk rendition of "Jeffery Lee," a song about his favorite dead punk.
Members and ex-members of The World/Inferno Friendship Society are spending a long weekend of tribute and reverence to their fallen friend from Oct. 28-31. They've had a membership of over 40 players, led by singer Jack Terricloth, the only constant during the group's 25-year history.
Members of the World/Inferno gang have started/joined bands like The Hold Steady, Deals Gone Bad, Balkan Beat Box, Kiss Kiss, Mariachi el Bronx, The Dresden Dolls, Nine Inch Nails, Violent Femmes, Leftöver Crack, The Slackers, Against Me! & Matt Pond PA.
The World/Inferno's annual Halloween show, Hallowmas, was always their most anticipated performance of the year, known for its elaborate theatrics and esoteric surprises. Past Hallowmases have included a burning effigy of frontman Terricloth, an ethereal string quartet, an entire gospel choir, circus performances, fire breathers—even a zombified marching band appearing on stage for the finale "Pumpkin Time"—a Peanuts referencing song the band only performed at Hallowmas shows.
"I was born a Great Pumpkinist, and I'll die a Great Pumpkinist," Terricloth once said. "I keep Halloween holy."
Years ago, they brought in gigantic weather balloons decorated to look like pumpkins, which were so large that during the concert they actually lifted people off the ground.
"One of the balloons exploded," Terricloth said. "It wasn't very high up so no one died. It was a beautiful scene, though. The next year, we wanted to blow one up on purpose, but the art space we were at said we couldn't, so we just lit giant effigies of the Great Pumpkin on fire instead."
Another year, the band ended up in the Greenwich Village Halloween Parade. World/Inferno was assigned to the same float as Z100 (a top 40 station). As the radio station tried to drown out the band with RnB hits, a troop of punks stormed the float and began to stage-dive off of the moving platform during the parade. "The radio station's turntable got disconnected somehow," Terricloth said. "I didn't see a thing."
Terricloth was known for his pointed commentary during shows, tackling subjects of anarchist politics and punk rock ethos, while his lyrics often concern historical or biographical subjects such as Peter Lorre, Philip K. Dick and occasionally the death of a friend, like Grace Talicious of NYC punk outfit The Paranoid Style.
World/Inferno started in early '94 as New Brunswick, N.J., band Sticks and Stones collapsed. Frontman Pete Ventantonio moved to New York and transformed into the anarchy-praising, noir-styling, soliloquy-spouting Jack Terricloth. Shortly thereafter, Terricloth created The World/Inferno Friendship Society. A punk band unlike any other, they mixed the power chord with the horn line, combining punk with cabaret music, borrowing equally from Darby Crash and Tommy Dorsey. After their initial release, the thunderous single "Tattoos Fade," World/Inferno became an elite touring unit whose shows regularly include odes to property theft, indictments of police activity, and segments for waltzing.
They've been putting out albums since '97, but their latest batch have seen the band taking on specific themes. Red Eyed Soul (2006) is a massive double LP that embraces ideas of police mistrust, seduction, grudges and theft. Addicted to Bad Ideas (2007) tells the story of perennial character actor Peter Lorre. The album spoke of fame, dames and heroin use. In fact, it was such an artistic triumph that the band took it to the stage, creating a multimedia experience. Reminiscent of Pink Floyd's stage show for The Wall, the live version of Addicted to Bad Ideas was heralded as creative, daring and utterly unique.
The Anarchy and the Ecstasy (2011) was a more reflective, somber album. Instead of gleefully getting chased by the cops, they watched their own reflection drift by in the Raritan River. Instead of championing the success of civil rights leader Paul Robeson, they pondered the increasingly intense and paranoid thoughts of Philip K. Dick.
In 2013 the band released a new EP, Turnstile Comix #2, on Silver Sprocket Records. It was packaged with a comic book by Mitch Clem featuring several classic World/Inferno tales, including a brawl between the band and Snapcase, which inadvertently, was a predecessor to The Adicts smash up in which World/Inferno were kicked off the tour just before the last three dates due to an argument over drug use.
This Packed Funeral (2016 via Alternative Tentacles), was a concept album set at the wake of Grace Talicious, the singer for NYC punk outfit The Paranoid Style who was hit and killed by a bus. The album presents ten songs that are either covers of The Paranoid Style or written from the perspective of people at Talicious' funeral.
Their final album All Borders Are Porous to Cats (2020 via Alternative Tentacles), is a mercurial record about Cat, or Mr. In The Hat who's gotten into some legal troubles after illegally crossing the border.
Terricloth and World/Inferno have always been on the fringe, and that's where they liked it. It's a secret club for the initiated. It's a project of passion and not of grand financial rewards. "I don't give a shit," Terricloth said. "If I had more than two wits about me, I'd probably be a senator by now. I have a contempt for all capital."
Terricloth was a man of the old punk-rock guard. An anarchist. A leader who hates leaders. Terricloth looked forward to bringing the spirit of '20s vaudevillian horror and an '80s hardcore party to every Hallowmas show. This year, his friends, family and fellow Infernites will honor his memory through song, dance and ritual on their most holy night of the year.
Monday, Oct. 31st – HALLOWEEN
5pm: Jack Terricloth Foundation: Early Evening Halloween Mass @ St. Anne's Church in Downtown Brooklyn.
Album pre-order
A Mischief Night Sinfonietta
Special Early Evening Halloween Mass
Jack Terricloth Foundation & World/Inferno
website
instagram
facebook
worldinferno site
Catbite
instagram
twitter
facebook
spotify