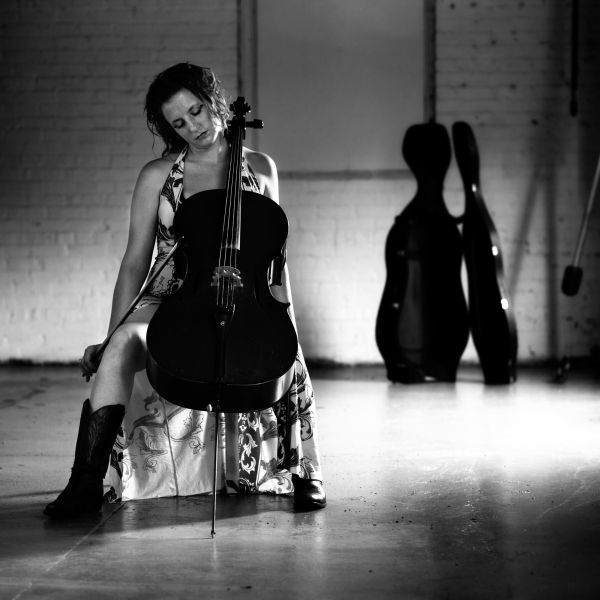 9 October 2018
Polly Panic – Photo Credit: Duncan Chaboudy
It's not so often that the cello is front and center in the pages of The Big Takeover, but today brings an occasion where this certainly is called for. We turn out sights and ears to Asheville, North Carolina and, more specifically, to cello-shredding rock siren Polly Panic.
Today we present you the premiere of "Annie", which is about a scorned lover's lethal revenge. The track is an anthemic rocker that is an ode to Annie Oakley and to women everywhere who live life and experience love on their own terms.
Otherwise known as Jenette Mackie in her day-to-day life, Polly Panic is back with her third studio album Losing Form, to be released on CD and digitally via Write Hook Records on November 20th. This is Polly Panic's first album in six years, following Fragment (2012) and Painkiller (2006).
Polly Panic wrote and recorded the 10 songs comprising this album between 2016-2017, sandwiching the process around time spent rehearsing and touring both coasts with her cello-driven band Rasputina, founded by Melora Creager and formerly including Zoë Keating and Julia Kent. If the music sounded of a very familiar tone to you upon first listen, now you might have an indication of why that is.
Arguably the best Polly Panic album yet, this also represents a turning point for this artist, having joined forces with Write Hook Records on the heels of touring as part of Rasputina. Inspired by such artists as PJ Harvey, Tom Waits, Tori Amos, and Nirvana, this is cello-driven art rock with intense, powerful vocals and lyrics that take center stage.
Apart from the obvious association with Rasputina, this music also calls to mind Apocalyptica, 2Cellos, and Zoë Keating insofar as the cello work goes and Tori Amos and PJ Harvey in terms of her song construction and stylistics. This is dark electric rock at its core – it is afire, burning on the kindle of Mackie's own personal experiences and fantasies.
Polly Panic's uniquely dark and theatrical chamber rock has a sound that's much larger than one would expect from just one vocalist playing a cello along with a drummer.
"I knew the cello could be everything. Of all the instruments, the cello is closest to the human voice and its capacity for expressing emotion is unparalleled. It was the most fierce and yet the softest most sorrowful instrument I had ever heard," says Polly Panic. "This album represents the strength to march on, being inspired by self-examination and reason for existence."
Indeed, Polly Panic herself had gone through massive challenges to continue with her art, from constant touring and getting sober to label changes and childbirth. Every step of the way has defined her to find that Polly Panic was not just something she did… It was who she is.
On Losing Form, Polly Panic got a helping hand from recording engineer Stephen Shoenecker at the Heritage Music studio in Bristol, Tennessee, studio drummer Ryan Rasnake, and mastering engineer Seva (Corrosion of Conformity) at Soundcurrent Mastering.
Losing Form will be available in stores as of release day and can be ordered digitally on on CD via Bandcamp. CDs be also purchased in advance at Polly Panic's live show or pre-ordered directly via the artist's website.
Polly Panic is currently touring the East Coast to promote this album, together with drummer Caleb Beissart, spreading the gospel of the Southern Gothic high priestess of cello rock. Tickets can be obtained HERE
CREDITS
Written and performed by Polly Panic (Jenette Mackie)
Recorded and mixed by Stephen Shoenecker at Heritage Music
Mastered by Seva at Soundcurrent Mastering
Drums by Ryan Rasnake
TRACK LIST
1. Annie
2. Beggar Rose
3. Losing Form
4. Purpose
5. Precious
6. Hollows
7. The Sidepiece
8. To the Bone
9. Twisted Up
10. Shadow
TOUR DATES
Oct. 13 Garden Grove Brewing and Urban Winery – Richmond, VA
Oct. 15 Thomas Street Tavern – Charlotte, NC
Oct. 20 Classic City Fringe Festival – Athens, GA
Nov. 08 Monstercade – Winston-Salem, NC
Nov. 15 Fleetwoods – Asheville, NC
Also check out the video for the title track "Losing Form", which is about co-dependent addiction.
POLLY PANIC
Website
Bandcamp
Facebook
Twitter
Instagram
SoundCloud
YouTube
ReverbNation
Spotify