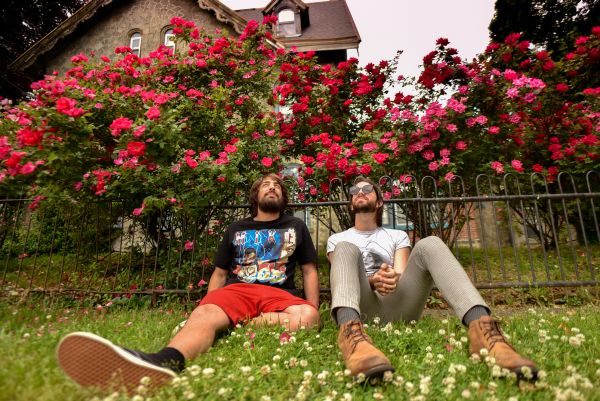 16 September 2021
The Retinas – Photo Credit: Ashley Cordoba
by Davy Haynes
Philadelphia has become an epicenter of American indie rock. (Sandy) Alex G, Swearin', and Japanese Breakfast are big names in the national scene, but the city is teeming with underground bands chasing down the same dream. And The Retinas sound like they're one step closer to stardom on their newest single, "Baggage Kid."
Thomas McHugh (vocals/guitar) and Anthony Fulginitti (drums) have been making waves for the past several years with their singular, carefree-yet-compelling indie rock sound. These two longtime friends have managed to captivate audiences across the country in countless DIY spaces, but they're pressing on for more. With The Retinas hanging around, it's nice to know that rock and roll ain't dead. It's been here the whole time; resurrected with each note played on McHugh's guitar and Fulginitti's drums.
On "Baggage Kid," the angular riff and shuffling, tom-driven beat sound almost like a b-side from Dinosaur Jr.'s Bug. Taking cues from '90s bands like The Pixies and The Replacements, McHugh always provides a catchy melody sure to be bouncing around your head for days to come. Although the band certainly nods to late 20th century rock groups, their metaphorical finger is calculating today's pulse. The sweeping synth leads and McHugh's restless vocals add an emotional intensity to the steadiness of Fulginitti's groove. Every note here sounds intentional, as if the duo spent long hours agonizing at the mixing desk. McHugh and Fulginitti are masters of their riffy songwriting craft, and it shows on "Baggage Kid."
As the pandemic brought things to a grinding halt, so many bands have been working away in secret. The Retinas have stumbled on something truly majestic with "Baggage Kid," and it will be interesting to hear what they cook up next. Listen to the single below, and get transported back to the world of DIY shows. The smell of PBR lies heavy in the air, doesn't it?
Thomas McHugh kindly took part in a Q&A session. Read more about the band and their powerful music below:
How long does it take the two of you to flesh out the arrangement for a song like "Baggage Kid"?
"We started arranging "Baggage Kid" just before the pandemic started. I was originally writing it as a country, kind of ballad song and sort of heard a power beat behind it which took it in a different direction. I sent it to Anthony as a demo and at our next practice he wanted to start working on it immediately. We had the basic format down and we were liking it. As we recorded the final cut we kind of hit a wall with it. We ended up linking up with Shane Woods, who produced the track. He gave some ideas, like the drone note and the stop in the middle and we were really able to breathe life into the song the way we felt when we played it live."
What was the pandemic like for you? Did this song come to you during the hibernation of late 2020/early 2021?
"The pandemic was a big time of change for us as a band. We both dealt with some difficult changes. It felt like (as I'm sure everyone felt in some way or another) some of the people and things we thought we could rely on and the relationships we saw as constants collapsed during the hibernation. It pushed us to lean into each other. We did a ton of recording. Starting the pandemic out we had something like 30-40 demos that we had collected and were working on. As time passed we cut out songs we didn't like or couldn't get to work, focused on the ones we enjoyed and whittled them into shape. "Baggage Kid" was the first one we finished."
Does it feel as though the two of you have gotten tighter as a songwriting pair? Is the process pretty collaborative?
"I feel like we've been playing for so long we're becoming telepathic. I usually write the skeleton of the song and bring it to Anthony. We can play the song for the first time and things just fall into place, he knows how I think and we can communicate in this weird way to know when to quiet, get loud, slow down, stop, swell, etc. I think the initial part of songwriting is pretty collaborative and then I start to add the weird stuff later by myself and bring it back to Ant and see how it sits. Anthony when playing music is completely transcendent, he's forever present with his drums. I can see this practice with him in other places in his life, he puts himself completely in the moment of that thing. It's amazing to work with. He goes there with me emotionally and deep dives into the song, meeting me and the song where we are, no judgment. He's not concerned with comparative songs if it sounds like this or that, it's just about what he feels in that moment. We also have days where we're a bit off and not getting to where we want it to be. We've gotten better about recognizing that, putting it aside and reapproaching it later with different energy."
What inspired the lyrics on "Baggage Kid"?
""Baggage Kid" started as a kind of a song letter to some people in my life, a way to work through some conversations that I wanted to have. As I was writing it, I realized it was more of a letter to myself. I think a lot of our experience of what we think is going on in relationships/ our general perspective on our lives starts defensively, as a projection. Typically, the things you become critical about in the people around you are feelings you're feeling towards yourself, but avoiding. I think we tend to project those feelings around us, instead of taking responsibility internally. I also think we subconsciously seek relationships that feed our lack of self love or the cracks in the relationship we have with ourselves, which perpetuates our patterns of unhappiness or discontentment. Once we take responsibility and confront that pattern, we can slowly, but surely start to remedy it, until then it just grows bigger and bigger. These lyrics are a beginning in that journey with myself. Trying to take responsibility in my relationship with myself and the people around me. Trying to remedy it and change the pattern."
What's next for you? A new album, shows, anything?
"We've got some great stuff on the horizon. We're playing Union Transfer on 11/19 in Philadelphia. We'll be back on the road for a couple dates East Coast, Midwest stuff December and January. In terms of releasing music we're slowly releasing stuff every couple of weeks, being able to focus and find cool ways to present it to the world."