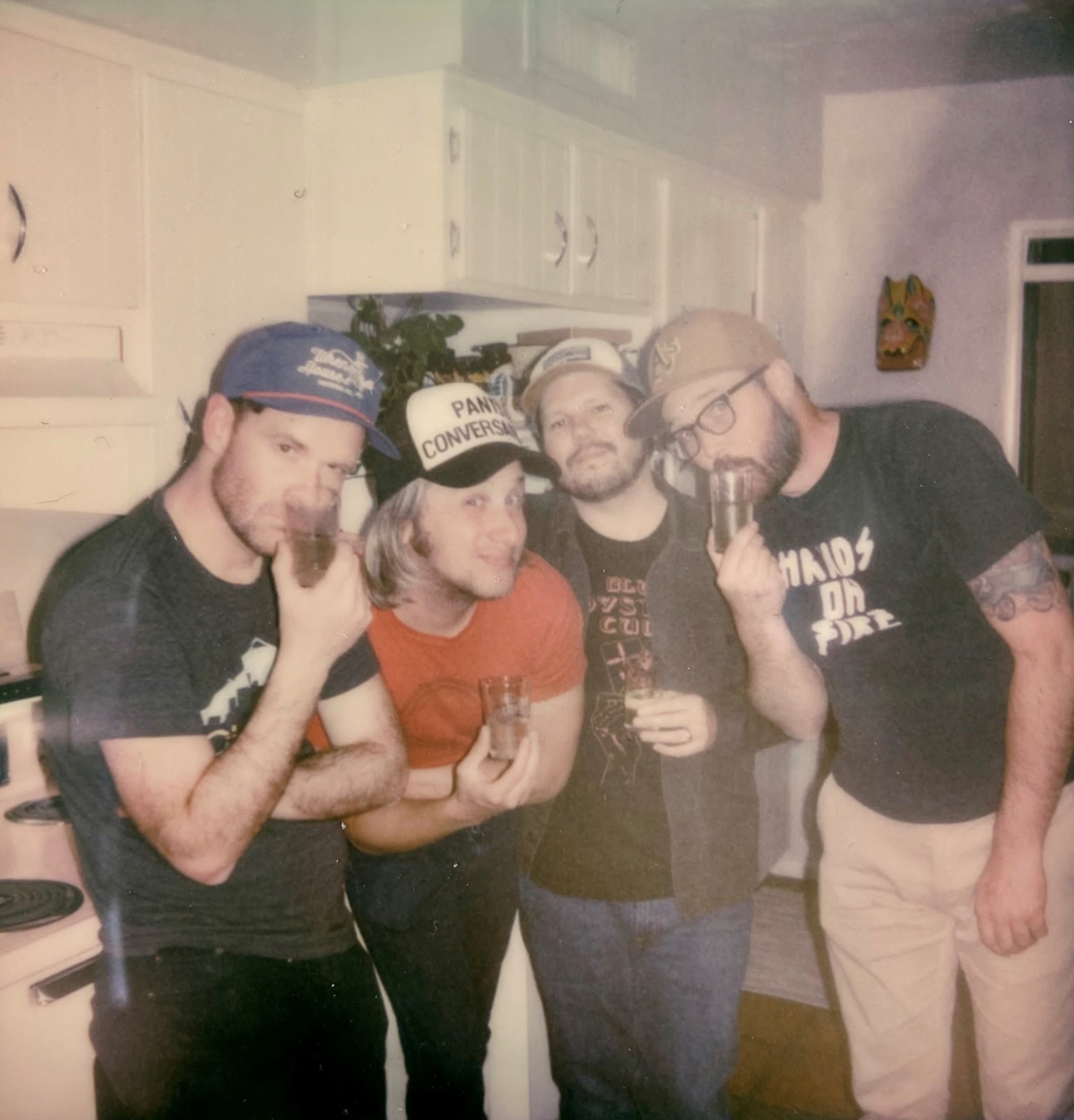 8 May 2022
Phoenix, Arizona's KITIMOTO premieres their charging punk single "Bats!" with The Big Takeover, imploring listeners to "pray to the sand."
Though Vintage Smell is the debut album by the Phoenix based indie rock quartet KITIMOTO, the record is the result of decades of slow growth and metamorphosis. It's akin to the kind of steady evolution band leader Jon Douglas (A Technicolor Yawn) charts in his work as a biologist: KITIMOTO may technically be a new group, but in reality it's the latest in a long series of projects its members have tinkered with since first meeting in the Arizona DIY art-punk scene more than 15 years ago.
Backed by bassist Zane Gillum, drummer Cavan Noone, and guitarist Jason P. Woodbury, KITIMOTO finds Douglas reaching deep into his songbook, gathering up compositions he's woodshedded since the early 2000s in the Chicago rock scene, and pairing them with newly written works. The resulting record is one that collapses time, drawing on '60s counterculture, classic '70s singer/songwriter work, '80s alterna-pop, '90s indie rock, and a wealth of naturalistic and vividly comic imagery drawn from various moments in Douglas' own autobiography.
Recorded live to two-inch tape in late 2020 and early 2021 at Oracle Recording at Rancho Linda Vista by producer Austin Z. Owen (Los Puchos, Slow Moses), Vintage Smell was mastered by Brian J. Sulpizio, known for his work with Ryley Walker and Health & Beauty—of which Douglas was once a member. Located in the remote desert town of Oracle, the studio sits at the heart of a ranch established in 1910, which eventually became home to an intentional community founded in 1968 by artist Charles Littler. In its original dude ranch incarnation, it hosted stars like George Sanders, Gary Cooper, and Rita Hayworth, and was the place Andy Warhol chose to shoot his X-rated western, Lonesome Cowboys, which baffled the locals.
On songs like "Mexico" and "How Do You Keep," dueling guitars lock into heated conversation Television-style, veering into "indie jam" territory, while "Time Saved" finds the foursome chugging on Blue Album-style crunch rock. Elsewhere, Douglas indulges his soft side with the country soul ballad "Get Out Alive" and the vivid psychedelic pop of "Semaphore," which leans into samba rhythms and Mellotron swirls.
Though hardly a "desert rock" album in the traditional sense, the remote space of Rancho Linda Vista proved the perfect place to capture these songs, which range from the charging punk of "Bats!", which implores the listener to "pray to the sand," to the future facing "Seventy," its fuzzy guitars nodding to the band's combined love for Pavement and oversized riffs.
Throughout it all, Douglas facilitates between low key cool and singing these songs like his life depends on them, folding his oblique wordplay into hooky melodies over intricate rhythms and easy grooves alike. It's a testament to the gradual pace of evolution. Douglas and KITIMOTO may have only spent a few weekends in the desert recording, but these songs carry the weight of years spent shaping and refining.