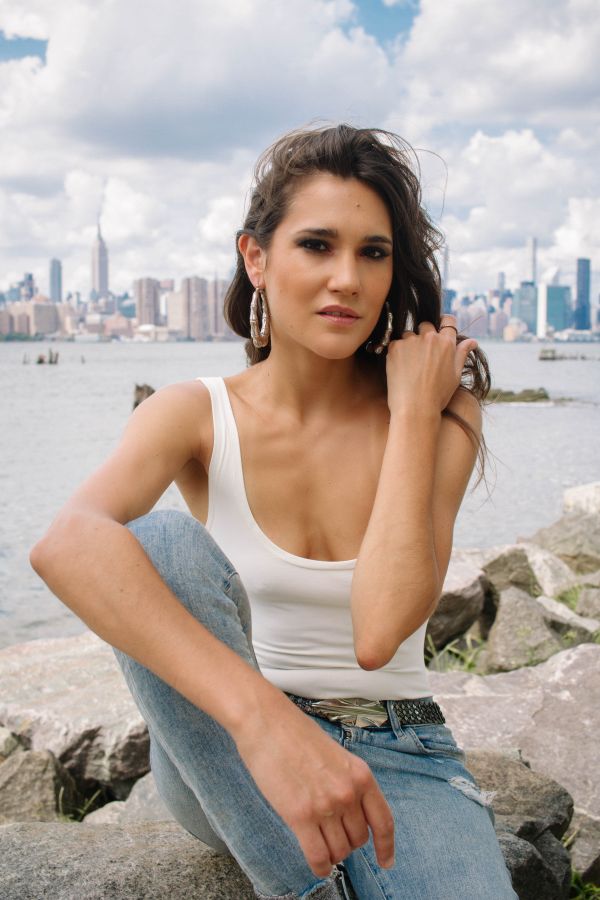 24 November 2020
Caterina J in front of New York City skyline – Photo courtesy of Caterina J
Caterina J is a New York City-based (by way of Chile) singer and songwriter who moves with ease through various music genres. She will deliver her upcoming EP, Reborn on January 12th, 2021.
Reborn is a stylistically diverse record that features classic rock, '90s alternative music, pop, and jazz compositions.
Caterina J is not only a musician, but also has been a model and acted in the Chilean film Kiltro. The multi-platform, bilingual artist started early on her musical path, playing the piano at age seven, and writing songs on the cusp of being a teenager.
A move to New York City in 2006 and studying at The New York Conservatory for Dramatic Arts eventually led her to forming her own music outfit in 2014 and regular shows as NYC venues including Nublu, The Bowery Electric, and The Bitter End.
Caterina J is joined by her husband Seba Achaval on bass and Pablo Eluchans drums. They released debut album I Confess in 2016 and now follow that up with Reborn.
The EP was was recorded at Plaid Dog Recording Studio in Boston with producer Mike Davidson and the title track premiered on the 2020 Jan/Feb edition of Relix Magazine's Artist Sampler Playlist.
Big Takeover is pleased to host the premiere of the centerpiece single, "Blazing Stars," a reflective, yet glowing slow-burning number.
Light curls and bursts of glistening guitar lines reverberate throughout, while Caterina J sings in a luxuriously sultry tone. The song moves with a restless flow that also features gently shaken percussion, a prominent drum beat, and kicky cymbals tap.
Website
Facebook
Instagram
YouTube