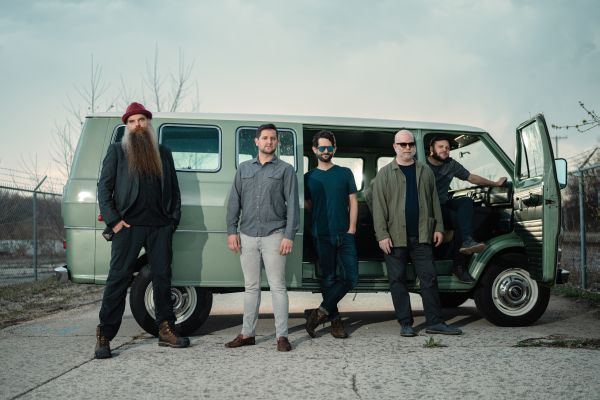 11 June 2021
Sleepersound – Photo Credit: Xavier Schaetzke 'at' xsproductions
Milwaukee, Wisconsin-based indie post-rock band Sleepersound will be releasing their upcoming second album, Idle Voices, on August 6th.
The LP was self-produced and mixed by drummer Dan Niedziejko at his home studio Indian Not the Arrow between 2019 and 2021. It was mastered by distinctive sound craftsman KRAMER at Noise Miami. The record is a mindful exercise of finding truthful calm amid the massive din of plague, political subterfuge, and natural disaster that is adversely affecting our world.
Describing the theme of Idle Voices from this Chicago-to-Milwaukee by-way-of St. Louis, MO band, Dave D'Antonio (vocals, guitars, keyboards), explains, "For me this is deeply related to my own journey of breaking out of the noise, movements, and congestion of day-to-day life (noises uttered in the form of idle voices), rising above the status quo and trying to see something beneath the service. You can't look from the outside if you yourself are a part of the infrastructure."
Kenny Buesing (vocals, guitars, and keyboards) adds, "This album represents a lot of reflection and growth that only comes out of friction," while bassist and keyboardist Mike Campise says, "Usually, it starts with a nugget of tune or some interesting rhythm and we go from there. Our songs are rarely written and delivered as a finished tune by one member. It's the most collaborative band I ever worked in."
The band also has another member in the visual design area: Stephen Vincent Anderson. As Sleepersound get prepared for playing out again, Anderson in charge of the visuals for the live shows. He mixes video loops in the way a sound engineer mixes guitars and synths, with fade-ins and panning.
In the meantime, Sleepersound are releasing the shimmering and reflective post-rock single "Blossom." Big Takeover is pleased to host the song today.
The wandering "Blossom" reverberates with gleaming guitar chime, low-key bass line, a softly struck drum beat, ticking drum sticks, and delicately yearning vocals.
The meditative number is also touched by a lulling sway of symphonic strings and then elevated with a psychedelic swirl of keyboard notes at the end.. The stark lyrics, however, belie the dreamy feeling of the song.
The band offer some details about the meaning of "Blossom," revealing, "The song was written in the winter and recorded when it was deathly cold! The heart of it has a nod to old soul records."
Niedziejko confides, "For me the song is about the metamorphosis. The moment when you recognize you become something you wish you wouldn't have and when it's too late to turn back."
Campise adds, ""Blossom" is a song about transformation. I feel like the song winds its way through a narrative where the subject is learning who they are and wrestling with what that means."
Niedziejko then pushes it a little further: "It's about change and acceptance and it isn't always pretty."
Bandcamp
Website
Facebook
Twitter
Instagram
YouTube