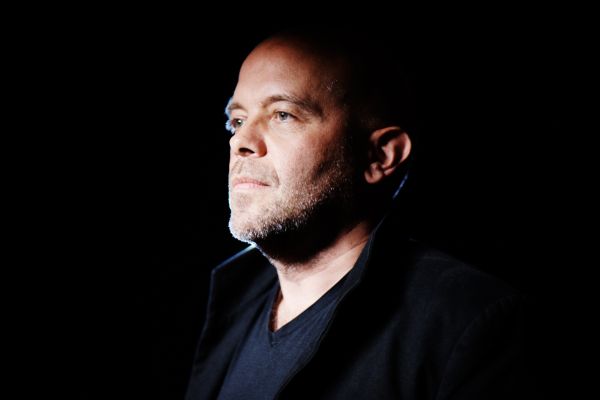 26 May 2020
Mark Gardener Photo Credit: Steve Gullick
At the turn of the century, after the break-ups of shoegaze icons Ride and subsequent band The Animalhouse, Mark Gardener stepped back from the music business, retreated to rural France, and did "real-life manual work" for several years before again returning to the musical realm. He has earlier commented, "I was running on empty before then, from the whole experience of being in Ride. I needed something in the real world."
Now, the iconic frontman has much success to boast about in regards to the newly revived Ride, with worldwide demand, new releases, international tours, etc. Following up a wildly popular tour, completed just in time before the whole coronavirus crisis, Mark Gardener is now back with a new single called 'Chained," written and performed together with French electronic producer 2Square, a.k.a. Stephan Haeri, of France's infamous Telepopmusik.
This song is a serious reflection on a point in time when Gardener needed to face, beat, and get away from some personal demons and unhealthy challenges regarding drug-related habits. This is a stunning track, borne by the minds of two of Europe's coolest songwriters. Both underrated in their respective spheres as solo artists, this collaboration is a welcome buzz to the ears. Blending genres in such a beautiful way, we can be thankful that such brilliant offerings are available to us here and now.
Big Takeover is thrilled to host the premiere of the floating, bittersweet reverie "Chained." A musing Mark Gardener hazily draws out his introspective and highly personal lyrics, wandering through a fantastical sonic landscape that is rife with shimmering cymbals, phased electronics, tinkering percussion, and contemplative piano notes.
Recorded in Haeri's small Parisian apartment in the Strasbourg-Saint-Denis area, Gardener notes that this is "up there with my favorite collaborations ever", saying this will "hopefully take our minds away from all current madness we're living in."
Mark Gardener also owns and runs the OX4 Sound recording studio. Having learned from the world's top engineers and producers, for the past two decades, Gardener has produced and mixed the work of many highly respected artists, producers, and bands. Among them can be found such well established artists as The Brian Jonestown Massacre, Robin Guthrie, Telepopmusik, Dive Index, Rinocerose, Ulrich Schnauss, Man With No Name, Hopewell, Jam+Spoon, Mikel Erentxun, Dead Horse One, Cat Martino, and Swervedriver.
In addition to featuring in the Mojo award-winning film Upside Down (The Creation Records Story), Gardener also scored the soundtrack. He now brings this knowledge and experience to his new purpose-built studio.
"I met Stephan through a mutual friend – Melanie Bauer, a well known DJ on Paris radio. I had known and become close lifelong friends with Melanie since meeting her to interview on her program during an early Ride promo tour in Paris. Our paths with Stephan had crossed a few times but Melanie basically set up this recording session, thinking it could be a great combination. Stephan had a small apartment, which he lived in and had turned into a studio. I always loved to visit Paris so I was happy to go and spend a week with Stephan at his apartment, where I also stayed for the best part of a week," says Mark Gardener.
"Stephan had some loose instrumental ideas and I got to work with lyrics and vocal topline ideas in reaction to these instrumental sketches I was hearing and then Stephan would mess around with my vocal lines. I think I popped out for food now and again, but we basically didn't stop for a week until the songs were written and recorded. Stephan mixed it as we were going and then finished the mixes when I had gone back to England. This and the other two tracks are among my life time favorite collaborations."
Earlier, Telepopmusik released the highly acclaimed single 'Sound," featuring vocals by Mark Gardener, for which they released an intriguing video by Japan's Toshiaki Toyoda. The vocals for that particular track were recorded during the same Paris session that spawned this new single "Chained."
"I wrote 'Chained', reflecting about my old home in Oxford, which had become a non-stop nightclub during a time post Ride breakup, when I was living alone. All got a bit out of control for a while and I had some great parties and friends, but one in particular would always show up late at my house when I was working in my attic studio. He was a bit of a walking chemistry set, so would always show up with substances. I was not in the best head-space at that time and was trying to get away from substances, which was not so easy when it kept on coming through my front door," explains Gardener.
"We'd always end up having big and good nights drinking, getting high and listening to records until dawn for a period; hence the line 'Chained till dawn to find a new way' lyric. I knew this was slowly dragging me down so, in the end, I packed up my car with a friend and we drove to the Medieaval Wilds of France in search of a new life. I ended up living in France for four years, experiencing a much needed break from that life. It was just what the doctor ordered! France and nature basically refueled me and put back everything I felt I had lost after Ride and then a few lost party years in Oxford after that."
'Chained' is available now via Mark Gardener's own Bandcamp account and will appear on other streaming and sales platform soon (date to be announced). Look forward to several more singles from this collaboration to be announced this summer.
CREDITS
Written and recorded in Paris
Music by Stephan Haeri and Mark Gardener
Words by Mark Gardener
Mixed by Stephan Haeri
Mastered by Mark Gardener at OX4 Sound
Also feast your eyes on 'Sound', the first collaborative effort between Gardener and Telepopmusik
No stranger to collaborations, we also recommend you check out Pure Phase Ensemble 4 with Mark Gardener, a project that occurred right before Ride announced their relaunch.
Keep up with Mark Gardener / OX4 Sound
Website
Facebook
Bandcamp
SoundCloud
OX4 Sound Twitter
Mark Gardener Twitter
Instagram
YouTube