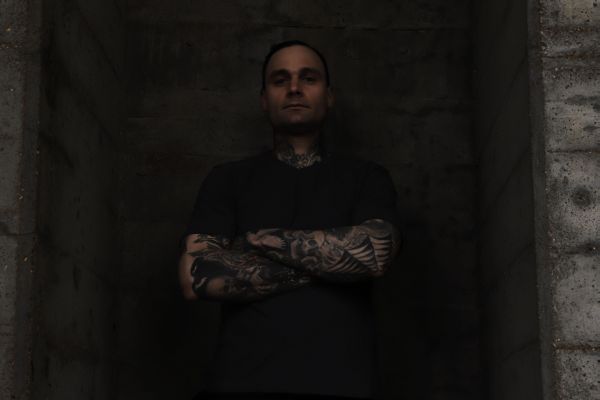 21 April 2020
Jordan Rome – Photo courtesy of Jordan Rome
Hailing from Hays, Kansas, singer-songwriter Jordan Rome traverses through various musical genres on his material, adding Americana, folk, punk, hardcore, and more to his signature blues-inflected rock foundation.
Rome picked up the guitar quickly and his skills landed him membership in the Midwest band Impregnators from 1999 to 2015. Concurrently Rome work on his solo career, releasing his debut self-titled album in 2018. He followed that up with the acoustic 7 Songs for the Soulless EP, which came out early last year.
This year sees Rome releasing a digital 7" that he recorded at Heavy Eleven Studios in Hays. The record is comprised of the mesmerizing "Charon," which we're delighted to host the premiere of today, and "Till the End," which bows on May 29th.
"Charon" is a foreboding lament that focuses on Rome's world-weary vocal delivery and the heaviness of the lyrics. In Greek mythology Charon is the entity who ferries damned souls across the River Styx and into the underworld.
While the song could easily become a dirge with its dark subject matter, plaintive vocals, and ponderous drum beat, Rome is also buoyed by rich and mellifluous guitar reverb and brisker acoustic guitar strum.
Taking on the persona of someone recently deceased, he achingly cries, "Take me away / …down the Styx I stray." and "Hades awaits / I've lived my last day."
Website
Facebook
Instagram
YouTube