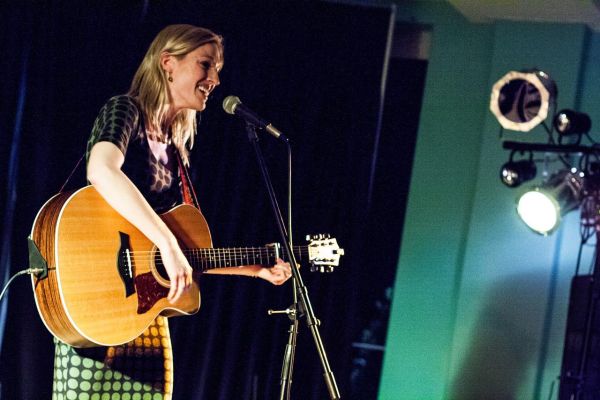 20 April 2020
Linda Draper – live at Cape May Music Festival – Photo Credit: Sean Capuano
Notable antifolk singer-songwriter Linda Draper has been a fixture of the New York City music scene since the late '90s. Draper has forged her own musical path over the past two decades, releasing a string of highly acclaimed albums and touring the US and the UK.
Her music has been licensed for a national commercial campaign, was selected for Starbucks' in-store music playlist, and featured in the Emmy Award-winning documentary Forgotten/Found.
Draper recorded her debut LP Ricochet in 2001 with indie icon Kramer (Galaxie 500, Will Oldham, Daniel Johnston, Urge Overkill).
Their partnership continued with her next three LPs, including her debut album on Planting Seeds Records,One Two Three Four. In 2007, she recorded her next album Keepsake with Major Matt at Olive Juice Music.
In 2009, Draper returned with her sixth album, Bridge and Tunnel, produced by Brad Albetta. Her seventh album, Edgewise, produced by Matt Keating, was self-released in 2013 and released on vinyl by Planting Seeds Records.
Draper's song "Good as New" is featured on her latest album Modern Day Decay" The LP was produced by Matt Keating, and engineered by Grammy Award-winning Engineer Geoff Sanoff at Little Steven's studio Renegade Nation in New York City.
This album was independently released in 2016 and features producer Jeff Eyrich on bass and Eric Puente on drums. Draper will be heading back into the studio soon to record a new project later this year with Eyrich.
Big Takeover is pleased to host the premiere of the nostalgic video for the heartfelt "Good As New." The long-in-the-works video clip was sidelined by the busyness of life, but once the pandemic hit and everyone went into quarantine, Draper found some time to finish its production.
The video is made up of footage from vintage family home movies that radiate a warm, comforting glow. This is intercut with a quietly magnetic performance from Draper as she engagingly sings her perceptive and poignant lyrics about connections and life's journey.
Draper reveals, "The song is about home and family, and includes archived reel-to-reel footage of my family and me when I was little (rockin' the bowl haircut in the New York suburbs) and reel-to-reels of my husband's father's side of the family too (in Queens)."
"I feel compelled to share this especially now, with everything going on, and as I try to find some new creative ways to connect with people in this strange new norm (as we're all trying to do)."