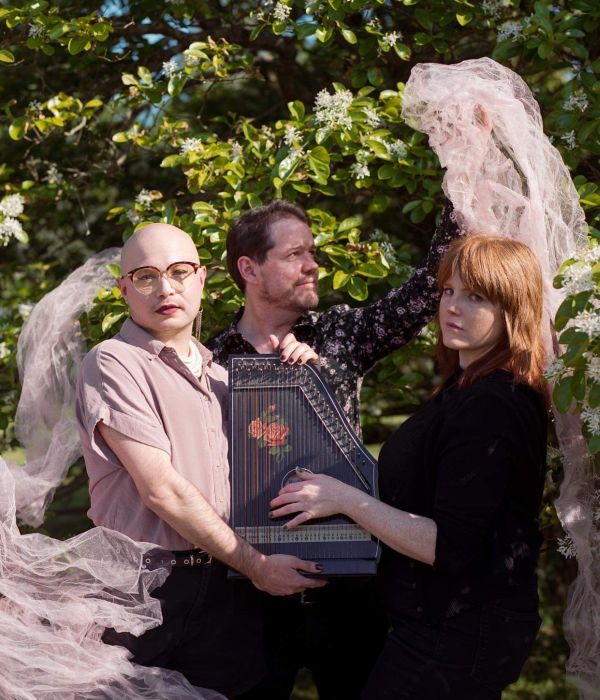 19 July 2021
Manners Manners – Photo Credit: Micah E. Wood
It's exciting to encounter a new release from Baltimore, Maryland – a city with a vibrant working-class punk ethos across all genres and art forms.
And the ramshackle sparkle of Manners Manners' newest single "Deaccession Now" is a reminder that Baltimore's eternal artistic flame is still burning bright.
Big Takeover is pleased to host the premiere of both the heartfelt "Deaccession Now" and the kicky Guided By Voices cover on its B-side.
Manners Manners is a noise pop trio that vocalist/guitarist Jack Pinder describes as "as much psychic mediumship as band." Reinterpreting indie rock through the through the lens of "gay illuminescence and abrasion," the band have perfected their sound after six years of playing in Baltimore's storied underground venues.
Drummer Haley Sweet, bassist Jes Welter, and the aforementioned Pinder work collaboratively and passionately to make their personal narratives heard through their songs.
And it's these narratives you can't ignore in the brain-melter that is "Deaccession Now." It's a four-minute onslaught of fuzzy, bent guitar notes, crashing cymbals, and steady, confident bass grooves. New Wave meets '90s slacker in this slant-pop rocker, with Pinder's voice providing the tunefulness at the heart of the song.
Not only is Pinder's voice the purveyor of exquisite pop hooks, but this voice also weaves a tale of empathy and hope for a past-self. Pinder recalls, "[I] found a fresh warmth and empathy for the younger, vulnerable self [I] had once worked so hard to distance [myself] from."
The song is a retelling of the Eurydice myth as Pinder's narrator meets himself in purgatory and guides the younger version of himself back home. The song bucks traditional trans narratives that life will get easier or better on its own. Rather, the narrator takes matters into their own hands.
As if "Deaccession Now" wasn't enough, the b-side of the single is an energetic cover of Guided by Voices' classic "Game of Pricks."
The band excels at taking Robert Pollard's attempt at British arena rock and filtering it through the lens of a queer rock band from Baltimore. It's an unholy circus of sounds, as Welter, Sweet, and Pinder rip through the song's famously abridged verses and endlessly catchy chorus. It's clear that the members of Manners Manners have put their all into this cover, and the result is a truly memorable sonic reinterpretation of '90s cassette hiss and slacker rhythms.
If you've spent any time in Baltimore, you know there's a reason it's called "Charm City." The atmosphere of the metropolis is truly inspiring. After all, this is the city that birthed serpentwithfeet, Billie Holiday, Beach House, and Philip Glass.
Manners Manners are helping to continue Baltimore's long tradition of amazing artists and songwriters. Do yourself a favor, and add "Deaccession Now" to your summer playlists. You won't regret it.
"Deaccession Now," backed with "Game of Pricks," is available on all digital platforms on July 23.
Check out the single below, and read on for an exclusive interview with Jack Pinder.
Hello! So cool to touch base with you all! You recently played Westminster Pride Festival a county or two over from Baltimore. What was it like to play a Pride Festival in a smaller community?
"It was really a pleasure. It was actually not all that small of a community! I was personally struck by the age diversity of the crowd, and how many young trans and nonbinary people were there with their parents. That's what really blew my mind! We had a really nice time connecting with people that day."
How does myth – historical, personal, and cultural – play into your songwriting? And how did it influence "Deaccession Now" directly?
"I think of many of the songs we've written as conversations with myths and history, attempting to make sense of what the past is asking of us, today. It was definitely the common thread among the songs in our First In Line EP. "First In Line" even has some lyrics about queer musicians who came before me "looking right at me", reminding me that I'm a part of a tradition and I owe so much to pioneers who broke ground but never got to see the impact their art made."
""Deaccession Now" is some personal myth-making that arose through sessions of inner child work I did with my therapist. It was a guided visualization where I, as an adult, visited my younger self and told them some things they needed to hear and shepherded them through the harder times. It was extremely powerful, and it did a lot for me."
"It coincided with a moment when I was cleaning out some of my teenage belongings from my mom's house, which kind of forced me to confront a version of myself I had really tried hard to distance myself from. I saw a lot of resilience and creativity and strength in this young person and felt like they were owed more credit than I had been giving them."
"In the song, I imagine my younger self as Eurydice trapped in the underworld, with my present self as Orpheus trying to return to them everything they deserve; that's the "deaccession" of it. In my version, Eurydice is a musician, too, and a better one than Orpheus, by his own admission. It was important to me that even in a retelling of this myth where I am both characters, I didn't reinforce a "man rescuing a woman" narrative—I actually kind of see it as like, the humbling of Orpheus."
It's so cool that you covered Guided By Voices, and you chose a track that you've played live in the past. What was the inspiration for releasing this cover?
"Robert Pollard is my patron saint of absolutely owning the stage, and when we play this song live the audience really responds and gives us so much momentum and energy. Sometimes we have Rahne Alexander from Santa Librada join us onstage to sing it, and it's just the best, most fun time. I feel like when you learn and play a song written by someone else, you absorb its powers and they become yours to wield, and stage energy is totally GbV's magic."
"This cover was previously included on a fundraiser comp for the Ottobar in Baltimore, one of our favorite venues in our hometown. When we started getting this single together, we really didn't know when shows would start happening again, so I think this song just embodies the spirit of live music for us."
Do you remember what you were listening to during the writing process for "Deaccession Now?" Were there any artists that made an impression or influenced the arrangement choices on the single?
"Speaking of cover magic, we recorded a cover of Super City's "All Yours, All Mine" that I think unlocked some new powers of harmony and arrangement for us shortly before we wrote "Deaccession." Super City are such maximalists, in the best way possible, and their arrangements and harmonies are so dramatic and bonkers, and I feel like they've given us "permission" to "do more", if that makes sense. '90s powerpop is also a perennial influence for us and I think there's a lot of Teenage Fanclub and Superdrag and the Posies and Breeders in there as well."
What's next for you? Does this single mean a full length or EP is on the way?
"We're really in a songwriting/arranging/mixing mode at the moment, exploring some angles that are newer for us, gelling some things we began remotely over the pandemic now that we're able to make music together in person again. We also recently remotely collaborated with another Baltimore band we love, to produce a song that we're so excited about and hope to release soon. Expect more singles from us, for now."
Bandcamp
Twitter
Facebook
Instagram
Spotify